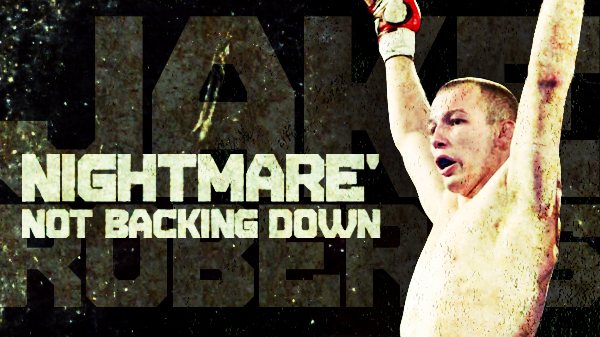 "Nightmare" Not Backing Down
Jake Roberts was planning on using his hands for victory but the complete opposite happened.

At last weekend's Fight Hard event, Roberts - one of the top amateur fighters in the region - defeated Curtis Eller via an inverted triangle choke, adding another win to his 8-0 record.

In Eller, Roberts was facing a fighter who has submitted almost every opponent he has faced. Roberts was hoping to rely on and showcase his striking but was forced to go back to his bread and butter, grappling. The up-and-coming amateur out of St. Charles MMA was able to keep his cool against Eller on the ground, sweeping him multiple times and avoiding early submission attempts until he was able to wrap up the tap.

The win showed how much he has matured in his fighting career, which is a scary thought for local lightweights.

The "North County Nightmare" claims that he is calmer and more focused in the cage and that his strength and intensity are improving with every bout.

Roberts has had some tough fights throughout this year but has overcome them and achieved victory. It is hard to keep an undefeated record in the mash pit of talent that St. Louis' MMA scene has to offer. One of the mental strategies that the "Nightmare" uses before stepping into the cage is assuming that he is going to lose. Going into the fight with that sort of mentality forces him to fight like a cornered animal; survive and go for the win.

On its Facebook page, the Spire Sanctioning Alliance recently named Roberts its top pound-for-pound fighter in the St. Louis region, but he does not feel like this is the case. He was humbled by being named number one but still knows he has a lot to prove and much to learn.

"I would love to say it, but I know there are a lot of other talented fighters out there I haven't faced yet," Roberts said.

So what does the future hold for this talented amateur in 2014?

He has expressed interest in fighting local talent Buddy McGinnis but for now he will keep listening to the coaches at St. Charles MMA and fight whoever is put in front of him next.

He doesn't know how many more amateur fights he will have to endure before he leaves the amateur scene for good but eventually he hopes to go pro whether it is in 2014 or 2015. This means that local St. Louis fight fans can continue to be entertained by this young athlete for at least a little longer.

Going pro has been a dream of Roberts' since the kicker on his college football team first introduced him to MMA through the UFC 2009 video game. Hopefully Roberts can soon turn his old joystick fantasy into reality and fight on a professional card. With a victory to close out the year "The North County Nightmare" looks to the New Year with a positive attitude.

There is no telling what the future holds for Roberts in his mixed martial arts career, but he has his hands up and is definitely not backing down.