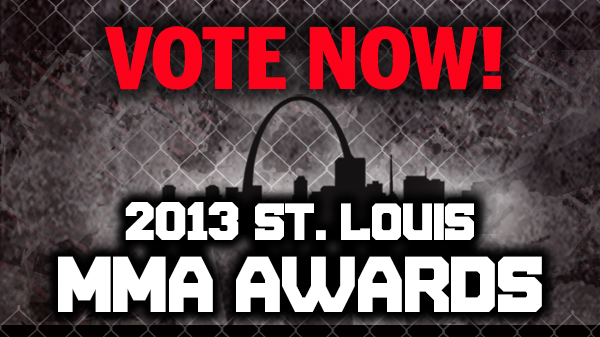 2013 STL MMA Awards - Ammy Fight of the Year
Here is a breakdown of the top Amateur Fights from 2013. From brawls to technical battles to style clashes, these are the stuff great fights are made of.

We make the case for each nominee and let you decide.

Click here to vote now! -- You can vote once per day until December 31st.

Need a plaque, trophy or any kind of engraving? Please check out our sponsor STL Trophies Plus at http://stltrophiesplus.com/


Here are the nominees:

Damian Newman vs Ira Lukowsky - Fight Hard (July)

This fight was as about as high profile as an amateur fight can get. The main event for the July Fight Hard saw the Spire number one ranked Lukowsky defending his bantamweight ranking against the third ranked Damian Newman.Lukowsky had earned his rank earlier in the year in a win over previous No. 1 Fierce Taylor.

If you 're a fan of the comeback, then you loved this fight.

Both fighters came out slugging, with the more technical Lukowsky landing higher quality shots.

Lukowsky's wrestling was good enough to prevent most of Newman's takedown allowing the former golden gloves winner to play to his strengths. By the end of the first, both fighters were bloody. Newman rebounded in the second, and spent some time on the ground, even taking the lead when Lukowsky got docked a point for holding the fence.

With a possible draw in the works, Newman found one last trick in his bag and locked on a triangle to finish Lukowsky. Much to the delight to the thousands of fans that had packed the Family Arena and on the area's grandest stage, Newman backed up his claim of being one of the area's best.


Denver Sells vs Kelly Burch - Cage Champs (July)

Needing a last-minute opponent for local favorite Denver Sells, Cage Champs sought wrestling standout Kelly Burch to take the challenge. After having been "retired" for over a year, Burch obliged, and looked good in doing so.

This fight was ugly. If you like a dirty, sloppy brawls, then this is the fight for you.

Burch looked for the takedown early, but the athletic Sells was able to stay off his back and reset the fight. Eventually, Sells was able to convince Burch to give up on the takedowns and lured his opponent into a street fight where it stayed for the remainder of the fight. Landing a mix of leg kicks and punches, Sells' range kept Burch at bay. Burch didn't back down and looked to keep the fight close negating Sells' advantage.

Burch and Sells ended the fight much like your garden variety hockey brawl, standing toe-to-toe throwing everything they had, and exhausting their gas tanks. The fans in attendance who where noisy throughout the fight took on a hushed reverence after the final bell in respect for what they had witnessed.

When the decision came down, it was a split decision with Sells winning the favor of two of the three judges in attendance.


Jesse Gerringer vs Heath Hildebrand - Rumble Time (May)

Rumble Time's Cinco De Mayhem featured a battle between two of the area's top welterweights While Jesse Gerringer's arm was raised, the fans were the real winners on this fight of the night.

Gerringer from Berger's MMA displayed the trademark toughness of his coach, Steve Berger. Gerringer charged ahead with his head down and fists flying. With just a enough jiu-jitsu to stay out of trouble, Gerringer navigated the troubled waters of Hildebrand's guard, while inflicting some damage in the ground and pound.

Hildebrand, out of Pedigo Submission Fighting, has shown brilliant finishes in the past, but Gerringer's toughness proved difficult to put away.

There were times when Gerringer looked to be fading and Hildebrand looked to be winning the fight, but Gerringer forged ahead, and eventually came out on top winning with the narrowest of split decisions.

Gerringer would eventually move into Spire's number one ranking before turning pro in October.


Montuelle Prater vs Aaron Brown - Journey to the Top 1 (April)

If there was any question Aaron Brown could take a punch, this fight effectively answered any skeptics. Montuelle Prater hit Brown from CMMA with loud thundering punches, and Brown never backed down.

This fight was a bit of a coming out party for Prater, who at the time had a modest record of 3-4 going into the fight. We didn't know at the time, but this would be the second fight in a 7-1 run for Prater that saw the featherweight fighter defeating Christian Santana, Jeremiah Curright, and Joe Roye before losing to CJ Hunter in October.

Unfortunately a motorcycle accident would derail Brown's 2013, and has left him still recovering from those injuries.

If it hadn't been for the incredible battle between Adam Ward and Alex White, this fight would have stolen the show, but the quality of this contest was enough to land it on our top five.


Dustin Fischer vs. Gojiko Miluyinnovic - SFC: Fusion (March)

Training on a daily basis with the likes of Kevin Engel and Adam Cella, we knew Dustin Fischer had good stand-up, this fight added an exclamation point to that theory.

Fischer and Gojiko Milutinovic put together a frenzied performance in just two rounds of action, giving it enough to be considered one of our five best amateur fights.

Fischer's left hand sent Milutinovic to the floor early in the first round. But Milutinovic kept coming and wouldn't go away.

Milutinovic's crisp jab kept Fischer at bay and potentially secured that round despite the knockdown.

The exchanges were more even and even more violent in the second round as both fighters showed tremendous resolve, both taking significant damage.

Despite all of the makings for a wild third round, Milutinovic's lip was so severely cut that the fight was called after the second round and cutting short what we consider one of the best stand-up battles in recent memory.

Click here to vote now! -- You can vote once per day until December 31st.