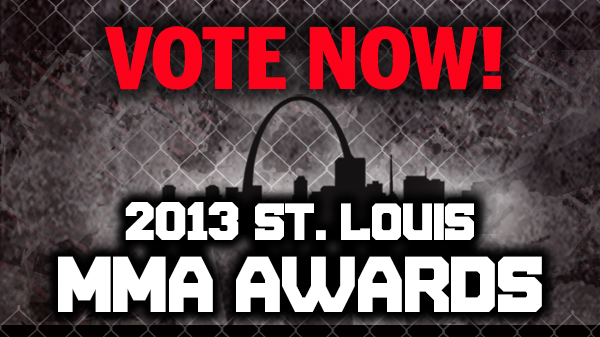 2013 STL MMA Awards - Ammy of the Year
If you want to look to the future, then look no farther than the nominees for our Amateur Fighter of the Year.

Last year's winner, St. Charles MMA's Kirk Huff, has gone on to bigger and better things. He stands 2-0 as a pro in addition to a handful of boxing victories. He looked dominant in his last outing.

We have hand picked five of the best young fighters who are on the cusp of turning pro and surely to make an impact. We make the case for each nominee and let you decide.

Click here to vote now! -- You can vote once per day until December 31st.

Need a plaque, trophy or any kind of engraving? Please check out our sponsor:
STL Trophies Plus at http://stltrophiesplus.com/



Damian Newman

Some have it, most don't. Simply put it is the "it" factor. The unteachable skill, the main ingredient for a fighter to be great; heart. Damian Newman has "it" by the truckload There isn't a better example of this than the Ira Lukowsky fight where he seemed out-gunned, out-wrestled, and losing the fight. But in true Newman fashion, he landed a miraculous submission to secure a victory.

Newman, out of Berger's MMA/FitorFight, has made short work of his division, rising to the top of the list with victories over some of the toughest competitors in his weight class.

Key Victories in 2013: Ira Lukowsky, AJ Siscoe, Andrew Berger


Aaron Highfill

Highfill has rampaged his way through the competition going 4-0 for the year. Now an impressive 11-1, Highfill's only loss came at the hands of now-pro Anthony Livingston in a flash knockout in July of 2012.

Highfill, who spends part of his time at Finney's MMA, has cinder blocks for hands and has put together a brutal, highlight reel of finishes. With only one decision to his record, Highfill has finished almost every person he's encountered.

The Highfill buzz really began to grow this summer as the 23-year old Highfill began to travel around to various local gyms and many of the pros took notice of his potential.

Key Victories in 2013: Tyler Clausen, Curtis Eller, Scott Futrel


Christian Camp

It's hard to argue that anyone had a better year than "The Prince". The 22-year-old from Springfield put together a solid year going 5-1. The exclamation point for the Camp argument came with a victory over Buddy McGinnis to win the Spire Lightweight State Championships and take sole possession of Spire's No. 1 ranking.

In the first half of the year, Camp racked up three victories over local powerhouse St. Charles MMA. Camp's victory over McGinnis in September highlighted an exceptional amateur career for the young lightweight, ending his tally at 11-3. Expect him to make the jump to the pros early next year.

Key Victories in 2013: Buddy McGinnis, Travis Draper, Jason Powell


CJay Hunter

In the midst of an eight-fight win streak, Ceejay Hunter has been one of the best for quite some time with 2013 being a victory lap before his inevitable jump to the pros.

With a main event match-up with bitter rival Bernard Thomas on the books for Fight Hard to close out December, it's possible the submission fighter from Modern Combat Systems could be sitting at six wins in 2013. Hunter, known to his fans as the "Ground Shark", is a scary match-up for most lightweights with his exceptional ground game and well-rounded stand-up. Hunter has seven first round stoppages in his last eight fights.

Key Victories in 2013: Montuelle Prater, Scott Ettling, Andrew Decker


Brittany Dugas

Fighting out of the Poplar Bluff area, "Too Smooth" is 3-0 in 2013 and arguably the best amateur female fighter in the state.

At 7-0 for her young career, she has dispatched all of St. Louis' top talent including Becky Gullet, Katy Collins, Melissa Shepard, and Susie Wyatt.

Dugas has grit, toughness and a smothering ground game. It's not an easy fight for anyone who faces her. It's hard not to expect big things on the horizon for her if she continues to stay active.

Key Victories in 2013: Susie Wyatt, Melissa Shepard, Jessica Laubacker


Click here to vote now! -- You can vote once per day until December 31st.