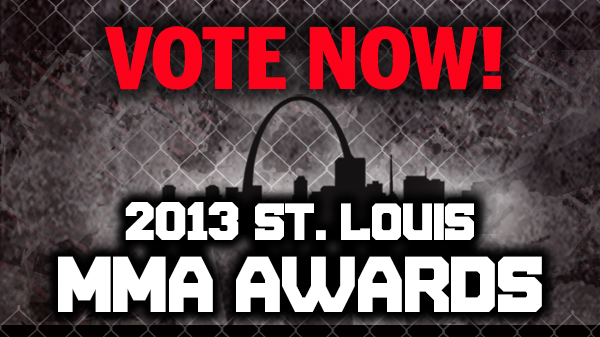 2013 STL MMA Awards - Breakout Athlete
By
Staff
| Knuckle Junkies
Breakout; adjective; being or relating to a sudden or smashing success especially in comparison to previous efforts.

The calendar year provided many thrilling KOs, submissions, and decisions. Among the many highlights were the fighters who elevated their games, shined a positive light on the sport, and started a new, thrilling chapter to their careers.

Click here, to vote now! -- You can vote once per day until December 31st.

Need a plaque, trophy or any kind of engraving? Please check out our sponsor STL Trophies Plus at http://stltrophiesplus.com/

Here are the nominees:

Ken Porter

Porter turned pro in 2013 and went 4-1. Along the way he became one of the marquee fighters for Shamrock FC. Featured prominently in their marketing material and even main eventing the company's big December show at the River City Casino.

In a year where two St. Louis flyweights made national headlines, Porter has positioned himself to be the next one to make a splash.


Christian Camp

In 2013 everything clicked into place for Christian Camp. The young lightweight from Springfield started the year with an admirable 6-2 record before going on a 5-1 streak for year, the only blemish being a narrow decision loss to Matt Rosa in June.

Camp made a splash on the St. Louis scene competing three times for Cage Championship and once for Rumble Time, successful on all occasions. The biggest feather in the cap of Camp was his clash with Buddy McGinnis for the Spire State Championship. After a bloody four round brawl, Camp came out on top and was recognized as the best amateur in the state at 155lbs. Camp has announced his jump to the pros, where he will we foresee big things for the 22 year old.


Montuelle Prater

This hard-throwing amateur was as busy as you can get in 2013, racking up eleven fights and going 9-2 in the process. Prater fighting out of Cahokia MMA spread the love around competing for almost every major promotion in the area, slowly growing his fan base. He was one of only a handful of fighters that competed three times for Fight Hard MMA this year and he went 2-1 in front of St. Louis' biggest venue.


Susie Wyatt

Wyatt was all over the news, getting coverage on channel's 2, 4 and 5 news. She had a feature story written about her in the St. Louis Post Dispatch. Inside the cage she made it to No. 2 in the regional rankings at 135, No. 3 at 125 and No. 14 at 135 in the world rankings, all of this while fighting women half her age.

In a year where Women's MMA jumped to the main stage, "Mama Beast" was leading the charge in St. Louis.


Scott Futrell

The General put together an impressive campaign in 2013 going 5-1 on the year. His only loss was to highly touted Aaron Highfill at Shamrock FC in what can only be described as a "war". Futrell set himself apart from the rest of the pack improving all aspects of his arsenal, and filling in the gaps. His size and reach is a difficult match-up for most people in his weight class, and in front of the area's largest crowd, Futrell showed he packs a powerful punch with his KO of Jesse Farmer.

While he flirted with a pro debut, unfortunate circumstances prevented two attempts. Refocused and ready look for Futrell to make a splash in 2014 in the pro ranks.


Click here, to vote now! -- You can vote once per day until December 31st.