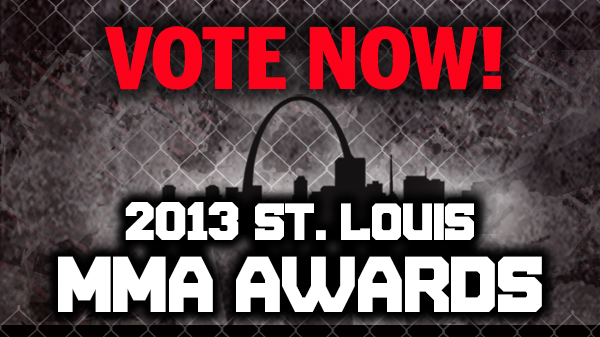 2013 STL MMA Awards - Pro Fight of the Year
The past 12 months has been a great year for fights. We here at KJ love the epic battles, the back and forth momentum changes, and the comeback.

We selected five of our favorite tussles from the year and humbly submit them for you to choose the best. Read through our breakdown and click the link at the bottom to vote.

Adam Ward vs Alex White - Journey to the Top 1 (April)

Not a lot was known about Adam Ward by local fans, except he was tough. That point was proven time and time again through his gritty 15-minute battle with local phenom and undefeated featherweight Alex White.

Ward looked to neutralize White's striking by hitting early takedowns and pinning his opponent to the cage. Ward continued to inflict damage on White, opening a giant gash on White's forehead that would require double digit stitches after the fight.

In the second White made timely adjustments and his punches started to find a home. Both fighters seemed happy to work from the clench, with White getting the better of the exchanges. Ward punctuated the second round with a late takedown before the bell rang attempting to steal the round.

White came out like a man on a mission in the third and had Ward "zombified" by the end of the round. White dished out constant pressure, and picked Ward a part on his feet.

After the dust settled, White remained unbeaten and won one of the closest decisions we had ever seen.


Zach Freeman vs Robert Washington - Fight Hard (January)

Kicking off things in 2013 was Freeman vs Washington, the main event for January's Fight Hard.

This fight had the "big fight" feel leading up to it and was one of the most highly anticipated fights in recent memory featuring two of the area's best. Informal polling before the event found many fans split on who would win this tussle.

Early and often Freeman looked to take advantage of his height and worked a clench game. Washington fired back with powerful punches, and thwarted any ground offense from Freeman. Freeman was bloodied in the second round adding to the theatrics of the fight. A punch from Freeman nearly closed Washington's eye and saw the slugger from East St. Louis battling from a deficit and not backing down a bit. The fight ended with both fighters exhausted having left everything in the cage.

In the end Freeman won a unanimous decision and would go on to fight for Titan FC in the summer. Washington would get picked up by the Miami-based CFA before finishing out 2013 for Shamrock.


Shaine Moffitt vs Malcolm Smith - Hahn Warrior Weekend (August)

Moffittt was riding high coming off an upset victory over Yohance Flager earlier in the year. He would need inspiration going into enemy territory, fighting Malcolm Smith in his backyard of Festus on an event organized by his coaches. Smith was in bad need of a win having dropped his first two pro fights and came into the fight hungry.

This fight would be promoted to main event status after the eagerly awaited battle between Tony Souders and Ray Clayton was cancelled shortly before bell time. Moffitt and Smith were happy to oblige and elevated their game to send the fans home happy.

The first round was all Moffitt as he landed a head kick that sent Smith to the canvas. Moffitt looked to end the fight then and there, as he locked on a body triangle, peppering his opponent with shots. Smith somehow survived the round to the delight of the fans.

Between rounds coaching reinvigorated Smith. He would change his tactics looking to chop down Moffitt with his leg kicks. Moffitt was barely able to stand by the end of the second, limping back to his corner.

Destruction coach Joe Worded pleaded with Moffitt to take the fight to the ground, and that's exactly what he did, unfortunately he wasn't able to keep Smith grounded as the fight reset, and Smith went to work. Smith smothered Moffitt for the remainder of the round and squeaked out a 29-28 decision victory in an instant classic.


Kyle Walker vs Jake Buehler - Journey to the Top 2 (June)

We haven't seen too many Jake Buehler fights that weren't exciting. His crisp striking, and never back down resiliency make for good battles. Kyle Walker carries sledge hammers in his gloves and can end fights quickly and viciously.

This fight was one of the main card match-ups at the St. Louis Sports Center as part of Jim Jenkin's Journey to the Top series and could have easily been lost in the shuffle. While the anticipated contest between Luigi Fioravanti and Chris Heatherly was cancelled, this fight helped fans feel they got their money's worth.

Walker and Buehler battled hard to a decision with both fighters taking a turn at nearly ending the fight. The momentum swayed back and forth with Walker's wrestling scoring points needed to take home the victory.

Depending on who you ask fans in attendance will say either Walker or Buehler won the fight. This fight was as close a decision as they come, and a deserved candidate for fight of the year.


Luigi Fioravanti vs Josh Thorpe - Shamrock FC: Relentless (October)

This fight was exciting for many local fans as it was the first chance to see Fioravanti fight in person in his newly adopted home of St. Louis. What nobody outside the Fioravanti camp knew going into the fight was that the Italian Tank had an injured hand going into the fight and could barely close his fist.

Thorpe, from Arkansas, proved he wasn't there to just cash a paycheck and absorbed a tremendous amount of damage throughout the fight and never backed down the entire three rounds, not even once.

Adjusting his strategy on the fly, Fioravanti unleashed a barrage of elbows and kicks on his opponent. Thorpe hung around from bell to bell and never quit and even cut open Fioravanti with an elbow. Both fighters showed creativity with Thorpe throwing a wheel kick at one point, and Fioravanti mixing up his strikes and working dirty boxing.

Exhaustion slowed Thorpe in the end and would be his undoing. By the final bell, Fioravanti had landed enough strikes to win the judges favor, and Thorpe had hung in there resiliently to earn the fan's respect.


Click here to vote now!