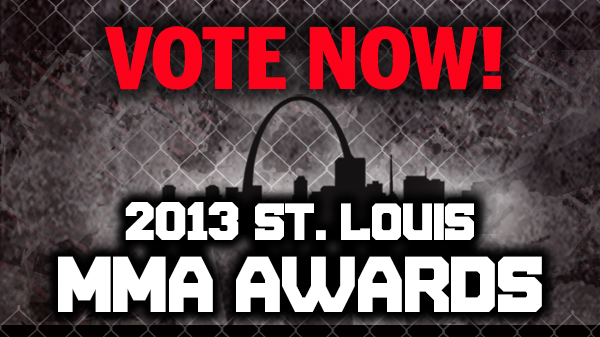 2013 STL MMA Awards - Pro Fighter of the Year
I thought about pouring over the research, gathering up the data, and combing the back interviews.

But then I remembered.

These are the nominees for Pro Fighter of the Year. If you've followed St. Louis MMA, at all, if you give even the slightest of a damn about the scene, you know what these gents have done and you know who've they beat and how.

I'm just going to roll out the nominees, sprinkle a little opinion, and mix in some facts.

You, the reader, will decide which one deserves the top slot. Click here to vote now! -- You can vote once per day until December 31st.

Need a plaque, trophy or any kind of engraving? Please check out our sponsor STL Trophies Plus at http://stltrophiesplus.com/

Here are the nominees:

Tyron Woodley

T-wood blew up 2013 with two mesmerizing performances; a 36-second KO of Jay Heiron in his UFC debut and the beat-down he put on Josh Koscheck at UFC 168. Sandwiched in-between was a snoozer and split decision loss to Jake Shields.

It's crazy to think it, but Woodley is legitimately two wins away from fighting for the UFC welterweight championship.

In 2013, "The Chosen One" became one of the chosen few.

Alex White

Statisticians, check me if I'm wrong, but Mr. White is the only pro in the greater St. Louis region who has four or more fights and is undefeated? True, false?

"The Spartan" put on one of the best fights of the night with his split decision win over in April over Adam Ward. Then White damn near beat Roy Babcock to death on August's Titan FC 26. Babcock was out and referee Rusty Sullivan was thirsty for more damage, refusing to call the fight. White, reluctantly landed another shot to put an end to it. White came back in November with a first round demolition of Will Shutt.

With new management and his part-time job at McDonald's still keeping him grounded, White (8-0) seems on the verge of taking that next step into the spotlight.

Alp Ozkilic

Now is a good time to buy stock in Team Ozkilic.

You may have heard, the 8-1, 27-year-old flyweight out of St. Charles MMA makes his UFC debut on Saturday. Ozkilic jumps right to the meat of the UFC flyweight lineup, taking on Darren Uyenoyama (8-4). A win or strong performance could vault "The Turkish Delight" into rare company.

In 2013, Ozkilic last fought locally at Rumble Time in February with TKO victory over Josh Robinson with some heavy ground and pound. Note to kids, do not beg for elbows when someone like Alp Ozkilic has you pinned against a steel cage, I give you, Example A.

Also in 2013, Ozkilic showed that flyweight can finish like heavyweights when he leveled Antonio Banuelos in 30 seconds at Legacy Fighting Championship 20.

There have been many a rumored fighter who has ran from Ozkilic. Many of those same fighters are now all thrown into the UFC blender with him. Sit back, press 'Stir' and enjoy.

Josh Sampo

"The Gremlin" was all about balls in 2013; a heaping, mound of balls.

In January, Sampo (11-2) waltzed in and submitted Olympian Alexis Vila (in non-too friendly territory, comprende?) to win the CFA flyweight title. After finishing graduate, yes, GRADUATE school, he took on and defeated Sam Thao, who dished out a kaleidoscope of colorful combinations that sent Sampo scrambling yet was resourceful. But his biggest set of stones accomplishment came when he got the call on eight-days notice to fight in the UFC. Though he would miss weight by a costly pound-and-a-half, he went on get Fight of the Night with his second-round submission of Ryan Benoit.

There was plenty of discussion given to Sampo's miss of weight, and some of it deserving but in the grand scheme of things, Sampo took a Facebook slot and on a night when many fights failed to deliver, he brought the "it" factor.

Chris Heatherly

"Stump" is the 'Construction Worker' in STL MMA's version of The Village People. The area's workhorse went 3-1 for the year with one finish. Heatherly (7-1) had bouts against more high-profile competition, first Luigi Fioravanti and then Josh Weston, fall by the wayside literally up to the last minute.

His venture into Canadian soil left was a bit of a bummer, losing to top-flight prospect Alex Garcia in the first round, but also a valuable learning experience. His armbar win before Halloween over Dakota Cochrane was just what the FitorFight/Berger's MMA, product needed to hang his hat on to end the year.

Click here to vote now! -- You can vote once per day until December 31st.