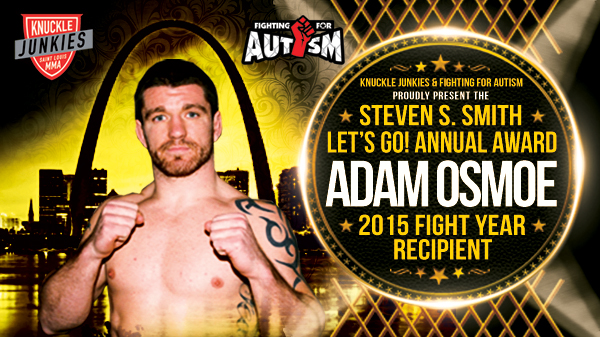 2015 Lets Go! Award
Fighting for Autism announced a partnership on Friday with Knuckle Junkies to present The Steven S. Smith: Let's Go! Annual Award.

With the unfortunate passing of Smith (one of St. Louis' long time and most respected MMA and boxing promoters and owner of Rumble Time Promotions) in 2015, Brian Higginbotham, Managing Director of US Operations for Fighting for Autism, wanted to honor Smith's legacy and efforts in St. Louis combat sports by creating an annual award in Smith's name. The award would be bestowed upon the fighter who embraced Smith's rally cry of 'Let's Go!'

The 2015 and inaugural Steven S. Smith: Let's Go! Award goes to Adam Osmoe.

Osmoe fought three times in 2015, winning two by finish, including a night-closing 30-second KO for Rumble Time in May.

"Steve opened up a lot of doors for me," Osmoe said. "My whole family got along with him. It seems at times that there are few people who don't want to screw you over in this business. But you never had to worry about that with Steve. He took care of you. He was a good dude."

Osmoe opened 2015 with a unanimous decision win over Raymond Grey and followed that with his 30-second-lights-out performance against Raul Rosas.

"I don't get to fight many guys my same height," Osmoe said. "It seemed like I was landing my punches at will. I backed him up to the cage and finished with a right."

Osmoe finished the year on the main card of RFA 28. Osmoe looked to be in a bit of trouble early against Jimmy Donahue but slammed his way out of a deep triangle, even raising his opponent above the cage to free himself from the submission.

"That was a fun fight, every little thing about it," Osmoe said. "Jimmy is a tough dude and we got to stand a little and throw on our feet."

Cage Champs 54

Osmoe gets a quick start to his 2016 with a bout against Tyron Paige at Friday's Cage Championships 54 in Sullivan.

Paige is coming off a unanimous decision win over Christian Camp in November. In May, Paige lost to Jake Roberts via submission in the first round. Paige had a strong start to his career, going 2-1 in 2013 with two KO's.

"He has some heavy hands and likes to keep it on the feet," Osmoe said. "I have watched his fight with (Jake) Roberts quite a bit and that's what he wants to do."

Osmoe, who played football and wrestled at Mt. Olive (graduating class of around 50), is on the move. He is going to school at Southern Illinois University-Edwardsville studying health education and is working as a personal trainer at The Bar.

"I have been a personal trainer for two-and-a-half years," Osmoe said. "I have always been a big fan of working out and I get a lot out of helping clients improve their lives."

Osmoe, a fireplug of a lightweight, had UFC Hall of Famer Matt Hughes in his corner in 2015. Osmoe works out in a nondescript, nameless gym in Illinois.

"It's basically a room with a mat," Osmoe said. "If it's 20-degrees outside, it's 20 degrees in there."

For more on Cage Championships 58, click HERE.

The card also includes Travis Draper and the pro debut of Dakota Bush. Tickets will be available at the door.

Let's Go

Since his passing, many have recalled Smith befriending, passing knowledge and acting as a mentor, including fighters, managers, matchmakers, other promoters, and officials. In 2014, Smith and his team that included Blake Fischer and Bob Barton, opened their events to Fighting for Autism and became the very first Official Promotion Affiliate and soon began promoting Autism Awareness & Acceptance and organizational initiatives at Rumble Time events.

"There was never a discussion of money or that Steve ever wanted anything in return, which at the time was unheard of to us," Higginbotham said. "I learned then just how big of a heart Steve and his promotional team truly had."

Following Smith's passing in the fall of 2015, the Fighting for Autism International Board of Directors agreed that it wanted to see an annual award created in Smith's name that would embody his vision and something that would be highly sought after by the area's elite class of fighters.

"After speaking with Blake Fischer, one of Steve's closest personal friends and partners in fight promotions, and getting his blessing to create an award, I contacted Brett Auten with Knuckle Junkies to discuss the idea of creating this in tandem," Higginbotham said.

The goal was to make sure the award criteria and judging process would remain true to Smith and would be something that would help honor Smith's legacy and keep his history alive and strong for the foreseeable future.

"I, along with the rest of Fighting for Autism staff, are extremely proud to have been part of launching this prestigious award and are grateful for the partnership with KJ and the like-minded people who have come together to preserve Steve Smith's legacy and history in our local industry," Higginbotham said. "Although Steve is no longer with us physically, he is definitely right alongside us spiritually as we all continue to see his vision through and see the impact he made on the sport we live and love. The Steven S. Smith Let's Go! Annual Award will certainly keep Steve's legacy alive and strong and serve as a tool to educate future generations of fighters of the rich history of St. Louis combat sports."