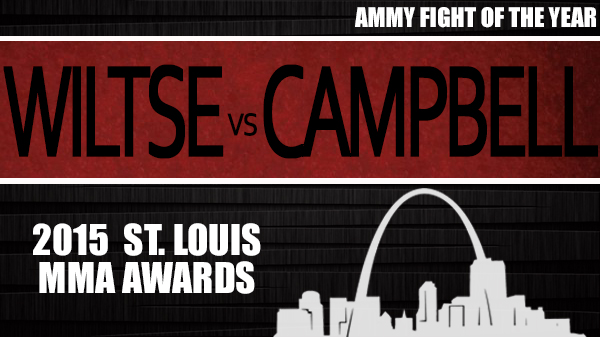 2015 STL MMA Awards - Ammy Fight of the Year
Resurrection Fighting Alliance came to St. Louis in August. Armed with a large viewing audience on AXS-TV and a middleweight title match featuring local star Andrew Sanchez, the night was primed to be epic.

But who would have guessed that the very first fight on the card, an amateur bout between two relative unknowns with a Rocky-like comeback, would be the one fight from RFA 28 we're still talking about in 2016.

Jiu-jitsu ace Andrew Wiltse met a tough and experienced Ross Campbell and our panel picked it as the 2015 STL MMA Amateur Fight of the Year.

In just the third fight of his MMA career (and almost two years since his first), Wiltse, the grappling prodigy from Mt. Vernon, IL, landed a crushing one-two combination early in the third round that sent Ross Campbell (11-2) cascading to the canvas to win the bout.

"Andrew Wiltse vs. Ross Campbell, what a great knockout that I did not see coming," Matthew Pearlman, of TeensOnSports, said. "I enjoyed this fight the most. I'd love to see a rematch."

Early in the fight, Campbell pressed Wiltse to the cage and kept him there briefly before being drug to the floor. Campbell fought out of an armbar (though rumored to have hyper extended it in the process) but Wiltse was quick to his waist and got the fight to the ground again . Campbell landed some effective shots early in round two before Wiltse jumped on a guillotine attempt. From there, the Pedigo Submission Fighting product slithered down to Campbell's legs to work from there. Campbell was having his best round in the third and he laded solid strikes before Wiltse retaliated with the best finish of this young career, a combo that sent Campbell to the canvas and giving him the KO win.

Wiltse from August: "It was just a one-two. Obviously my striking needs some work. I've been working on it but I don't feel comfortable enough to stand there and just strike with someone."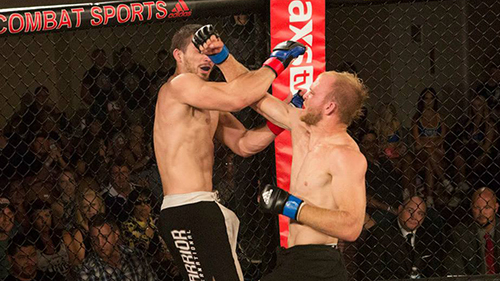 "This fight showed Wiltse's toughness," Cage Championship president Patrick Smith, who helped bring RFA to St. Louis, said. "Everyone thinks he's only a grappler. He showed some toughness. The comeback made this fight special."

Here is some rough footage of the fight, thanks to mmamadhouse.com:

https://www.youtube.com/watch?v=u1klNRJpXkY

Wiltse's coach, Heath Pedigo, said the fight proved that his fighter is more than just a one trick pony, even if that one trick is world championship level.

"When Ross Campbells opponent fell through for the RFA fight we knew that was an opportunity for Andrew to step up and test himself," Pedigo said. "Ross has proved himself over and over, won title after title, and had announced this was his last fight as an amateur. Andrew told me he wanted the opportunity to fight the best and that's what he got. Three rounds of war. That night everyone got to see what it takes to be a real champion. Not just good striking or good jiu-jitsu, it takes heart, determination and the will to win and both of those guys have it. Amazing fight to say the least."

Other nominees for Amateur Fight of the Year include: Dan Busch vs Buddy McGinnis --- Fight Hard (January); Demetrius Wilson vs Charles Johnson -- Fight Hard (April); Erik Newman vs Kris Craig -- Shamrock FC: Throwdown.

Photo courtesy of Jimmy Range Photography

Voting on the 2015 STL MMA came from a collection of area promoters, coaches, media, and others. The panel consisted of Brett Auten (Knuckle Junkies), Steve Berger (Berger MMA/FitorFight), Travis Brown (Vavel USA), Jason Carr (Spire MMA Official/Knuckle Junkies), Jayson Cooper (Spire MMA president), Jared Daniels Block (Modern Combat System), John Davis (cutman), Rob Donaker (Shamrock FC COO/ matchmaker), Jordan Dowdy (Knuckle Junkies), Sid Gee (cutman/coach), Kevin Hahn (Hahn's MMA), Brian Higginbotham (Fighting for Autism), Jesse Finney (Shamrock FC President), Rob Francis (Spire MMA Official), Jeremy Johnson (That MMA Show), Steve Knogl (CMMA), Sara Levin (slevin11.com), Craig Nasselo (cutman), Kenny Nowling (Fight Hard MMA/Gladiator MMA), Matt Pearlman (tapoutandtko/teens on sports), Jimmy Range (Jimmy Range Photography), Mike Rogers (St. Charles MMA), Kain Royer (Fight Hard MMA/Gladiator MMA matchmaker) Patrick Smith (Cage Championships), Josh Stewart (Spire MMA Referee), Joe Worden (Destruction MMA), Erion Zekthi (Knuckle Junkies), Heath Pedigo (Pedigo Submission Fighting).