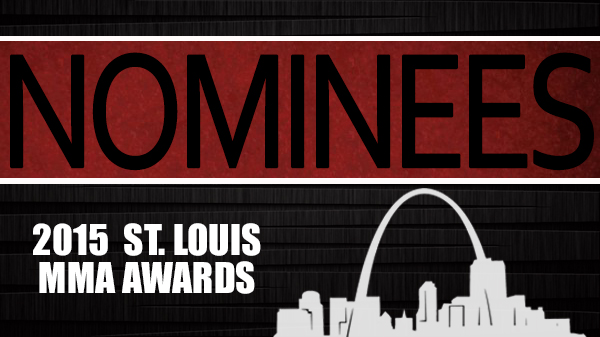 2015 St. Louis MMA Awards - Nominees
By
Staff
| Knuckle Junkies
You can't deny it. Don't even question it.

It was an incredible year for St. Louis combat sports.

After not having any televised fights since Strrikeforce came to town in December of 2010, St. Louis rebounded with not one but two Bellator MMA shows airing live on SpikeTV as well as a live RFA event from the Chase Park Plaza airing on AXSTV.

We saw the rise of a new professional jiu-jitsu promotion, Respect Pro Jiu-Jitsu. In addition to partnering up with Bellator, Shamrock FC added live, online pay per view and we also saw the return to pro fights from Fight Hard MMA with Gladiator MMA.

As we look back at the past year we've compiled a list of the best of the year.

We asked for your help selecting the nominees and you responded with a flood of comments and emails helping us mold together an awesome list of fights and fighters.

In picking the winners, we have changed the format a bit for the 2015 STL MMA Awards. As opposed to selecting the winners by public vote, this year's voting will be handled by a panel of the area's coaches, promoters, and other MMA luminaries. Each will submit a ballot and once the votes are tallied, we'll be releasing the winners.

With out further ado, here are the nominees:

2015's Best Regional Pro:
Kendrick Latchman
Kyle Kurtz
Joaquin Buckley
Rebecca Ruth
Adam Meredith
Jake Roberts

2015's Amateur of the Year:
Kelly D'Angelo
Dakota Bush
Julius Anglickas
Lucas Clay
Cortavious Romious

Pro Fight of the Year:
Hugh Pulley vs Eric Irvin -- Bellator 138
Garrett Gross vs Jeff Crotty -- Bellator 145
Jake Roberts vs Chuka Willis -- RFA 28
Rebecca Ruth vs Alice Yauger -- Shamrock FC: Fuel
Marcus Sursa vs Thiago Silva -- Gladiator MMA

Ammy Fight of the Year:
Andrew Wiltse vs Ross Campbell -- RFA 28
Dan Busch vs Buddy McGinnis --- Fight Hard (January)
Demetrius Wilson vs Charles Johnson -- Fight Hard (April)
Erik Newman vs Kris Craig -- Shamrock FC: Throwdown

2015 Story of the Year:
Sanchez wins the RFA Middleweight title
Bellator double dips in St. Louis
The loss of beloved promoter Steve Smith
Spire adds blood work requirements

Winners will be announced next week!