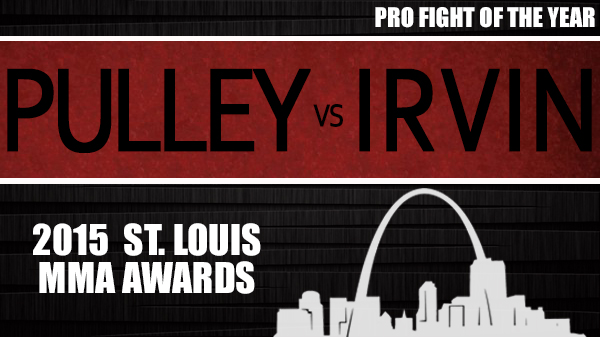 2015 St. Louis MMA Awards - Pro Fight of the Year

The stage was set.

When Bellator came to St. Louis in June, this would be first time major MMA event to come to St. Louis since the Strikeforce days.

The moment the all-regional undercard was announced, all eyes went to one match-up: Hugh Pulley vs. Eric Irvin. Established stud against a rising star.

Going into the fight Irvin was riding a four fight win streak and boasted a impressive 9-3 record. Pulley out of Modern Combat Systems had lost two in a row, including a TKO loss four months earlier.

Pulley eliminated any doubt of big stage fears as he pushed forward from the drop, scored a nice judo trip late, and ended the round with some elbows.

Irvin came back in the second, landing a takedown and holding Pulley down for the bulk of the round, while Pulley did an excellent job of keeping the damage limited. Pulley's strength was evident when he finally got the fight back to the feet he landed another trip.

Irvin was controlling the bulk of the third round and Pulley appeared to tire but was rejuvenated when he landed a kick to Irvin's body that sent the Destruction product to the canvas. Pulley did land some ground and pound, but was unable to finish Irvin off.

When the judges' scores came in it was Pulley earning the nod with a split decision: 29-28, 28-29, 30-27.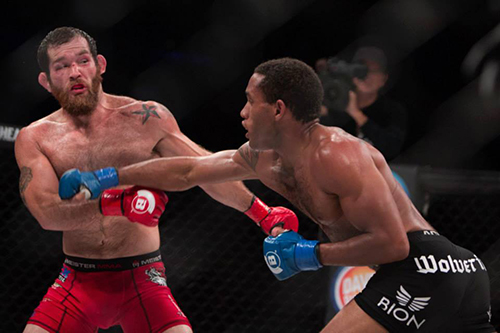 When this fight was nominated for Fight of the Year, it was obvious this fight was a clear favorite. When the judge's tallied their votes, this fight took home an overwhelming majority from our panel of experts.

"As much as I may be biased, it would be an injustice to both of these guys to pick another fight." Fight Hard MMA President, Kenny Nowling. "I remember watching in the hotel room and my wife came in and was like, 'What are you so excited about?' And I said, you have to see this fight."

The win for Pulley opened many eyes to the level of his ability.

"I think Hugh is the next big star to come out of St. Louis." Nowling said. "He and (UFC lightweight) Abel Trujillo remind so much of each other."

Destruction MMA's head coach Joe Worden was in Irvin's corner for the fight.

"The action was back and forth even though Eric seemed off the whole fight. " Worden said. "It was a great learning fight for us as you saw in Irvin's next fight. It was back to old Irvin. Hugh is a great athlete and I would like to see it again at 170."

Irvin would rebound in October with a win over Jeremy Castro. to improve to 10-4, while Pulley has not stepped back into the cage since the fight.

"Hugh Pulley vs. Eric Irvin was a battle I'll remember for a long time." Matt Pearlman, Teen On Sports. "It was a back and forth fight and the body shot by Pulley was amazing. This was the pro fight of the year. These two guys brought their best to the big stage.

This is the second straight year Irvin has picked up an award having won the Regional Fighter of he Year for his incredible 2014.

Photo courtesy of Jimmy Range Photography

Voting on the 2015 STL MMA came from a collection of area promoters, coaches, media, and others. The panel consisted of Brett Auten (Knuckle Junkies), Steve Berger (Berger MMA/FitorFight), Travis Brown (Vavel USA), Jason Carr (Spire MMA Official/Knuckle Junkies), Jayson Cooper (Spire MMA president), Jared Daniels Block (Modern Combat System), John Davis (cutman), Rob Donaker (Shamrock FC COO/ matchmaker), Jordan Dowdy (Knuckle Junkies), Sid Gee (cutman/coach), Kevin Hahn (Hahn's MMA), Brian Higginbotham (Fighting for Autism), Jesse Finney (Shamrock FC President), Rob Francis (Spire MMA Official), Jeremy Johnson (That MMA Show), Steve Knogl (CMMA), Sara Levin (slevin11.com), Craig Nasselo (cutman), Kenny Nowling (Fight Hard MMA/Gladiator MMA), Matt Pearlman (tapoutandtko/teens on sports), Jimmy Range (Jimmy Range Photography), Mike Rogers (St. Charles MMA), Kain Royer (Fight Hard MMA/Gladiator MMA matchmaker) Patrick Smith (Cage Championships), Josh Stewart (Spire MMA Referee), Joe Worden (Destruction MMA), Erion Zekthi (Knuckle Junkies), Heath Pedigo (Pedigo Submission Fighting).