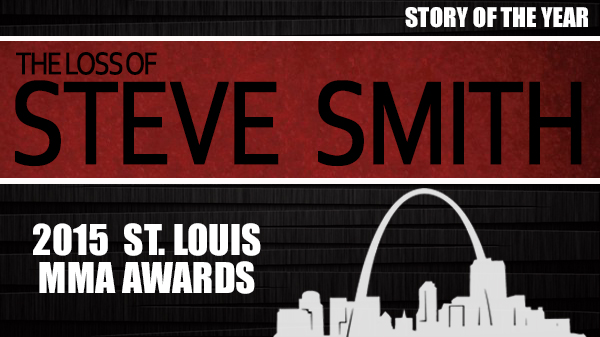 2015 St. Louis MMA Awards - Story of the Year
The news came sudden and the end not too far after.

Rumble Time Promotions president Steve Smith suffered a stroke this fall and died soon after that at the age of 46.

Smith's influence in boxing and mixed martial arts was wide and deep and his loss was named the 2015 St. Louis MMA Story of the Year.

"This was a big year for St. Louis MMA," Jeremy Johnson of That MMA Show and a play-by-play analyst for Shamrock FC said . "We saw major organizations come to our area and big wins for local boys made good, but to me the biggest story to hit St Louis MMA was the sudden passing of Rumble Time promoter Steve Smith. This was a shock to the entire community and it will reverberate for quite some time."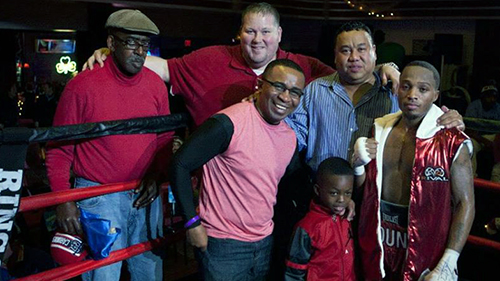 Blake Fischer, Smith's longtime friend and confident, opened up to Knuckle Junkies in a revealing interview.

Smith's Rumble Time was a significant player in the careers of some of St. Louis' finest. Current UFC fighters Alex White and Jake Collier both fought for Rumble Time as did UFC vets Josh Sampo, Chris Heatherly, and Alp Ozkilic. Regional stars like Hugh Pulley, Dan O'Connor, Eric Irvin, and Zach Freeman have triumphed under the Rumble Time banner. Up-and-coming standouts like Jake Roberts (5-0), Adam Osmoe (3-0), and Travis Draper (3-1) have built the beginnings of their careers on the Rumble Time platform. Recently, Smith and Rumble Time teamed with Cage Championships to help bring the RFA to St. Louis in August and broadcast to a world-wide television audience.

"Steve leaving us at the age of 46 was really a surprise," Steve Berger said. "At that age, you don't expect someone to drop out of the game. He was a big part of our community and it is just sad that he's not here for many reasons."

But more than MMA, was Smith's footprint in boxing was even more impact.

Deandre Latimore began boxing at the age of eight at the 12th and Park Recreation Center on the south side of St. Louis. Born and raised in one of St. Louis' toughest housing projects. Latimore fought numerous times for Rumble Time, including winning the WBC USNBC and WBF Intercontinental Light Middleweight titles in 2007. Latimore went on to challenge fellow St. Louisan Cory Spinks for the vacant IBF junior middleweight title, losing the bout via split decision in an exciting hometown event that was broadcast live on Showtime. Smith promoted other St. Louis fighters, including lightweight Dannie Williams and cruiserweight Ryan Coyne. Recently, Willie Nelson and Stephon Young are two Rumble Time boxers who are climbing the national ranks.

"As great as an impact (Smith) had in St. Louis MMA it pales contribution in boxing," Fight Hard/Gladiator MMA's Kenny Nowling said. "I think when history reflects on St. Louis MMA in 50 years Steve Smith will be right up there for people who made a significant impact. He squeezed life to the fullest and is a great example of why we should all do that."

Patrick Smith partnered with Smith to bring the national touring RFA to town in August.

"He was an icon in the sport in this area, it was a heavy hit when we lost him." Smith said.

As the amateur matchmaker for Rumble Time, Jared Daniels-Block received on the job training under Smith.

"I was working directly under Steve, he showed me a lot of ins and out in the business. He was a good friend of mine and took good care of me. The best way I can honor Steve is to keep on going." Daniels-Block said.

Smith's famous rallying cry, usually found on all of his Facebook updates, was 'Let's Go!'. In a March, 2015 Q&A with Knuckle Junkies, Smith said : "I originally picked up "Let's Go" in the Exxon Mobil and BP Oil business. I say "Let's GO," to refer to our entire team moving forward together. That's what Rumble Time is about. It obviously has to start with the great fighters, trainers, gyms and managers that supply the fireworks. Next add our families and the loyal, vocal but respectful fans. Then there are our partnerships with media, venues and television networks like HBO, Showtime, ESPN and Fox Sports. Finally, none of this could be possible without the efforts of my team, my Fight Family. From bottom to top, Rumble Time Promotions works tirelessly to bring world class events to the area and we will continue to do that well into the future."

Other nominees for Story of the Year include: Sanchez wins the RFA Middleweight title, Bellator double dips in St. Louis, and Spire adds blood work requirements

"I wanted to vote for Bellator but there will be more Bellator fights. We had only one Steve Smith," longtime cutman and coach Sid Gee said. "He was my friend and my boss when I worked his shows. He did more for the pro and ammy fighters in St. Louis I think than anyone."

Voting on the 2015 STL MMA came from a collection of area promoters, coaches, media, and others. The panel consisted of Brett Auten (Knuckle Junkies), Steve Berger (Berger MMA/FitorFight), Travis Brown (Vavel USA), Jason Carr (Spire MMA Official/Knuckle Junkies), Jayson Cooper (Spire MMA president), Jared Daniels Block (Modern Combat System), John Davis (cutman), Rob Donaker (Shamrock FC COO/ matchmaker), Jordan Dowdy (Knuckle Junkies), Sid Gee (cutman/coach), Kevin Hahn (Hahn's MMA), Brian Higginbotham (Fighting for Autism), Jesse Finney (Shamrock FC President), Rob Francis (Spire MMA Official), Jeremy Johnson (That MMA Show), Steve Knogl (CMMA), Sara Levin (slevin11.com), Craig Nasselo (cutman), Kenny Nowling (Fight Hard MMA/Gladiator MMA), Matt Pearlman (tapoutandtko/teens on sports), Jimmy Range (Jimmy Range Photography), Mike Rogers (St. Charles MMA), Kain Royer (Fight Hard MMA/Gladiator MMA matchmaker) Patrick Smith (Cage Championships), Josh Stewart (Spire MMA Referee), Joe Worden (Destruction MMA), Erion Zekthi (Knuckle Junkies), Heath Pedigo (Pedigo Submission Fighting).