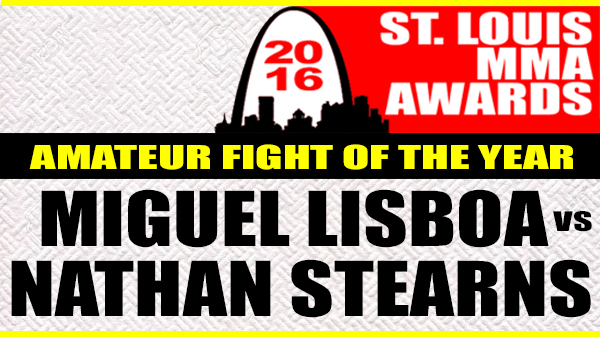 2016 STL MMA Amateur Fight of the Year
The competition for the Amateur Fight of the Year was the closest and most divisive of all of the categories we tallied votes for.

Narrowly edging out the other nominees, the bout between Miquel Lisboa and Nathan Stearns at Horizon FC: Oktoberfest is your winner garnering seven of the 19 votes.

The fight came together when Stearns defeated Jeff Houska at Horizon FC 2. Promoter Ace Anderson awarded the winner of the fight a "Money in the Bank" title shot at the next event.

When looking for possible opponents, Miquel Lisboa was the toughest name matchmaker Kain Royer could find.

"Not many people gave Stearns a chance but after training with this kid I knew he had a serious chance." Royer said."He's tough mentally and physically and has the drive to win. I knew the fight was going to be a good one. When the fight went down we were not disappointed."

Like a proud papa, Royer couldn't have been happier.

"These kids left it all in the cage it was one of the best back and forth fight I've seen on any level." Royer said."I honestly could not of judged the fight. I had no clue who won at the end. Both fighters should be very proud the crowd and the MMA community were all entertained and I think both fighters got alot of experience out of the fight and grew as martial artists. I'm very proud of this fight both great guys great sportsmanship that left it all in the cage"

Stearns, a young upstart from Southeast Missouri, put together the best streak of his career posting a perfect 4-0 record for 2016. Lisboa, a white belt world champion in jiu-jitsu under Heath Pedigo, was the perfect test for Stearns who, while not as accomplished, is solid on the ground, studying under Chad Morrison at Perryville Jiu-Jitsu..

"Lisboa swarmed and used his BJJ early, but could not seem to put Stearns away," Jordan Dowdy, a professional fighter, and Knuckle Junkies reporter, said. "You could tell that coach Chad Morrison had Stearns drilling out of bad positions a lot in preparation. Stearns was able to tough it out and take control of the fight by executing a very smart game plan, and showing growing striking skills. It was a back and forth bout full of transitions that eventually went the distance. It was a blast to watch for anyone with an experienced eye."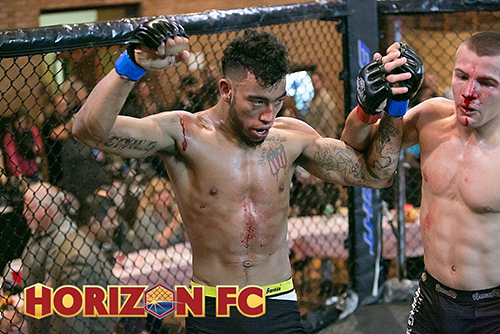 Bellator cutman Sid Gee, who has traveled all over the world working fights and had a front-row seat for the action, had a blast.

"Dr Melvin Maclin and I sat cage side, working the fight and we were high-fiving and screaming and yelling the entire time," Gee said. "Those guys fought as good as any pros we've ever seen. Definitely, the best ammy fight I saw last year."

Maclin agreed:

"It was flat out amazing," Maclin said. "It was a three round roller coaster fight with two very skilled and determined fighters willing to leave it all in the ring. It was back and forth with excellent striking, submission and submission escapes. It may have been amateur, but it was professional in every sense of the word. You couldn't have choreographed a movie fight better."

Photo courtesy of Sara Levin Photography and Horizon Fighting Championship.

---
Voting on the 2016 STL MMA Awards came from a collection of area promoters, coaches, media members, and others. The panel consisted of Brett Auten (Knuckle Junkies), Matt Frazier (Knuckle Junkies) Steve Berger (Berger MMA/FitorFight), Travis Brown (MMA Wreckage), Jared Daniels Block (Modern Combat System/Gateway Fighting Series), John Davis (cutman), Rob Donaker (Shamrock FC COO/ matchmaker), Jordan Dowdy (Knuckle Junkies/2 Pros Know podcast), Sid Gee (cutman/coach), Kevin Hahn (Hahn's MMA), Brian Higginbotham (Fighting for Autism), Jesse Finney (Shamrock FC President), Kevin Engel (Shamrock FC commentator), Jeremy Johnson (Shamrock FC commentator), Sara Levin (slevin11.com), Craig Nasselo (cutman), Jimmy Range (Jimmy Range Photography), Mike Rogers (St. Charles MMA), Kain Royer (Academy of Courage) Patrick Smith (Cage Championships), Josh Stewart (Spire MMA Referee), Dr. Melvin Maclin (Fight doctor)