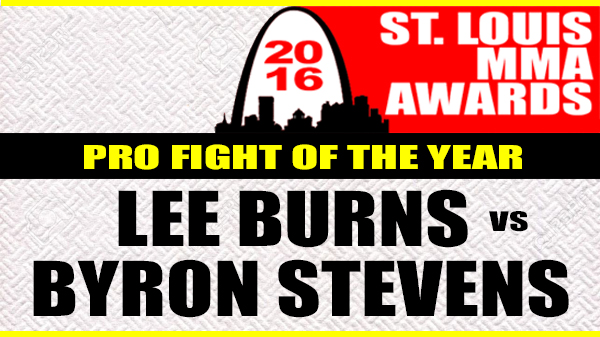 2016 STL MMA Pro Fight of the Year
It was a slobber-knocker. Two guys refusing to lose and reaching down for a level they never knew they had.

When Lee Burns and Byron Stevens took to the cage near the end of Bellator: Dynamite 2, the two wailed on each other for nearly two full rounds, before a winner was finally decided.

At opposite sides of the locker room, the pair sat through 20-something fights, and nearly 5 hours of waiting before they were allowed to step into the cage, and when they did it was magical.

"These two had to sit in the back or over eight hours and still came out and fought," Rob Donaker, Shamrock FC matchmaker, said. "Either one could have quit at multiple times but kept fighting. You don't see a back-and-forth fight with heavyweights go past the first round and this one almost went the distance. A crowd-pleaser for sure."

Leading into the fight Burns, a mountain of a man, had decided to forgo much of an amateur career (only one fight) and went straight into the deep end of the pool of the heavyweight division. After winning his first two bouts he eagerly jumped on the opportunity to fight for Bellator against Stevens who was making his pro debut.

From the first bell, it was a sprint. Stevens connected early with a wild punch that had Burns in a bad way but allowed him to recover sending the fight into the second round.

"I wasn't fighting that night so I was in the back and it was the crowd that pulled me out with oohs and aahs. I was like, what the hell is going on?" Kain Royer, Academy of Courage, said. "They were going insane. I started watching around the end of the first round and they were throwing as hard as they could and I knew I was going to stay and see what was going to happen."

In the second it was Burns who nearly ended the fight, having a very badly winded Stevens in trouble against the cage and Burns wailed on him. Stevens would recover and with both fighters sucking air, Stevens was able to put Burns away.

The few hundred fans remaining at the Scottrade Center were on their feet by the end of this one, a bout that would have made former St. Louis Blues' enforcer Kelly Chase proud.

"I just felt that both fighters left everything they had in the cage. That's all you can truly ask for. It was back and forth the whole fight," Jesse Finney, Shamrock FC President, said.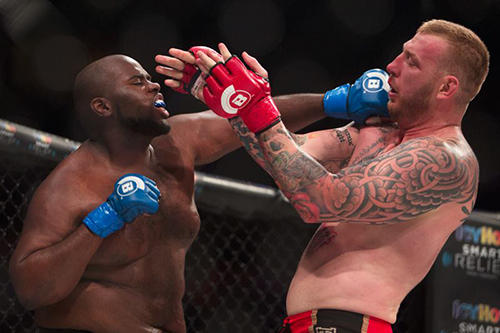 KJ photog Jimmy Range was front row for the encounter and took this awesome shot.

"Burns and Stevens was the fight of the year for the relentless effort the two of them put forward from the first bell," he said. "Through pure exhaustion, they both continued to push forward, going toe-to-toe, striving for the 'W.'"

It's a rare treat you see a heavyweight fight of such quality. Promoters if you're listening, make this one happen again.

---
Voting on the 2016 STL MMA Awards came from a collection of area promoters, coaches, media members, and others. The panel consisted of Brett Auten (Knuckle Junkies), Matt Frazier (Knuckle Junkies) Steve Berger (Berger MMA/FitorFight), Travis Brown (MMA Wreckage), Jared Daniels Block (Modern Combat System/Gateway Fighting Series), John Davis (cutman), Rob Donaker (Shamrock FC COO/ matchmaker), Jordan Dowdy (Knuckle Junkies/2 Pros Know podcast), Sid Gee (cutman/coach), Kevin Hahn (Hahn's MMA), Brian Higginbotham (Fighting for Autism), Jesse Finney (Shamrock FC President), Kevin Engel (Shamrock FC commentator), Jeremy Johnson (Shamrock FC commentator), Sara Levin (slevin11.com), Craig Nasselo (cutman), Jimmy Range (Jimmy Range Photography), Mike Rogers (St. Charles MMA), Kain Royer (Academy of Courage) Patrick Smith (Cage Championships), Josh Stewart (Spire MMA Referee), Dr. Melvin Maclin (Fight doctor)