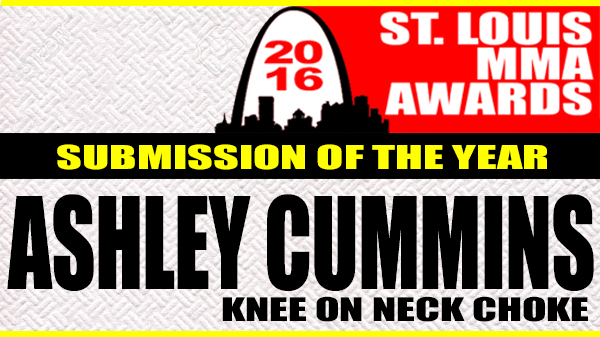 2016 STL MMA Submission of the Year
Few submissions resonated around the MMA community like Ashley Cummins' finish at Bellator: Dynamite 2.

Garnering 11 of the 19 votes, Cummins won the 2016 St. Louis MMA Submission of the Year with a choke that had to be seen to be believed. The submission was a beautiful demonstration of the elegant destruction jiu-jitsu can create with its technique.

"Ashley Cummins submission of Nikki Smith was nothing short of terrifying," Dr. Melvin Maclin, St. Louis fight doctor, said. "The Ashley Smashley choke resulted in a temporary Horner's syndrome and her opponent going to the hospital (she was completely fine within a few minutes). I discussed this case at the Association of Ringside Physicians conference, and no one had seen or heard of anything like this. It deserves the win for being creative and unusual."

Horner syndrome is a combination of signs and symptoms caused by the disruption of a nerve pathway from the brain to the face and eye on one side of the body. Typically, Horner syndrome results in a decreased pupil size, a drooping eyelid and decreased sweating on the affected side of your face.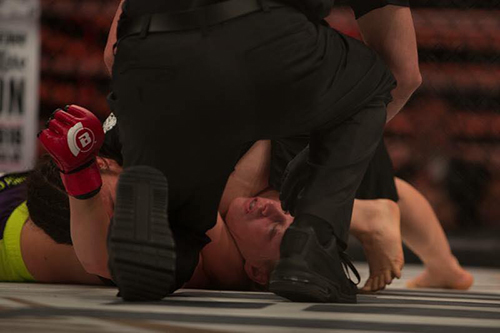 They say you leave the best for last, and in a cruel twist of fate, Cummins' submission over Smith was the very last match on a long night of fights. There were only three fights following the main card, and the 1-hour kickboxing special, and Cummins was the finale. When Cummins took to the cage, sometime around 11:30, the Scottrade Center was nearly empty.

"A lot of fighters have stepped into the big stage in 2016. None answered the call better than Ashley Cummins," Jeremy Johnson, Shamrock FC commentator, said. "The fight on the Bellator Dynamite card was definitely one of the best submissions I have ever seen in any promotion."

In nearly 200 fight recaps, watching over a thousand fights, we have never seen a submission as brutal and decisive as Cummins' choke and it should serve as a warning label to not take the ground game lightly.

Photo courtesy of Jimmy Range Photography

---
Voting on the 2016 STL MMA Awards came from a collection of area promoters, coaches, media members, and others. The panel consisted of Brett Auten (Knuckle Junkies), Matt Frazier (Knuckle Junkies) Steve Berger (Berger MMA/FitorFight), Travis Brown (MMA Wreckage), Jared Daniels Block (Modern Combat System/Gateway Fighting Series), John Davis (cutman), Rob Donaker (Shamrock FC COO/ matchmaker), Jordan Dowdy (Knuckle Junkies/2 Pros Know podcast), Sid Gee (cutman/coach), Kevin Hahn (Hahn's MMA), Brian Higginbotham (Fighting for Autism), Jesse Finney (Shamrock FC President), Kevin Engel (Shamrock FC commentator), Jeremy Johnson (Shamrock FC commentator), Sara Levin (slevin11.com), Craig Nasselo (cutman), Jimmy Range (Jimmy Range Photography), Mike Rogers (St. Charles MMA), Kain Royer (Academy of Courage) Patrick Smith (Cage Championships), Josh Stewart (Spire MMA Referee), Dr. Melvin Maclin (Fight doctor)