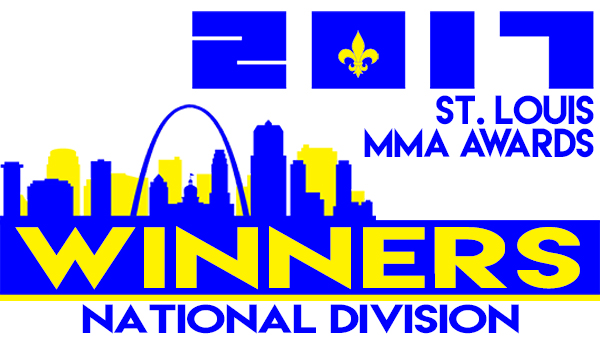 2017 STL MMA Awards - Winners (National)
St. Louis' thumbprint on the national MMA scene isn't what it once was.

But, it hasn't gone away completely.

The UFC makes its first trip here on Sunday and the current welterweight kingpin Tyron Woodley still calls the Gateway City home. Bellator will return here in April, and Alex White and Jake Collier have stuck around the UFC for a combined 13 fights.

Though not as many, the blips on the national radar were significant in 2017.

National Pro Fighter of the Year

Twenty-seventeen saw the return of the 'Pretty Boy.

'EJ Brooks jumped up a weight class to welterweight and played spoiler in both of his wins in 2017 for two different promotions.

Earning 29-percent of the vote and narrowly edging out his teammate Zach Freeman, EJ Brooks is your 2017 STL MMA National Pro Fighter of the Year.

Brooks (10-5) started his career 7-0. The years 2012-2015 weren't kind to the Pretty Boy as he lost five of his next six. But would it should stand as a lesson to any younger fighter out there, he persevered, and a 2016 win for Titan FC led to a bout against Dakota Cochrane for Victory Fighting Championship 56 in April of 2017. Brooks put together one of his best performances in years, controlling where the fight took place and snuffing out Cochrane's momentum, having won nine of his last 10 up to that point, and defeating the hometown favorite.

"I got the call for that fight when it was five weeks out, I was 195 and out of shape," Brooks said. "I did what I had to do to win."

In July, Brooks returned to the Bellator for his seventh fight in the organization.Once again facing the hometown favorite in Guilherme Bomba who was riding a two-fight win streak - at Bellator 181, Brooks' high-level wrestling allowed for him to play spoiler as he earned a unanimous decision to improve to 11-5.

Congratulations to EJ Brooks for winning the 2017 STL MMA National Pro Fighter of the Year.






Story of the Year

This one was pretty much a no-brainer.

Grabbing 22 of the 25 total votes, Zach Freeman's submission of Aaron Pico at Bellator: New York in June.

Brought in to be the sacrificial lamb for the heavily-pedigreed Pico, Freeman quickly showed why it was a mistake to put a newcomer in the cage with the Altar Boy.

Just 24 seconds into the fight, Freeman connected with his patented heavy right hand and then jumped on a guillotine, getting the submission.

Freeman parlayed that win into a noteworthy appearance at the post-fight press conference where he championed the need for MMA media to cover all fighter, not just the ones with big names from big teams. He was the talk of the MMA world the following week, getting guest slots on several national radio and talk shows.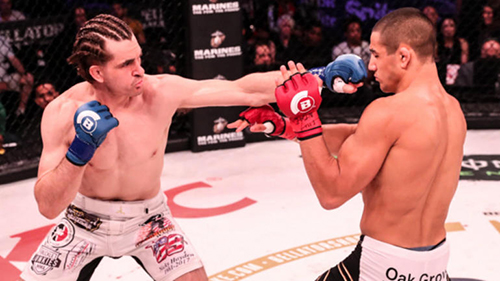 "I can say for a week or two, things were crazy," Freeman told KJ. "My name's everywhere, and you're getting all of this attention but also I knew nothing was really going to change that drastically. After two weeks went by, my life was kinda normal again. Even if I walk through the airport or go places I think, are people going to recognize me? No. Not yet. I have a lot of work to put in before I think I have a recognizable face. But at the same time, I don't measure my success in that."

Congratulations to Zach Freeman for winning the 2017 STL MMA Award for Story of the Year.





A full list of the nominees for all of the nine categories can be found here. Nominations were selected based on performances in the 2017 calendar year with suggestions accepted from the St. Louis MMA community via social media.

In order to be eligible for nomination, a fighter must complete the majority of their training in St. Louis or the nominated performance must have taken place here.

Winners were selected by a 25-person panel that included local coaches, promoters, cutmen, and other local experts.The panel consisted of Brett Auten (Knuckle Junkies), Matt Frazier (Knuckle Junkies), Jordan Dowdy (Knuckle Junkies), David Cormier (Knuckle Junkies), Sara Levin (Knuckle Junkies), Erion Zekthi (Knuckle Junkies). Rob Donaker (Shamrock FC COO/ matchmaker), Jordan Dowdy (Knuckle Junkies), Jason Frazier (ESPN's Down Goes Frazier podcast) Sid Gee (cutman/coach), Brian Higginbotham (Fighting for Autism), Jesse Finney (Shamrock FC President), Kevin Engel (Shamrock FC commentator), Jeremy Johnson (Shamrock FC commentator), Craig Nasselo (cutman), Mike Rogers (St. Charles MMA), Kirk Huff (Arnold BJJ), Kyle Watson (Watson Martial Arts), Steve Berger (Berger's MMA), Kain Royer (Academy of Courage), Patrick Smith (Cage Championships, Rob Francis(MMA Official), Brad Cary (Nemesis Fighting Alliance), Drew Ingrande (Wolves Den), Andrew Ebers (Wolves Den), James Dalton (JD's Gym)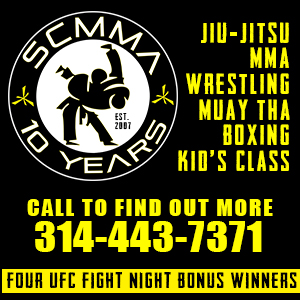 KCFA
| Sat, August 24th
Independence Event Center, Independence, MO
Shamrock FC: 322
| Fri, September 6th
River City Casino, St. Louis, MO
Sub 5
| Sat, September 21st
TBA
Nemesis Fighting Alliance
| Sat, October 5th
Casa Loma Ballroom, St. Louis, MO

Tweets about "KnuckleJunkies OR @knucklejunkies"