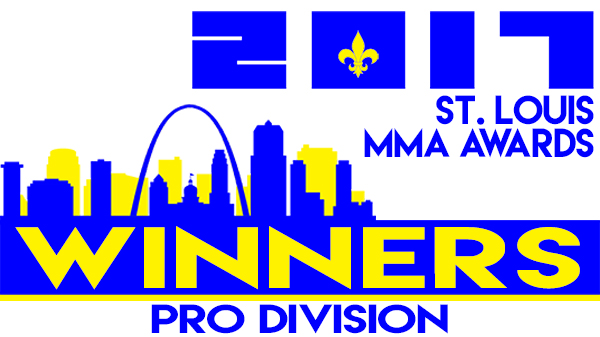 2017 STL MMA Awards - Winners (Pro)
The professional fight scene has been the lifeblood of Knuckle Junkies since its inception.

With the local dominance of Shamrock Fighting Championships and Gateway Fighting Series steadily building its brand, the opportunities are there for area pros to showcase their wares.

In 2017 we saw the passing of the guard, out with the old and in with the new.

Regional Pro of the Year

He didn't exactly come out of nowhere, but Sean Woodson was a pretty unknown commodity entering 2017.

Well, all of that has changed.

The long-limbed, six-foot-three multi-weight class Wolves Den fighter went 3-0 in three different weight classes last year and garnered 29-percent of the vote to become the 2017 Regional Pro of the Year.

Woodson's year began at welterweight in January at Shamrock FC 283 where he made quick work of veteran Coltin Cole, who was also a former training partner. Multiple attempts to get Woodson grounded were stalled before Woodson caught Cole behind the ear with an elbow. Once he pressed Cole up against the cage, Woodson began picking his shots and let go on unanswered punches that signaled the end of the fight early in the first round.

"It was strickly business," Woodson said in the KJ post-fight video. "I'm not in this to make friends or anything like that. I'm here to handle my business and he just happened to be on the other side tonight."

Woodson came back in June at SFC 290 and tussled with the 2016 Regional Pro of the Year, Rashard Lovelace. In the most significant win to date, Woodson handed Lovelace his first career loss as he showcased superior boxing and steely resolve. Spurred by being overlooked, Woodson picked up a 30-27, 29-28, 29-28 unanimous decision win.

"I love proving people wrong," Woodson told Knuckle Junkies afterward. "I saw online that I was a 10-1 underdog. It really motivated me."

Woodson finished 2017 with a clinical performance at featherweight. At SFC 295, Woodson's boxing, accuracy, and leg kicks were too much for Seth Basler as Woodson earned a 30-27 unanimous decision. Afterward, Woodson spoke on his cut to featherweight.

"I felt terrible conditioning-wise, that's why I had to fight at that slow pace," Woodson said. "The weight cut really got to me. I felt sick as a dog. Back to '55 for sure. I'm staying at '55, '55 is my home. I was never in trouble, but I was just trying to get a feel for my cardio the whole time. After every jab, it took way more energy than it should have. I was trying to play it smart and not gas out and make a mistake."

Woodson ended the year with a tryout for this year's The Ultimate Fighter that by all accounts went well.

Congratulations to Sean Woodson for winning the STL MMA Award for Regional Pro of the Year award.






Pro Fight of the Year

It was the kind of fight a crowd pays its hard-earned money to see.

Back and forth. Blood and guts. A real slobber knocker.

September's SFC 295 was unquestionably the card of the year with two STL MMA Pro Fight of the Year nominees, the aforementioned passing of the Fighter of the Year torch, a Submission of the Year nominee, and an Amateur KO of the Year nominee.

Claiming 34-percent of the vote and the 2017 STL MMA Pro Fight of the Year honors is the lightweight showdown between Brandon Lowe and Malcolm Smith.

Smith and Lowe went at it, the voters loved it, and the fight didn't even last 10 minutes.

In a wild, momentum-shifting second round, Smith came out strong, and like he did for much of the first round, dictated the offense with his hand-speed and boxing.

But around a minute in, Lowe turned the tides and pressured Smith across the cage. Lowe got the fight to the floor and eventually went all in on a head and arm submission that wasn't there. Smith who had been out of action for over a year - fought back into Lowe's guard and did some damage before getting laced up a triangle attempt by Lowe. From his back, Lowe landed multiple elbows before finally getting the TKO victory.

"I know my mental toughness, and I knew I could always rely on that," Lowe told KJ afterward. "He came out way heavier than I thought. The first round was rough. He beat up my leg pretty good and made me get sloppy. He pressed forward, and this is my 20th fight, between amateur and pro, and that's the first time I had ever been cut."

It was a dynamic first round for Smith. He was getting off quicker and more frequent and did more damage but Lowe, as blood started to trickle, pushed through. Near the 1:20 of the round mark Smith's energy began to fade, and the veteran of the local scene couldn't put on the same punching pressure to close the deal.



Congratulations to Brandon Lowe and Malcolm Smith for winning the 2017 STL MMA Award for Pro Fight of the Year.






Submission of the Year

There was plenty on the line for Zak Bucia.

Bucia had won the SFC welterweight title that spring and a successful title defense who earn him a Bellator contract. The only thing standing in his way was the rough and tough Aaron Highfill.

After three rounds of action, the fight entered championship rounds, and Highfill scored another nice trip from the clinch. And while Highfill's submission defense had been airtight all night, Bucia a recent BJJ brown belt made the smooth and efficient transition by baiting Highfill with a triangle and transitioning to a belly-down armbar to get the finish.

Earning 52-percent of the vote, Bucia is your winner for 2017 Submission of the Year.

"I kept feeling that there was something on the ground as long as I was pushing away from the fence," Bucia told KJ afterward. "He kept shrugging the triangles really well. The last thing that happened was, I'm going to fake the triangle then I'm going to switch to the arm, and I went belly down on that one because I knew he was up on some rounds and I had to take that arm home with me."

Congratulations to Zak Bucia for winning the 2017 STL MMA Award for Submission of the Year.






KO of the Year

Two days into 2017, Luis Pena brought the thunder.

Taking his first-ever pro kickboxing bout at Gateway Fighting Series: Revolution 2, Pena set Facebook ablaze.

Claiming 52-percent of the vote, Pena earned the 2017 Pro KO of Year.

KJ's Jordan Dowdy detailed the cripling finish it as such:

Knuckle Junkies Breakout Fighter of the Year Luis Pena, finishing 2016 with a quick 2-0 record in MMA, took a fight against Rome Lindsey on a couple of weeks notice. Pena lives at the gym and jumped at the opportunity to test out his striking in a professional contest.

Lindsey came out firing multiple kicks on Pena and brought a quick storm that Pena endured as he looked to establish his range. Lindsey injured his foot on a checked kick but found enough adrenaline to recoup before the 10-count. Pena welcomed him back to the fight with a combination followed by a highlight reel switch flying knee KO that produced a sickening thud as it landed on the chin and left Lindsey out cold on the mat.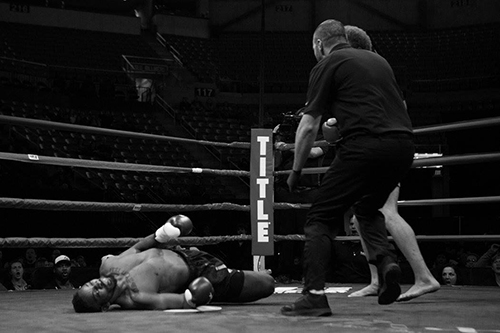 (Photo courtesy of Jimmy Range Photography)

"I was a little bit more tentative than I wanted to be but once I finally found my rhythm and my groove I was really able to let things flow," Pena told KJ. "I caught him with a couple of things before I threw that knee."

Congratulations to Luis Pena for winning the 2017 STL MMA Pro KO of the Year.






A full list of the nominees for all of the nine categories can be found here. Nominations were selected based on performances in the 2017 calendar year with suggestions accepted from the St. Louis MMA community via social media. In order to be eligible for nomination, a fighter must complete the majority of their training in St. Louis or the nominated performance must have taken place here.

Winners were selected by a 25-person panel that included local coaches, promoters, cutmen, and other local experts.

The panel consisted of Brett Auten (Knuckle Junkies), Matt Frazier (Knuckle Junkies), Jordan Dowdy (Knuckle Junkies), David Cormier (Knuckle Junkies), Sara Levin (Knuckle Junkies), Erion Zekthi (Knuckle Junkies). Rob Donaker (Shamrock FC COO/ matchmaker), Jordan Dowdy (Knuckle Junkies), Jason Frazier (ESPN's Down Goes Frazier podcast) Sid Gee (cutman/coach), Brian Higginbotham (Fighting for Autism), Jesse Finney (Shamrock FC President), Kevin Engel (Shamrock FC commentator), Jeremy Johnson (Shamrock FC commentator), Craig Nasselo (cutman), Mike Rogers (St. Charles MMA), Kirk Huff (Arnold BJJ), Kyle Watson (Watson Martial Arts), Steve Berger (Berger's MMA), Kain Royer (Academy of Courage), Patrick Smith (Cage Championships, Rob Francis(MMA Official), Brad Cary (Nemesis Fighting Alliance), Drew Ingrande (Wolves Den), Andrew Ebers (Wolves Den), James Dalton (JD's Gym)