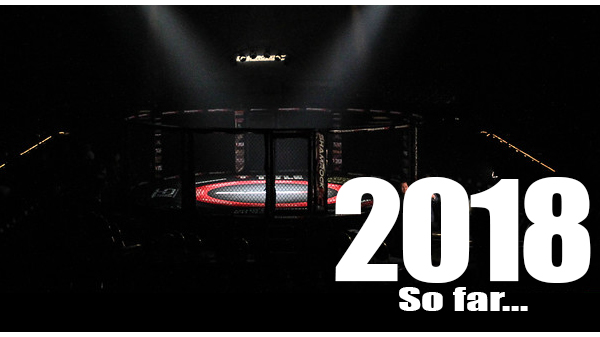 2018, So far...
As the halfway point of 2018 comes to a close, what better time to look back on the year, so far, in St. Louis MMA.

In her ever-growing quest to be the best antomweight in the world, Ashley Cummins earned a unanimous decision win over Stephanie Alba at Invicta FC 27 in January.

Shamrock FC made its debut at the Ameristar Casino in January. Veterans Adam Cella, Adam Osmoe, and Jordan Dowdy all earned key victories that night. The promotion returns there next month where it will celebrate 20 years in the business. Sean Woodson (4-0) steps in to face 23-fight veteran Dawond Pickney. Woodson had a banner 2017, going 3-0. In another milepost moment this year for Shamrock FC, it partnered with Flo Combat in May to broadcast its events via pay-per-view events.

In January news spread that Luis Pena earned a spot on The Ultimate Fighter: Season 27 roster as a member of Team Cormier. Pena was the 2016 STL MMA Breakout Fighter of the Year and won the 2017 STL MMA Pro KO of the year. A transplant from Arkansas and Florida, he trains at both St. Charles MMA and Arnold BJJ. Pena, who has been at American Kickboxing Academy since May, became a fan favorite early in the show. He entered the season with a 4-0 record and defeated Jose Martinez Jr. by unanimous decision in the quarterfinals of the tournament.

Next week, Pena makes his UFC debut on the undercard of the July 6 TUF Finale versus Richie Smullen. Both Pena and Smullen will be fighting with a chip on their shoulder. After his win, Pena suffered a foot injury in the bout and was ruled medically unfit to continue in the competition. Smullen, 3-0-1 out of SBG Ireland, didn't get to compete as he suffered severe leg cramps just moments before his fight with Allan Zuniga and was ruled ineligible.

In March, Shamrock FC 303 showcased three of the top amateurs in the area. Evan Elder (who had already earned a solid win over Luis Felipe in January) defeated Colin Parr to claim the SFC lightweight title and solidified himself at the top in St. Louis. On the same card, Tim Jackson proved that he could be a handful for anyone at 135 with a finish of veteran Kory Beck.

Bellator MMA came back in April for its fourth visit in three years and the first time at the Family Arena. While locals on the main card had some tough go's, the undercard provided a few shining moments.

Jordan Dowdy picked up win number six with a first-round submission of Jeff Crotty. Dowdy (6-4) got the tap at the 29-second. The victory was Dowdy's second of 2018 and was the fastest submission victory in Bellator welterweight history.

Eric Ellington won his fifth straight that night with a split decision victory over Jordan Howard. Ellington's takedowns were key in taking out Howard (10-5). The win would lead Ellington (5-1) to a fight in May on the main card of LFA 40 where he lost to undefeated Miles Jones (6-0).

Two veterans showed they still have plenty in the tank that night for Bellator.

With nearly three-years worth of dust on his MMA game, Josh Sampo showed few signs of rust despite losing a 30-27 unanimous decision to the highly-touted Dominic Mazzotta (14-2).

Adam Cella earned the ninth win of his career with a first-round TKO of DeWayne Diggs. Cella (9-8) has seen rebirth has he has won twice in 2018 and three straight since December of last year.

April saw the return of two amateur promotions.

Cage Championships 59 took place in Sullivan where Khris "Gonzo" Gonzalez, Orlando Sanders, and Sunni Shemwell were big winners on the night. Looking ahead, Cage Champs 60 will be held July 28 at the Big Eagles Hall.

Nemesis Fighting Alliance was back at the Eagles Hall in Arnold as new owners Brad Cary and Marlene Kelly took over the promotion. In the main event, Chuckie Brooks landed some heavy punches on Nathan Stearns from the top position to earn a referee stoppage in the first round. NFA is back at it on Aug 25 at the Eagles Hall.

Speaking of the ammies, the Iron Fighting Alliance put on its third event in June at its home of the American Czech Educational Center in St. Louis, MO. Topping the card was a lightweight K1 bout between Christian Santana and Zach Burcham with Santana earning a TKO victory in round three.

June saw the St. Charles MMA trio of Julius Anglickas, Lucas Clay and Charles Johnson each earn main card wins on LFA 42 and their veteran SCMMA teammate, EJ Brooks, get his fifth straight win at Absolute Championship Berkut 88.

Ty Flores is another who picked up a win on that LFA 42 card in Branson. Flores joins the bottleneck of 2-0 fighters for 2018, joining Dowdy, Cella, Brooks, and Clay. Clay (4-0) got a bit of a national pop with his victory via buggy choke in March at Rite of Passage 3.

Looking ahead, aside from the events above, Shamrock FC staple Garrett Gross will be fighting on Dana White's Contender Series on July 31 and all you grapple heads can take a road trip across the state for BBQ and BJJ as Respect 4 takes place on July 21 at the KCI Expo Center.