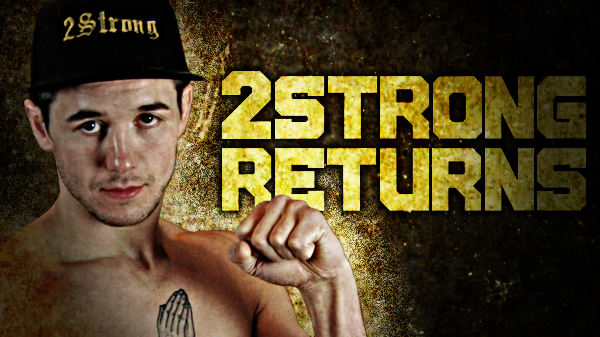 2Strong Returns
Lucas Gwaltney is comfortable in his own skin. He knows who he is, what he can do, and that he can do it rather well.

On Friday, Gwaltney will face Adam Cella in the main event of Shamrock Fighting Championships: Victory at a standing room only River City Casino.

Two items of note about this fight: 1) Gwaltney hasn't fought in nearly a year-and-a-half and 2) the fight is at welterweight, one division up from his his normal lightweight.

Its evident that Cella, out of Finney's MMA, is an opponent the 28-year-old Gwaltney appreciates. Gwaltney realizes a victory would be another nice notch in a 32-pro fight career.

"I have more to gain out of a win than he does," Gwaltney said.

A decorated kickboxer who started his career 4-0 and then parlayed that into a brief slice of fame as a cast member of the The Ultimate Fighter, Cella is a technician who, since moving from middleweight to welterweight, also has the power to be a devastating finisher. Case in point: a vicious KO of Justin DeMoney in 2013.

Cella is surrounded by good coaching and blue chip training partners. That type of backing 2 Strong has had to travel outside is native Streator, IL, to find.

"Being a year-and-a-half off, maybe I jumped the gun a little too soon," Gwaltney said. "But Im excited to get back. This is maybe not the smartest first fight but don't count me out. Hes a big 70 and I'm a small 70. I feel at 70 as he did at 85. But I'm going to show up and touch gloves and go at it. Unless he hits me with something nasty early, I should be OK. He could get on top of me and maybe I wont be able to shake him? Either way, I want to get it into a dirty fight."

Fighting dirty is Gwaltneys specialty. His go-for-the-kill style has made him a fan favorite for eight years now. He is 6-feet-2 of backbone and courage, the type that you hit and he simply moves forward and hits right back, throwing with ire and rancor. He has 7 KOs/TKOs, has never been submitted, and has lost three split decisions.

"I cant say I am an amazing technician," Gwaltney said. "I'm kinda old school. I'm there to brawl and sometimes I get away with it."

Cella isnt Gwaltneys first big fish. Over the years, he has fought a plethora of quality opponents including the UFC's Michael Johnson and Abel Trujillo as well as Bellator's Pat Curran.

His time away from competition was spent realizing the need to close down his gym in Streator. The time spent training others took a toll on his development so gears were shifted and a consistent commute began to Ottowa MMA and also Clay Guida MMA Stop Fitness in Crest Hill.

"Its been a little rocky," he said. "When you're training every day for someone else, its hard to train for yourself."

Gwaltney is 16-16. Its a record marred by a 4-10 stretch from June of 05 to August of 06 that included his last excursion to 170-pounds.

"It was a long, long time ago," Gwaltney said. "It kind of tarnished my record. I took a lot of fights early on and never had a real manager. I didn't have the luxury that some of these other guys have had."

St. Louis has been a second home to Gwaltney. In recent years, his fights with Trujillo and Washington are considered some of the best ever under the Fight Hard banner. In 2010 he fought Tim Thomas for Rumble Time. When in Missouri he has had a longtime home-base to train and learn from the coaches and fighters at Berger's MMA.

"Steve Berger has been so good to me over the years," Gwaltney said.

But his career jump-started after making two trips to the Metro area early in his career, including fighting at Battle of the Ballpark at Al Hrabosky's Ball Park Saloon.

"To come from a small, cornfield town and you walk out and see the Arch and the Cardinals stadium and then signing autographs and getting my picture taken with fans it was a big deal for me," he said.

Gwaltney wrestled and played football all four years in high school. But in a familiar storyline, wrestling took a meek kid and turned him into a confident young man.

"I was bullied in high school. I was the little guy," Gwaltney said. "My freshman year it got so bad that I wanted to drop out. But I started wrestling and kept at it for my sophomore year and by junior year, I was running the school. Wrestling helped me so much."

He had his first boxing match when he was 15 and took his first fight in the cage at 17. He turned pro by his fifth or sixth fight, its hard to remember.

"It was a lot different then," Gwaltney said. "It wasn't a big deal. It was more like, oh yeah, now you're a pro fighter."

Heading into fight week one less thing - and a chief one at that - he has to worry about is shedding pounds.

Fighting at welterweight has its advantages and disadvantages. Gwaltney walks around at a plump 180-188 and the cut to 55 can be gruesome.

"Usually I am in the steam room with a nose bleed feeling like I'm about to pass out," he said. "I have had to cut 33-pounds in a week-and-a-half before. Now, it was 10. So I've been eating pizza, chicken, getting some carbs and drinking water."

Around 10 p.m. on Friday night, in front of a capacity crowd, most which will be rooting for another night of "Cellamania", Gwaltney knows a tall order waits. Cella is 5-1, with all six victories coming with first round finishes.

"I think it is going to come down to whoever lands the cleaner shots," Gwaltney said. "I expect head kicks, guillotines, arm bars, and elbows. Hes more technical but Im looking to do the opposite. I may come out real fast and get in his face."

Cella has never been out of the first round. For Gwaltney, if the fight gets deep and decisions become sloppy,he's confident the tides will begin to shift.

"I seem to have good luck as the fight goes on," he said. "When heart kicks in, it comes to my world."