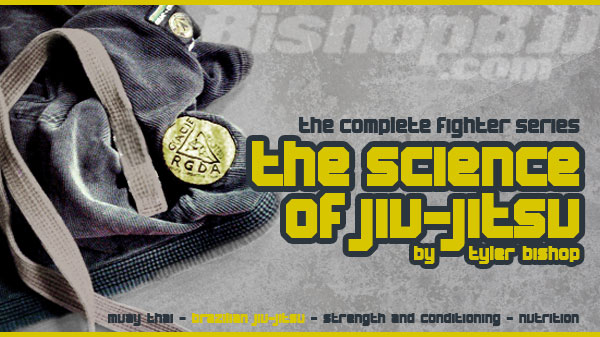 3 Ways to Improve Outside of the Academy
This article originally ran on BishopBJJ.com Check out their website for more great jiu jitsu related content.

Have you ever said to yourself, "there are only so many hours in the day"? I'm sure we all have. The same sentiment is true when it comes to jiu jitsu. The academy may only be open certain hours, you may have to work, your training partners may have to work, teammates could be hurt, you may be hurt, the list goes on and on. To develop quickly in jiu jitsu, time is of the essence. As it's often said, it's not how much time you have, it's how you use it. To improve your training practices, it is vitally important to dedicate time outside of the academy towards developing your technique, physical condition, and mindset.

If you were in school and wanted to get an "A" in class it would take extra effort outside of class, right? The same is true with jiu jitsu. These three methods for improving jiu jitsu outside of the academy (listed below) can help you begin developing an "A" level game today.

1:)Improve your body mechanics: David Adiv talked about this at length in our most recent podcast, and for good reason. Body mechanics make up the basis for all of jiu jitsu. If you cannot perform the movements necessary for a half guard sweep, side control escape, or armlock defense on their own, how do expect to perform those techniques against a live opponent? Many of these body mechanics can be found online, and many academies do movements like this as a part of the class warm-ups already. So why only do them in class? You don't need a partner for any of these, and can practice them at night before bed, in the morning before work, or when you are chilling and watching TV. I cannot stress enough how important it is to develop solid fundamental body mechanics. Without these movements it will be incredibly difficult to perfect any jiu jitsu techniques. We will post some more body mechanic movements in the coming weeks, so stay tuned.

2:)Use online resources to perfect techniques you are already good at: There have never been more online training resources available than there are today. You can learn directly from Marcelo Garcia, The Mendes Bros., Saulo and Xande Ribeiro, Andre Galvao, Draculinho, and more – all by making a few mouse clicks. Short on cash? Browse YouTube for a bit and find some quality videos from top-level instructors. However, there is one-catch. If you could learn jiu jitsu solely by watching videos on the internet there would be 3x as many black belts in the world than there are today. Jiu jitsu is largely based on feeling, accepting, and applying techniques in live training or drilling scenarios. That's why one of the most efficient way to use online resources is to use them to develop techniques you already understand.

Are you good at the deep half guard? How about triangles from mount? Try finding good video and supplementary material from qualified instructors that highlight the techniques you feel you are already pretty good at. You will learn to see new details that will further improve these techniques, and you may also learn some new transitions and grips that help you improve in other areas as well. This method of learning is much easier to apply because you already have a strong mechanical understanding of the techniques explained. If you can already understand what the technique feels like you will find it easier to appreciate and understand the new concepts the instructor explains in the technique. If you can efficiently use these resources to improve the things you are already good at it will make you an even stronger competitor as well, because you will have more tools that allow you to drag your opponent into "your fight".

3:) Set goals: My instructor, JW Wright, has always been a huge proponent of his students writing down their goals. It gives them a way of outlining and thinking about where they want to go in jiu jitsu, and provides him a way of understanding how to prepare them and develop them through their jiu jitsu journey. This seems very simple, but is very effective. In fact, research tells us that this is true in almost everything. By clearly defining our goals,we – as humans -typically do a better job of accomplishing things. In jiu jitsu it's good to set yearly goals like: compete at the Mundials, win a local tournament, get a blue belt, or even win an IBJJF medal. But, you can take this one step further and begin defining your development towards these goals with weekly goals. By developing this into a micro-strategy you can measure and control your development on an even greater level.

So what does that look like? Start by determining your goals for the year, then work backwards. If you are preparing for some type of competition you will have to be in shape, have a gameplan, perfected techniques you plan to use, and prepared properly for the event. How can you move closer to those things on a weekly basis? Maybe you need to ensure some extra time at the gym each week, perhaps you need to drill your best techniques a few more times after class, or maybe you need to sit down with your instructor to define a gameplan. No matter the long term goal, sit down and figure out what weekly goals will lead you closer to the ultimate one. No matter your long-term goal there is always some defined efforts that you can start this week that will move you closer. Doing techniques in class, then rolling is not specific to your goals – those things are specific to anyone who generally wants to get better at jiu jitsu. Take some extra time, and put forth that extra effort.

We will have some more information about body mechanics up next week. Until then, let us know if any of these practices work for you by commenting below.

Tyler Bishop runs BishopBjj.com, a website devoted solely to the science of jiu jitsu. He is also an assistant jiu jitsu instructor at Gracie Humaita St. Louis. As a competitor he is a 6x State jiu jitsu champion, 8x NAGA champion, and former amateur MMA champion among many other accomplishments.