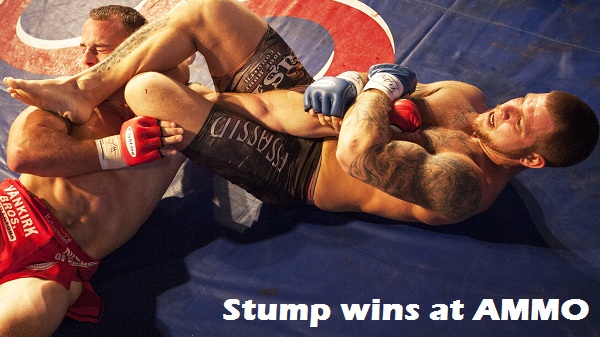 AMMO - Event Recap
Steely and without much flamboyance, Chris Heatherly notched the biggest win of his career Saturday.

With MMA legends Randy Couture and Matt Hughes in attendance, Heatherly submitted Dakota Cohcrane in the main event. The win came in the first round and Heatherly had the welterweight strap that he earned with the win put on him by Couture much to the delight to those in attendance at the Chaifetz Arena.

Warriors for Heroes MMA vs. PTSD featured six pro fights and four amateur bouts and was a fundraiser for the Adam Muffler Memorial Organization, and brought awareness to PTSD.

The main event was all 'Team Stump,' as Heatherly (7-1) pressured Cochrane (15-5) against the cage and worked steadily for the takedown. Once he finally got it, Heatherly ended up in side control. Cochrane worked in elbows off his back but Heatherly stayed heavy on top.

Cochrane eventually snagged Heatherly's left arm and was holding onto to it should an opportunity to finish the kimura should arise. But Heatherly saw a different kind of opening.

Literally jumping for an arm bar, Heatherly missed in his first attempt but was persistent, locking it in again, this time for the finish.

With interviews with Heatherly and several of the night's winners, be sure to check back tomorrow.

Hannibal native Mark Dickman smothered Josh Arocho in the co-main event. Dickman was dominant on the ground and once he took Arocho's back was deliberate in his striking. Arocho was pinned, unable to go anywhere, and the fight was stopped in the first round.

Also on the pro card:

Heavyweight Tyler Perry won via illegal kick in his fight with Mike Wright. Wright, who was making his pro debut, landed an illegal knee to the head in the first round that ended the fight.

In his pro debut Jesse Gerringer was workman-like in a unanimous decision victory over Nick Grant. Gerringer displayed relentless pressure throughout and showcased a nice gas tank in this outing. Gerringer was never in rarely in danger throughout. He was effective both on the ground and on the feet. The only notch in his armor came in the third round when an upkick from Gerringer landed a little low and a point was taken away, leading to the unanimous 29-27 decision.

St. Louisan Shelby Graham fought in front of his hometown crowd for the first time in a spell and he didn't disappoint. "Shogun" got an early takedown of Joshua Wiseman and even worked an arm bar. When Wiseman broke loose in a scramble, as he turned to look, Graham was there to greet him with a KO punch.

To kick off the pro portion of the card, a mighty uppercut changed the tides for Jaquis Williams as he got a win over Tony Zucca. Zucca came out really pushing the action. He landed a big right out of the gate and followed up with two big knees to the body.

But Williams came through with an uppercut that rocked Zucca. Williams proceeded to first take get the mount and then took his back, the whole time landing effective punches. Williams ended the fight via rear was naked choke near the end of the first round.

Gina Begly made Hannah McNitt pay for a slight error. McNitt went for a flip during the second round of their bout but Begly managed to thwart the attempt and take McNitt's back. Begly rolled through a summersault and secured a rear naked choke for the victory. McNitt had been on tear this summer, winning three straight. She finished the first round with an attempt at a triangle.

At 115, Stephanie Alba earned another win for her busy 2013. Alba wore down and wore out Bobbie Beddard. After spending the early part of round two in half guard, Alba worked to mount and rained down several strikes before the bout was called to a halt by referee Mike England.

Steve Sulze pounded out Jonathon Backer to garner a TKO win with 2:37 left in the third.

Nick Clubb won a unanimous decision over Christopher Mohr.