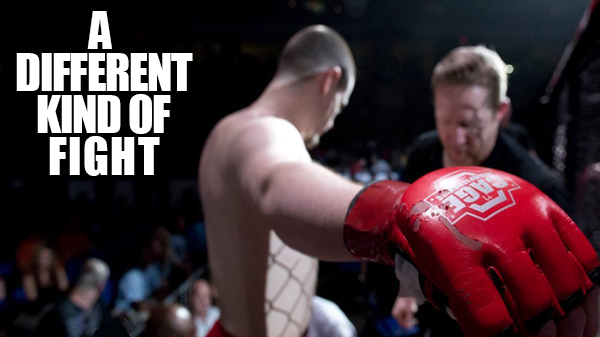 A Different Kind of Fight
His shoulders are broad and fill out his T-shirt. His forearms pour down to his wrists and hands that are thick like a day laborers.

As he sits at the kitchen table in his home St. Charles, the early afternoon sun enters through the kitchen window and catches the only sign that something is wrong.

Gone are the tufts of dark hair and in its place are wispy, cotton-candy like strands that rise from his scalp and sway like the tops of dandelions.

In a nine-month span, he competed in the fight capital of the world, then made his pro MMA debut, and followed that with a part in one the biggest cards St. Louis has hosted in years. And during that time, a frighting mass was there inside of him, latched onto a lung, feeding off this young fighter with a head full of dreams.

Cancer just doesn't care.

AJ Siscoe was diagnosed with Hodgkins Lymphoma before he turned 25-years-old.

A staple at JW Wright's Gracie Humaita and liked well enough to segue through the tribal waters of local gyms and conflicting promotions, Siscoe is a solid prospect with a slick jiu-jitsu game teamed with a blue collar toughness and just general orneriness. This summer he went all in on his MMA career, borrowed his girlfriend's car, jammed it full of clothes and gear and like a wanna-be starlet, he aimed southeast in hopes of catching on somewhere and somehow with The Blackzilians in plush Boca Roton, Fla.

While there time shifted, realities shattered.

It was a harrowing ride from his last amateur fight in Las Vegas in the fall of 2014 to the unknown of Florida, the Bellator cage and then a sterile doctor's office back in Missouri.

Siscoe was gracious enough to share that story and more, in his own words:

I was a bad kid, always in trouble. Couldn't keep my nose clean. Got in trouble. Too hyper and I couldn't get all of my energy out. I was always a scrappy kid. Always the smallest one so you have to be scrappy. You have to make up for it somehow.

My dad, it was on his bucket list to take an MMA fight. So he took an MMA fight and I went up and visited him and I was training with him and I just fell in love and never left.

I always loved jiu-jitsu. I was never that good of a grappler. Never wrestled in high school. But going to JW's and seeing how he could go against a huge bodybuilder who is 230-pounds and JW's going to tear him up if he doesn't know jiu-jitsu. That's just crazy to me that the art is so superior that JW, someone who is about 160-pounds, and he can just do whatever he wants to them. Jiu-jitsu is so beautiful and so pure to me.

I had 12 (amateur) fights. I went 8-4, won three titles, and ended up being ranked third or fourth in the state as an amateur in Missouri. In my last amateur fight I fought for Tuff-n-Nuff in Las Vegas against a black belt who had his own school. We were the main event and it was a tough fight but it was a great opportunity.

I decided to go pro and Scott (Ettling) was one of the top '45ers in the area and they offered me it. It was a pretty good scrap. I felt like I was winning the first round and his wrestling took over and it was too much. It was a tough loss and that's when I made the decision to put everything I owned in my girlfriend's car and I made the drive down to Florida. I didn't have any idea where I was going to live, I didn't know if I was going to make the team, I didn't know anything. I just packed up and drove 20 hours to Florida.

I made it through one day of class and they said I could come back. The next day was jiu-jitsu and not to be cocky or arrogant, but if there was a time for me to impress it was jiu-jitsu day. After class they told me to see the manager before I left and I was awkwardly waiting while (the manager) was done lifting weights and he came over and said, you made it. They want you to be part of the team. It was crazy. It was pretty awesome.

Eventually I got moved into a fighter house. I had to sleep in the living room but it is what it is and it felt like everything was falling into place.

In the Bellator fight (against Garrett Mueller) I was doing real well. The biggest thing that stuck out about Garrett was his takedown defense. I tried to take him down three or four times but his hips were so strong. I bloodied him up, busted his nose open and felt like I was winning the first round. He dropped me in the second round and when I came back to he already had the choke in. It was already over.

The week after my (Bellator) fight I couldn't get off the couch. I was sleeping 16-to-17 hours a day. I get back to Florida and things start unraveling pretty bad.

I was back at the fighter house and The Blackzilians were putting a roof over my head and paying for the a/c, I just had to come up with food and gas and entertainment. I wasn't training because of the concussion and I'm going to leave names out of this, but some of the guys, I wouldn't say they were picking on me but they were pissed that I was holding up a spot in the house. While they're working their ass off and training, who's this guy just sitting on the couch watching TV all day. But that's all I could do. Everything I thought was just from the concussion. Looking back on it I was really dumb not thinking something wasn't seriously wrong.

After the month I went back to training and felt like I was on half all the time and I kept thinking man, you have to push through, you have to push through. Two weeks in and every day I would get shorter and shorter. One day I would do two rolls, the next day one roll, then I would get halfway through one roll and start gasping for air.

I went to a local doctor down there and he told me I just had allergies. He didn't listen (with a stethoscope) to me or anything. He was sitting about as far away as you and me are. He didn't even check on me, man. He brushed me off almost like I didn't matter.

(The doctor) gave me steroids and I was getting better and I started to go back and train. I'm still not sparring and the coach's are getting pissed because I can't push hard in practice but I just can't. There's groaning and stuff like that about how I'm not working hard. I don't know exactly what made it happen to where I had to leave the Blackzilians but this was a serious house with top prospects and guys going to the UFC and stuff and then there's me who is 0-2 ... I remember we were running and I started to run and I couldn't do a mile. I was like, man I gotta go home and figure out what's going on. The next day I packed up my stuff and left and three-four o'clock in the morning.

The day after I got back from Florida. I remember sitting in the room forever. It was like time wasn't moving. He walked in and he puts the x-rays up on the screen and you could see the light gray where my lung is and the darker gray on top. He says you see this right here, and he circles it, and I'll never forget for as long as I live, and he says this is abnormal.

I turned around to leave. I didn't know where I was going but I just wanted to get the hell out of there. It was like it wasn't real. It was the worst day of my life. Part of the day is just so fuzzy that I can't remember anything and other parts of the day I'll never forget.

The way my chemo is set up is, it's in cycles and each cycle is three weeks long. It's doing real well. But there's so much shit that could go wrong with my chemo.

This week, rolling with Ann, was really important to me. I got to roll with her and I wasn't doing too bad. My heart and lungs felt fine. I was breathing heavy but it gave me hope.

After all of this chemo they have to run some tests to see how it's doing and if I still haven't beaten this I have to get a bone marrow transplant or radiation the doctor's say if I get radiation I'll never fight again. There have been people who have died from my cancer but unless something crazy happens I'll live to fight another day. But sitting in chemo you will run into the saddest shit you could ever know. To be honest with you, I feel terrible complaining.

Good friends of mine, Tyler and Jena Bishop, who have been huge through this whole process. Like, huge. I can't describe how awesome they've been through this whole process. They lost their niece Braelynn, who was like two-years-old, to a brain tumor. What I'm going through seems like nothing compared to that. You think of all those kids in children's hospitals, you know they have dreams too.

You know the thing is, it's just a big waiting game. Nobody knows anything until every two weeks when I get my pet scan done. It's just hoping that the tumor isn't getting any bigger.

I can't pinpoint when I started feeling off. My last three fights I lost. My fight for Tuff-n-Nuff was September of last year. My mass was the size of a dollar bill and on top of my lungs. It was literally three-fourths the size of my lung pushing on it. They said it could have been there for a year-to-six months. When I actually got diagnosed I had a collapsed lung, pneumonia, and a concussion from the punch Garrett threw.

If I would have known how sick I was I wouldn't have gone pro. I just hope my fight career is not ruined because I went pro too soon. Being 0-2 is a pretty steep hill. Doctor's keep saying I can't fight but I'm going to fight again if it's the last thing I do. It's the only thing I think about. All day everyday. I would like a second chance to make this dream a reality. I don't want cancer to win.

To keep up with AJ you can follow along at joinajsfight.com where donations are accepted. He is also active on his Facebook page, AJ Lets Go Siscoe.

Photo courtesy of Sara Levin Photogrpahy.