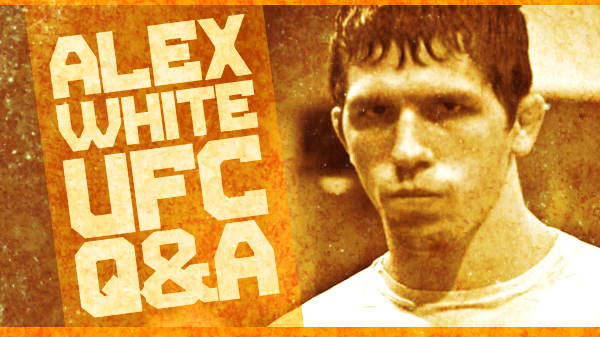 Alex White - UFC Q&A
ďI am overwhelmed by the amount of support Iíve gotten since the announcement. It feels good to know that I have so many people behind me. I would have never made it this far without my family, friends, coaches, and fans. They are the reason Iíve made it this far."

These are the words of the hard working and always humble Alex White. While most fighters would be jumping for joy, White is his normal laid back self in the wake of the biggest development of his fighting career. You could expect a little more excitement from a guy that just signed his first contract to step into the octagon and showcase his skills on television for the biggest MMA organization in the world. The 9-0 featherweight and his longtime coach Joe Worden made the announcement Friday that he will be making his UFC debut on April 19th in Orlando, FL against Estevan Payan.

We had the opportunity to discuss this opportunity Saturday night with both White and Worden.

KJ- First off, I would like to say congratulations to you on this amazing accomplishment.

AW- Thank you

KJ- So, after you guys let the cat out of the bag on Friday, how much were your phones getting blown up?

JW- Man, it was crazy! By the end of the night I had like fifty new friend requests and over three hundred notifications on Facebook.

AW- Yeah, it was crazy. It was such a cool feeling. Every time I would look at my phone, I would have ten new messages, some were from people I donít even know.

KJ- I know youíve worked hard for this. Iíve heard a lot of guys in the local scene talk about your work ethic and dedication. How does it feel to have all of that hard work pay off and to sign your name on that UFC contract?

AW- Honestly, relief. Itís something Iíve wanted for a long time and worked so hard for. I know Iím really going to have to step it up and work twice as hard.

JW- You know, one of the most incredible things about this is that the UFC is stacked at 145. Itís not like they are just out looking for guys to fill up the division. Alex is ready for this, itís his time.

KJ- Speaking of working hard, how does the training camp differ from normal since you only have about two weeks to prepare?

JW- Luckily we were already in camp for a boxing match next month, so Alex is already in good shape. We are working more rounds than usual, and going to other gyms to work with more guys. Trying to make sure he is ready for anything.

AW- The only real difference is that now, instead of just working boxing over and over every round, I am working on all aspects of MMA. Iím doing boxing, wrestling, Muay Thai, submissionsÖ. Making sure that no matter what my opponent brings, that I am ready for it.

KJ- St. Louis area fighters have really been making their mark in the sport lately. With Woodley, Alp, Josh Sampo, and Lance Benoist in the UFC, and guys like Chris Heatherly and Andrew Sanchez fighting on televised cards for growing promotions. Now with Alex joining the ranks, what would you say is the thing that sets this areaís fighters apart from other places?

JW- These guys all have the hard-working Midwest mentality. They arenít caught up in the bright lights of the bigger cities that some of these fighters come from. These guys arenít afraid to get in there and put in the work that it takes to be successful.

KJ- So, what do you know about your opponent?

AW- I know he is a banger. I know he is 0-2 in the UFC and is probably facing being cut with another loss. Heís going to be hungry to get in the win column.

JW- Three losses in the UFC usually means that you get cut. He and Alex are both exciting guys that like to hit hard. It should be an exciting fight. But if youíve ever seen Alex in the cage, I donít think he knows how to fight a boring fight.

KJ- Going from amateur to pro is pretty much like starting over. New rules and regulations, higher level of competition and so on. Does this feel like itís such a big step that you are starting over again?

AW- I donít know if I would say that. Iím kind of in-between about it. It is a huge step in my career, but itís what Iíve been working for all along. So even though it might kind of feel like Iím starting over, I also feel like itís the next step.

KJ- Well, while we are on the subject of the next stepÖ. You said that this has been the goal all along, so now what? What does Alex White want his next goal to be?

AW- I just know that now that Iím here, I want to earn some respect and prove to everyone that Iím going to show up to fight and that I do deserve to be here.

KJ- Joe, what do you think this means for Destruction MMA? Is this going to open more doors? Attract more fighters?

JW- Absolutely. It is going to show the right people that we do things the right way. As long as we have exciting fights, make weight, and be professional, I donít think we are going to have any trouble showing the UFC that we deserve to be here. As far as attracting new fighters, we already have out-of-state guys that have been here for a while and we have more that are planning on moving here and joining the team. I donít think having a fighter in the UFC could do anything but good for us. Itís great exposure.

KJ- Alex, I know you were recently training for a boxing match and had an opportunity to go to Thailand to sharpen your Muay Thai skills. Are you pursuing these things in hopes of making professional careers out of them or is it to sharpen your MMA skills and make you more well-rounded?

AW- MMA is first. I use the other things, like the boxing match, to make me a better MMA fighter.

KJ- Alex, is there anything you would like to add?

AW- I want to thank my coach, my team, my family and my friends. I am surprised by all of the love I have been shown. I am overwhelmed by the amount of support Iíve gotten since the announcement. It feels good to know that I have so many people behind me. I would have never made it this far without my family, friends, coaches, and fans. They are the reason Iíve made it this far.

KJ- Well said. I want to thank you for finding some time in your busy schedules for this interview. I look forward to seeing you represent St. Louis area MMA.

AW- Thank you
JW- Hey thanks.

Tune in April 19th to Fox for UFC: Verdum vs. Browne main card and to Fox Sports 1 for the preliminary undercard. Check your local listings for details.