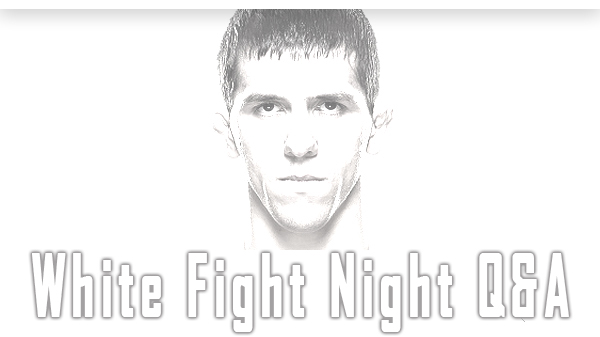 Alex White Fight Night Q&A
Eighty-eight seconds.

That's right, one minute and twenty-eight seconds. That's not a very long time. It would probably take longer than that to walk to your mailbox, make yourself a bowl of cereal, or complete almost any other menial task in your daily routine. Well, this is exactly how long it took for Destruction MMA featherweight phenom Alex White to catapult himself into the limelight and into the hearts of MMA fans across the nation.

On April 19th, White found himself making his UFC debut; on short notice no less, against a veteran named Estevan Payan. Payan is crafty and durable, known for being uber aggressive and hard to put away. It appears White didn't get the memo, as he put his experienced opponent directly onto his posterior and beat him into a state of unconsciousness in only eighty-eight seconds. Not only did White win his debut in dominating fashion, he also pocketed a $50,000 performance of the night bonus.

All in all, that's a pretty good day at the office.

Contrary to what most would think of a fighter under contract with the UFC, White went right back to work Monday morning at his full-time job as a service representative for a medical supply company. While working a 40-hour week and being on call, White still finds time to train twice a day. That sort of hard work and dedication is why White is where he is today.

Come Wednesday, White steps into the cage against 14-1 Chute Boxe standout Lucas Martins. Posting a 2-1 record in the UFC, Martins lone career loss came by the hands of Edson Barboza; hardly anything to be ashamed of. This will most certainly be Whites biggest challenge to date, a challenge he seems poised and ready for.

Knuckle Junkies tracked down the red-hot, undefeated featherweight to talk about life in and out of the cage:

KJ: Congratulations on your first fight and first win in the UFC. How did it feel to achieve the dream you've been chasing your whole career?

AW: It was amazing. The energy was awesome, and there were a lot more people behind the scenes than I thought there would be. That part was very surprising.

KJ: What was your favorite part of the whole experience?

AW: Obviously winning the fight and having my hand raised. I know it seemed like I didn't have much to say after the fight, but I was just speechless. It was so overwhelming.

KJ: How about outside of the cage?

AW: Orlando was beautiful. I loved the view everywhere we went. The scenery was amazing. I loved it there.

KJ: Did you feel like you were prepared for all of the behind the scenes stuff that happens in the days leading up to the fight?

AW: Not really, it was a lot different than I thought it was going to be. There was always something going on. I had no idea there was going to be a photo shoot and that I was going to have to put on makeup. We had to sign a bunch of posters and do interviews and lots of media stuff. I got kinda nervous but I just kept my mind on what I had to do in the fight. Tried to keep my focus on what I was there to do.

KJ: So, you won against a very experienced veteran, and did so in very dominating fashion. Did the fight play out how you thought it would?

AW: Sort of. I knew I was going to be aggressive and push the pace. I knew he was going to do the same, I knew he was going to keep coming at me. I just stayed busy and caught him early. It worked out how we had planned, we just didn't know it was going to happen that early in the fight.

KJ: Your opponent, Lucas Martins, comes out of the Chute Boxe Academy. That camp has seen the likes of Andeson Silva, Wanderlei Silva, Cyborg Santos, and many others fight under its banner. Do you find that to be intimidating?

AW: (laughs) No, because I didn't know that. I don't really follow the sport. I just let Joe (Worden) prepare me for the guy I have to fight.

KJ: Martins is 14-1 with 10 knockouts. He comes out of a world-renowned gym. Do you see this as a big step up in competition?

AW: For sure. I have to be more careful in this fight. He is a great counter puncher and has great takedown defense. This is going to be a big fight for me.

KJ: Has your training changed going into this fight? Anything different from the last camp?

AW: Ive been working really hard on my wrestling and it is really improving. And my hand speed, Ive been working a lot on getting faster.

KJ: Who all do you have helping you prepare for this fight?

AW: My guys at Destruction have really been pushing me. Eric Irvin, Austin Knight, Shaine Moffitt, Brian Borden, Mike Tiefenauer are the guys I work with most days. I have been doing a lot of cross training again. I have went and worked with the guys at James Krauses gym in Kansas City. It used to be called Grindhouse, now its Glory MMA. Jason Smith and the guys at S2BJJ, Mike Rogers and SCMMA, and Steve Bergers guys at Fit of Fight have all been a big help getting me ready for this fight.

KJ: Thats great, its always nice to see gyms working together to help a fighter out. Who are your cornermen going to be?

AW: Joe Worden and Shaine Moffit will be in my corner again for this fight. Im not sure who else is going yet.

KJ: Now that you have accomplished your dream of fighting in the UFC, how do you keep yourself motivated to go above and beyond your dream?

AW: Well, even though I made it to the UFC and I won my first fight, if I quit fighting right now I would be unknown in the sport. I want to change that. I want to make a name for myself in the UFC and fight for the title one day.

KJ: How has your life changed since your debut in April?

AW: Its weird that Im getting recognized and people are asking me for my autograph. I never expected anything like that. Its not a bad thing, everyone has been really nice. Its just not something I thought would happen.

KJ: Back to the fight and your opponent, what advantages do you think you have over him?

AW: He is a very straight-forward moving fighter. He comes straight in and moves straight out. I work a lot of angles and think I will be able to take advantage of that. He has good takedown defense, but doesn't really use any wrestling. I have been working hard on my wrestling, so I think I have the edge there too.

KJ: Combined, the two of you have twenty-five professional fights. You each only have one decision on your records. You both are proven finishers. How do you see the fight ending?

AW: I say it will be a ground and pound TKO in the second round. Maybe a decision, but I think it will end in the second round.

KJ: You won a Performance of the Night bonus in your last bout, and this fight certainly has all the ingredients to be a Fight of the Night candidate. I'm sure another $50,000 would sure be nice. Did you splurge and get yourself anything nice with the last bonus?

AW: Not really, I paid off my vehicles and got my wife a handgun. I was pretty responsible with what we've spent from it.

KJ: Have you started watching the UFC events yet or been researching the fighters yet?

AW: Not really, I watched some of the last PPV with some of the guys from the gym, but I didn't really watch close. I don't really like to watch MMA, I only really like to think about fighting and MMA when I'm training or fighting. It keeps my mind clear so I can think about other things in my life.

KJ: Do you have any aspirations of making MMA your full time job? How do you feel about training or coaching full time?

AW: I wouldn't mind it, but right now I don't think its possible. It would be great because I could spend more time with my family. I think that would be nice, but I have had a job and worked my whole life. I don't know how I would handle getting to train and be at the gym all day for a living.

KJ: How is the weight cut going?

AW: Good, better than usual. I'm losing weight, but I'm still eating enough that I don't feel like I'm starving. I think I'm right on schedule.

KJ: Speaking of eating, you are known for always having a donut before you fight. Have you researched Atlantic City donut shops yet?

AW: Not yet. (laughs) My hydration team really wants me to keep eating clean until after my fight, but its my ritual. I have to have a donut before I fight. Other than that, I plan on eating like they want me to until the fight is over.

KJ: So, whats next for Alex White? Where do you go from here?

AW: My goal is to win all of the fights on this contract. Then I want to get signed again and start working my way toward a title shot.

KJ: Is there anything you'd like to add? Anyone you'd like to thank?

AW: Of course. My wife has been amazing through all of this. She has been preparing and cooking my meals for me. She keeps everything at home running smoothly, and she and my daughter come see me at the gym so I get to see my family. I couldn't do this without her. I want to thank my coach Joe Worden for being there for me from the very beginning and putting all of his time and energy into making me a better fighter. He also takes me to all the other gyms for cross training and always helps me when I need something. My boss Erica too; she has covered for me at work more than a few times so I could get some more training time in. She has always been so supportive and shes a good boss. My training partners, friends, family, and my fans. They all motivate me and give me so much positive support. All of their love and support makes me try so much harder. I want to succeed for them.

KJ: Thanks for taking time out of your busy schedule to speak with us. Its always a pleasure. Good luck and we all look forward to watching you step into the cage again.

AW: Thank you.

Tune in to Fox Sports 1 Wednesday, July 16th to see Alex White take on Lucas Martins in the first fight of the main card of UFC Fight Night Cerrone vs. Miller. Check your local listings for details.