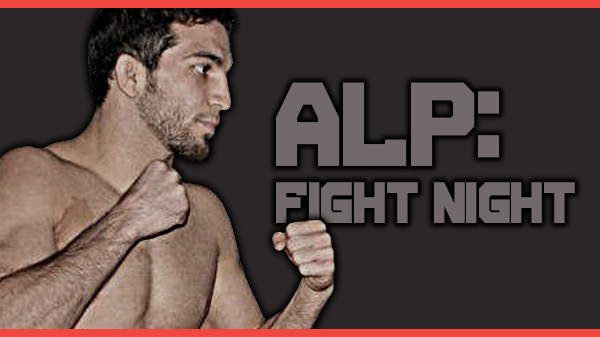 Alp: Fight Night
Editor's Note: This is Part Three of a three-part feature on flyweight Alptekin "Alp" Ozkilic. The 27-year-old Ozkilic, out of St. Charles MMA, is schedule to fight Antonio Banuelos Friday night at Legacy FC 20 in Corpus Christi, Texas live on AXS TV. You can read Part One here and Part Two here.

With competitive wrestling, his literal lifeblood, suddenly thrust into the rearview mirror, Alp needed an outlet for his intensity and drive and St. Charles MMA provided just that.

College roommate and assistant coach, Josh Sampo was already tearing up the local MMA circuit; he didn't have to look very far for where to go.

"Once I started I did it all the time," Alp said. "I never skipped. I was here every day."

If Alp was going to shine in the cage, there were some new tricks of the trade that needed to be added to his arsenal. Wrestling, he had that in spades, striking and submissions, those needed some tooling.

"Boxing was something new and I liked it," Alp said. "Jiu-jitsu was so different. Being on my back was so uncomfortable. I would keep people on their backs and it didn't mean anything. I'm still not like the biggest jiu-jitsu fan."

The patient, controlled atmosphere and philosophy of BJJ just didn't jive with his mindset.

"Striking was a new challenge and it was high paced. I think that is why I don't like jiu-jitsu much," Alp said. "With wrestling, I'm used to drilling for hours at a high pace; pick the guy up, slam him down. I'm ADD as well, so I can't sit there and focus. Going live jiu-jitsu, I like it I just can't drill it much."

Once Alp committed to St. Charles MMA and the belief system and attitude of head coach Mike Rogers, there was no going back. Within five months Alp had his first amateur fight and the results were electric.

"I knocked the guy out in 45 seconds," Alp said. "A one-punch knockout. I told Mike, you gotta get me something right away. This was so much fun."

Rogers didn't hide the fact to local promoters that Alp was a national Greco-Roman champion in Turkey, a two-time JUCO All-American, and continued to excel at Lindenwood University so amateur fights were hard to come by. Alp would fight up a weight class or two just to get a chance to get into the cage. He ended up with six amateur fights. In his fifth, he won a Cage Championships belt. He defended it once and went on to the pro ranks within a year of starting the sport.

Progressing and learning has always been a major motivator in Alp's life and MMA provided another avenue from him to grow. If evolving ceases then he doesn't see the point.

"I always tell people, I'm still learning, I'm still getting better at wrestling," he said. "The minute I stop learning or stop getting better, the second I stop, I'll quit. Every day that I come to practice I feel like I'm better than the day before. That's what I love about it. Just challenging myself and showing that I keep improving."

That type of mindset is few and far between even in the world of professional sports. Alp's steely focus and ability to push through the mundane has kept him from spinning his wheels and stalling.

"I'm healthy and all I want to do is put my time and my body into this sport," he said. "I don't want to waste my body and energy partying or drinking or doing other stuff. This is what I want to do. I've made up my mind. I am going to be good at this so I'm going to sacrifice and do whatever it takes. That is something I learned from my dad."

Alp is now near the top of the food chain of all the top-flight fighters at St. Charles MMA and that includes current UFC welterweight Lance Benoist, Strikeforce-vet Matt Ricehouse, Bellator's EJ Brooks, lightweight hotshot Zach Freeman (who will fight on AXS TV next week) along with a stable full of the Midwest's top pros and amateurs.

Of course, there's Sampo. Ranked No. 3 in the world at flyweight by fightmatrix.com, he and Alp have been joined at the hip as training partners and comrades in arms. Benoist, Ricehouse, Sampo, and Alp are among the initial strands of the gym's DNA.

"This place, we talk about hard work and sacrifices," Alp said. "Mike's first gym was his basement. It wasn't the most awesome gym. We were just a group guys trying to make it big. We would just get in there, no complaints, and just train. We are loyal to Mike. We want to make him happy. We want to make him proud of us. Everybody really motivates each other. A lot of the other gyms, people join gyms. This is a gym that was started by all of these guys. As far as chemistry goes, a lot of gyms don't have it. We don't have the fanciest equipment here but everybody brings in blood, sweat, and tears. That's what it is all about here. That's all you need, man."

Now that he is a bona fide up-and-coming pro prospect, Alp is doing all that he can to get to the next level.

"I'm trying to get tough fights," he said. "I've been calling people out; Dustin Ortiz, Sergio Pettis, they don't want to fight me. It's not my fault that I haven't fought tougher people."

Alp will get his wish on Friday night when he locks horns with wily veteran Antonio Banuelos at Legacy FC 20 in Corpus Christi, Texas live on AXS TV. Banuelos is 20-9-1 while Alp is 7-1.

"This is a great opportunity," he said. "I have to make sure I win decisively. I have to go and dominate. I have to make him my bitch, literally. I have to prove that I belong there."

Alp is in the middle of a two-fight winning streak and is making his Legacy debut. He closed out last year with a decision victory over Ray Grindstaff and followed that triumph with a Feb. 15 TKO of Josh Robinson for Rumble Time Promotions banner. Alp's only loss is to Chico Camus, who is now in the UFC.

Banuelos is in need of a win. He is 2-2-1 in his last five fights and is coming off a draw to Rafel de Freitas and prior to that he lost to Alp's teammate, Sampo.

Obviously, Sampo was a valuable resource for Alp in preparing for the fight.

"I tried to do my best to mimic what Banuelos does, but he's not going to be the same fighter he was when he fought me." Sampo said. "Alp hits like a brick shithouse. I think it is because of him that my stand up defense has gotten as well as it is. As hard as he's hit me, I'm not scared of anybody else hitting me. Alexis Villa has hard hands and he hit me pretty hard and it didn't faze me anything like getting hit by Alp every day. If he catches Antonio right on the jaw, he's going to sleep regardless. Alp throws power into every shot but he's been working diligently on his boxing and he looks really, really sharp."

Those who know Alp well feel that in previous fights he hasn't really unleashed all of his skills. They're all waiting for the best Alp to show up and many feel Friday night will be that night.

"I told him before he left, do me one favor; enjoy beating the f**k out of Antonio," Sampo said. "Hopefully he just floors it and goes in there and rips this guy's face off."