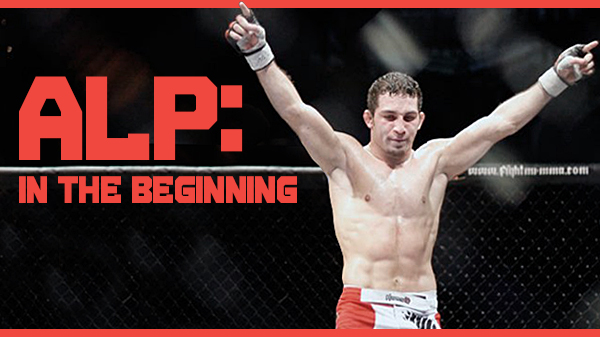 Alp: In the Beginning
Editor's Note: This is Part One of a three-part feature on flyweight Alptekin "Alp" Ozkilic. The 27-year-old Ozkilic, out of St. Charles MMA, is schedule to fight Antonio Banuelos Friday night at Legacy FC 20 in Corpus Christi, Texas live on AXS TV.

Had things been just a little different, Alptekin "Alp" Ozkilic would be kicking soccer balls instead of other people's asses.

But instead the Turkish-born Alp is 7-1 and considered one of the top flyweight prospects in the world of mixed martial arts.

He has seen large amounts of success in a sport that seems a million miles away from growing up in a third-world country.

His family was one of the first immigrants to go to Germany after World War II. Mom stayed at home and looked after the kids while his dad worked for BMW in Germany. All of his siblings were born and lived there. They include one brother and two sisters. Alp is the youngest.

"I'm a mama's boy for sure," Alp said.

When he was barely past the toddler stage the family moved back to Turkey.

"My dad wanted us to learn the culture so he left Germany," Alp said. "He made a pretty good living. He made enough for the rest of his life so he was like, I don't need this no more. I want my kids to learn the culture, the language, religion, all of that stuff. He never looked back."

So Alp grew up embracing the culture and that meant its sports too.

"I grew up playing soccer like every other Turkish kid," he said. "It's our thing. I was real good at it but unfortunately my dad was all about school, school, school. He didn't really support any of the sports that I played and I had a lot of potential in soccer. I was recruited by some of the pro's youth teams. My dad wasn't into it and he didn't want to drive me to practice so my soccer career kind of ended right there. I still played here and there for Division II teams and stuff but it just never got big so I had wrestling at my school. So I thought I'd try this."

It was his seventh grade year when he kicked the ball to the side and started to learn Greco-Roman wrestling.
'Greco' is a style of wrestling that forbids holds below the waist which is the major difference from freestyle wrestling. This restriction results in an emphasis on throws because a wrestler cannot use trips to take an opponent to the ground, or avoid throws by hooking or grabbing the opponent's leg. Arm drags, bear hugs, and headlocks, which can be found in Freestyle, have even greater prominence. In particular, a throw known as a suplex is a widely-used weapon.

And it turned out that Alp was damn good at it.

"My first year I ended up winning state," he said. "My coaches didn't think I would be that good at it. All of the sudden I ended up becoming the best guy on the team. I ended up winning nationals and being on the national team. I just showed faster progress. In my first year I started beating guys who were three years ahead of me in school. I just loved the competitive side of it and it was something that my dad didn't have to do anything with. I could just go to practice because it was at my school. I didn't really need much."

Wrestling in Turkey is a strange dichotomy. On one side, it is the nation's sport. But on the other, you won't find much coverage on it in the media compared to days gone by.

"In Turkey, if I go out to eat anywhere, people see my ears, they respect you. People try to pay for my meal and stuff. It's a cool thing," Alp said. "It's known, but for example, in Russia, wrestling is on TV and all of the wrestlers are famous. In Turkey, unfortunately, it doesn't get much but people still love it. It's a cultural thing."

The Ozkilic family lived a comfortable life but dad raised them all to be humble, to never look down on anyone and make sure you share if someone is in need. Though he did attend a nice private school, Alp was far from spoiled and that upbringing bled through to the mat.

"In wrestling, you have to be humble," Alp said. "There are times that you don't eat, you're surrounded by a lot of great things but you can't have them even though you have access to them. My dad never drove a brand new car. He just saved his money for our future. That is something that I learned from my dad, hard work and being able to sacrifice and that is what wrestling is all about too."

While his mother was the ultimate supporter and cheerleader, his father saw sports as a diversion to what really mattered, getting the grades.

"My dad came to my first tournaments and he loved it," Alp said. "But wrestling is a job and it required me to skip school so then he didn't like it because I had to be gone for national team camps and stuff."
It got to the point that mother and son figured it was just best to leave dad out in the cold when it came time for Alp to train with the Turkish national team.

"My mom knew I made the national team but it was just between me and my mom. My dad didn't know," Alp said. "He thought I was staying at school and I told mom, let's just tell dad that I'm not coming home this weekend. A lot of students would stay at school and study do whatever with friends instead I was out of town training. That's how passionate I was."

In high school Alp continued to train and to progress and by the time he was a senior, he won the countries senior national tournament.

"By the time I was in high school I was able to compete against senior, older guys," he said. "When I was 18 I was going against guys who were 30."

Had Alp stuck around Turkey he knew where he would have ended up.

"If I had stayed there I definitely would have been an Olympian," he said. "Because the guys I beat easily ended up placing at the Worlds and becoming Olympians."

While in high school Alp and his teammates made a couple of trips to the United States, staying about a month at a time in wrestling hot-bed states like Iowa and others in the Midwest for a month at a time wrestling in duals, tournaments or participating in camps.

The American coaches salivated over Alp and begged for him to come join their high school programs but that never made sense. He was simply too young. But Alp stayed in touch with those coaches whose heads he turned back in the U.S.A. and when it came time to go to college, the vast opportunities that awaited him in a new country was a tempting carrot.

"In Turkey, wrestling is a full-time job. Even at the cadet, junior level you still get paid whether it's the government or club, whoever you wrestle for," Alp said. "A lot of the wrestlers if they decided to go to college, there is not much you can do. You are either going to fail your classes or you go to school for something that you don't want to do. You'll be a physical education teacher. That's the most that you can do. I didn't want to do that. When I was here, I found out you had to go to school to wrestle. I decided this what I wanted to do."

In Part Two, publishing tomorrow, Alp comes to America.