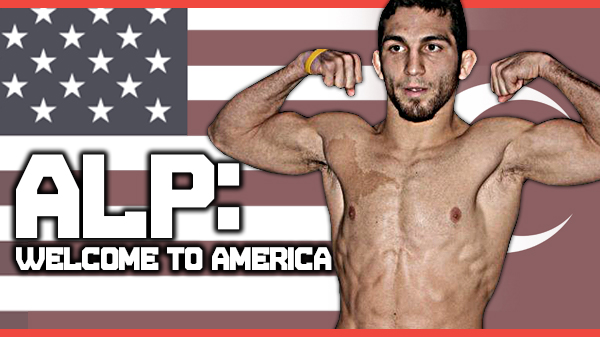 Alp: Welcome to America
Editor's Note: This is Part Two of a three-part feature on flyweight Alptekin "Alp" Ozkilic. The 27-year-old Ozkilic, out of St. Charles MMA, is schedule to fight Antonio Banuelos Friday night at Legacy FC 20 in Corpus Christi, Texas live on AXS TV. You can read Part One here.

The transition from high school to college is a huge leap in anyone's life. For many, it's their first time away from home and their first time away from lifelong friends and their support system.

So now imagine leaving for college located in a foreign country, and the main reason you are going to said college was because of your ability in a sport. Except the way you learned and excelled in the sport isn't how it's played at this college.

Welcome to Alp's world.

"Looking back now, I was a kid, how did I do it?" he said. "My brother lived in Australia in his late 20s and he couldn't do it. He got homesick, he missed my parents, I'm like, 'dude I did it when I was 18. You're a grown-ass man.' It's not for everybody."

In 2004, Alp left his home in Turkey, where he was a national Greco-Roman wrestling champion, and set foot on the campus of Nassau Community College located in Long Island, New York. There was Division I schools eager to accept Alp, but he knew major adjustments had to be made. Alp came from a strictly Greco-Roman wrestling background, which forbids attacks below the waist, which results in an emphasis on more dramatic throws. American college wrestling is strictly folk style, which is the type of wrestling that we are all familiar with.

"I had options but I didn't know much about folk style and trying to go to a D-I school would have been huge," he said. "Those guys are really tough and I was pretty much starting from nothing again."

Alp built lasting relationships during his time at Nassau and is still in touch with a lot of his former teammates and coaches.

"At first it was hard for me to fit in," he said. "But everybody was nice to me; I'm the new guy, I'm different. I came with pretty good credentials and they accepted my pretty quick."

None of the relationships formed were as important or influential as the friendship he built with Vougar Orujov. Orujov was an assistant coach at Nassau, and was also a two-time freestyle wrestling world champion and an Olympic bronze medalist. He competed in both the 1992 Summer Olympics, where he competed for the Unified Team (the name of the sports team of the former Soviet Union), and the 1996 Summer Olympics, taking third and fourth respectively.

"He helped me tremendously," Alp said. "He would stay with me, show me extra stuff and help me learn folk style. He helped me with so much."

Alp and Orujov bonded over language and size. They both spoke Turkish and both were in the 135-145-pound range. Orujov took Alp under his wing and taught him this new way of wrestling and slowly but surely turned him into a two-time JUCO All-American.

"We knew right away that he was a hard-working kid who would not give up," Orujov said. "Junior college here is not easy but we knew he would do well even though he was still learning a second language and didn't even understand the rules."

Orujov saw in Alp what every coach cherishes in a pupil.

"Technique can be coached, confidence cannot," Orujov said. "Alp was born tough and that was a reason why he was an all-American."

The two are still tight and Alp still receives plenty advice from the wrestling great, though it's usually electronically.

"He still texts me and Facebooks and we all follow his fights," Orujov said. "He came to my house met my wife and kids. He one those guys that you trust with your kids. He's just a good, good guy."

Alp entered junior college an underdog, a step or two behind the rest but that didn't detour. In fact it motivated. For him, there was no such word as offseason.

"That is how I moved up the ladder," he said. "I didn't take any time off. In wrestling, after the season, a lot of guys started partying and drinking and they tried to enjoy their summer. I just stuck to it and hung out with my coach a lot."

He ended up placing in the top five twice in nationals and was a two-time All-American, had good offers to move on to plenty of NCAA universities, but around the time of his transfer he was injured and couple of credits short of an associate's degree. These factors made transferring to a D-I more difficult.

Lindenwood University, a NAIA school in St. Charles, popped up on the radar and seemed like a good spot. Compared to Long Island, it was a small town with little distractions and Alp could do what he loves best: train, train, and more training.

"At the time, I was excited about it but once I got the school, with the team, I was disappointed," Alps said. "My first year, I didn't do that good and I didn't feel like I fit in here."

Josh Sampo had just finished his wrestling career at Lindenwood and was still on campus as part of a work study program. Sampo's duties included helping out with the wrestling team. The two ended up becoming roommates, then close friends and are still training partners to this day.

"One thing that stuck out in my mind was that he has awesome throws," Sampo said. "Judo throws and Greco throws and I asked him one time, why don't you throw these guys are their head? That's an awesome skill to have. It was like he was almost embarrassed to do it. He never did really showcase that a lot."

Alp admitted to having a rough first year. Both injuries and lackadaisical school work led to a year of watching from the stands.

Alp's second year was one the best he had wrestled his whole life.

Despite walking around at 140, he wrestled at 141 and beat a ton of top-flight grapplers and won tournaments by the handful. At the national tournament he ended up losing in overtime to the eventual first and third-place finishers.

Though discouraged where he placed, Alp felt his showing at nationals was the perfect springboard for one final go around of collegiate wrestling.

But then the bad news hit like a hammer.

"I thought I had another year because of my first year, I thought I saved it. I thought I red shirted," Alp said. "But after that tournament I'm thinking I had one more year and I was done. I'm so pumped I knew I could win this thing."

Instead he was informed the he had not been red-shirted and that he was done. His wrestling career closed.

"It was horrible," Alp said. "I had a lot of bad experiences with those coaches. I wanted to prove to them that I was right, that I did everything I could and they couldn't accept that they did everything as far as paperwork."

Sampo admitted that Alp and the Lindenwood coaching staff never really did connect.

"With the coaching staff there, you either mesh well with people or you don't," Sampo said. "I don't think they complimented his style or gave him the respect that he deserved. It's hard to give respect when you don't get respect back."

Alp was left searching. Wrestling and competing had been his life and now he was without either.

"It was like, what am I going to do now? I'm so lost," he said.

He didn't have to look far for his next inspiration. As Sampo's amateur MMA career was taking a meteoric rise, it lit a light bulb in Alp.

"Alp was at my very first fight," Sampo said. "Then I started winning some belts, I would come home with another belt and another and he was like salivating. He was like, I can't wait to try this."

MMA had never ever been on Alp's radar. While at Nassau he had greatness a few blocks down from him and he wasn't even aware of it.

"I lived literally within walking distance of Matt Serra's gym," Alp said. "I would always see banners about UFC champion Matt Serra. I'm like, what is UFC? I would hear about jiu-jitsu and stuff and I was like, what is it? That doesn't sound fun. I had no idea."

He was soon about to find out.

In Part Three, publishing tomorrow, it's Alp's time for Fight Night.