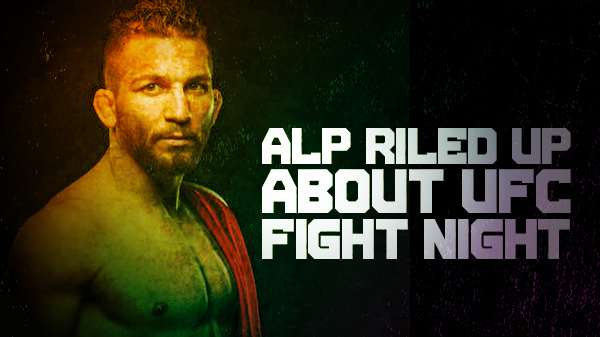 Alp riled up about UFC Fight Night
Agitated. Ticked. Slighted. Ah, we'll go ahead and say it. Alp Ozkilic is pissed off.

The last time the UFC's only Turkish-born fighter was in the Octagon was July of last year. He and Jon Lineker slugged away at each other for three rounds before Lineker scored a TKO victory with just nine seconds before the final bell would have sounded. Despite the loss against the number 6 flyweight in the world, Ozkilic earned a Fight of the Night bonus check that alleviated some of the pain.

That fight proved Ozkilic can hang with the best of the best.

So now where does the "Turkish Delight" find himself? The first fight of the night at Saturday's UFC Fight Night in Adelaide, Australia.

"I don't appreciate being the first fight of the night," Ozkilic said. "I should be on the main card. I have an exciting style. I'm happy to get back in there but it really irritates me. I can't control those things."

Ozkilic spent the first 11 fights of his 9-3 career at St. Charles MMA under the watchful eye of Mike Rogers and the Cracker Jack team that was in place, including fellow UFC flyweight Josh Sampo, before moving to Long Island, New York over a year ago.

On Saturday, Ozkilic will hope to end a two-fight skid (1-2 in the UFC) when he faces Ben Nguyen (13-5).

Nguyen became something of a internet celebrity on social media and MMA forums after a clip from his March bout again Julian Rabaud surfaced. The video shows the overly- tattooed Rabaud mean-mugging Nguyen at the weigh-ins, going as far as raising his fist right into Nguyen's face.

If you haven't seen the clip, you can likely guess where this story goes. Come fight night, Nguyen made quick work of Rabaud, laying to waste and finishing the fight in 25 seconds. Weeks later, Nguyen signed a UFC contract and Ozkilic was the other name on the bout agreement. The clip, put out by Nguyen, was uploaded at the beginning of March and has since been viewed more than seven million times.

"You have to put yourself out there and that was all over the Internet," Ozkilic said. "(Nguyen) gave the guy a lesson and got some attention. The douche bag got what he deserved and Ben got in the UFC."

The 26-year-old Nguyen, an American-born flyweight, has been living and fighting in Australia for the past two years and enters Saturday on a seven fight win streak that dates back to 2010.

In order to snap that streak, the 29-year-old Ozkilic will have to do what he did right against Lineker and not what he did wrong against Lineker.

"In my last fight I got caught up in the moment and tried to take him out," Ozkilic said. "But I learned that I belonged with the best and at the time I was just two fights deep in my UFC career. It was good for my confidence. I'm tough and I'm not going to quit."

Packing up his bags and moving from the strip malls of suburban St. Louis to Long Island was a decision that had to be made. Even with a fellow UFC flyweight as a training partner, Ozkilic is smart enough to know that you don't get many cracks at MMA stardom so the choice was made.

"When you get used to training with same guys after awhile you stop respecting each others punches," Ozkilic said. "The East Coast is full of tough guys who come in here and try to take my head off. It was mentally exhausting in the beginning."

Ozkilic now has coaches, gyms, and training partners by the bunches. He's put laser focus into his stand-up, working four times a week and ironing out a lot of mistakes.

He spends his time at some of the top gyms not only on the East Coast but in the country. His main gym is Bellmore Kickboxing Academy. For ground work there's Serra BJJ, the academy of former UFC welterweight Matt Serra. There's also cross-training at Ray Longo's, home of UFC middleweight champion Chris Weidman and surging lightweight Al Iaquinta, and when that is not enough, he heads over to Long Island MMA, which is owned by UFC welterweight Ryan Laflare.

As much as anything, being around rooms full of other UFC fighters have helped him learn through osmosis.

"There are a lot of UFC guys around and when you see the effort they put in, it's motivating," Ozkilic said. "You see the hustle. You see the grind to be better. You're only as good as the people around you."

And as quick as one of his takedowns, Ozkilic wants it clear that this is not a knock on St. Louis. He's deeply grateful of the opportunities, growth, and friendships that were nurtured here.

"It's not that I don't appreciate everything that happened to me in St. Louis," he said. "Mike (Rogers) I will always appreciate as friend. He wasn't just a coach."

Trying to climb his way up the flyweight division ladder, Ozkilic is plenty aware of the wisecracks made about the 125-pound division and the weight class' most well-known fighter, champion Demetrious "Mighty Mouse" Johnson. Some bemoan the little guys because of their supposed lack of punching firepower. Johnson has received the brunt of the vitriol with the keyboard warriors and national MMA media questioning his ability to draw big numbers when it comes to pay-per-view. Most marvel at Johnson's technique and skill but many complain that his lack of panache is hurting the division.

"Am I a big fan of Mighty Mouse? No," Ozkilic said. "But if someone like Ian McCall has an issue with him, then bitch go beat him. I don't think I can so I have no right to talk shit. Until (Johnson) is beaten he can live this life they way he wants. But it's true. They're talking more about womens strawweights than about us. Paige Van Zandt got the Reebok deal for a reason. You have to do something to get that deal. It's a complicated situation."

Right now the situation is Ozkilic has lost two UFC fights in a row. Three, four years ago a third loss would mean almost a certain change in promotions. But the flyweights division is still young and most of the slots on the top ten are there, ripe for the taking.

But first up is Nguyen in the land down under.

Ozkilic arrived in Australia a week early and with one thing on his mind.

"I hope he's looking to fight," he said. "I don't know how I will win but I will put on a show and keep it exciting. I want to make some noise."