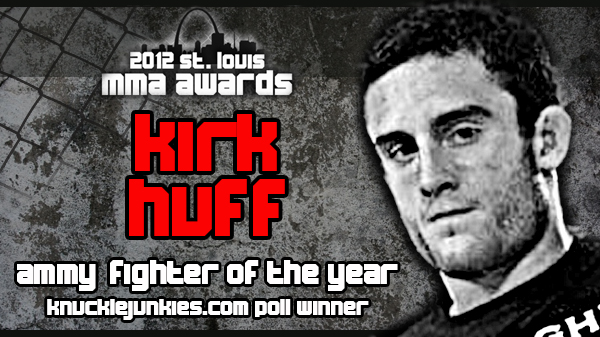 Amateur Fighter of the Year: Kirk Huff
The epitome of a mixed martial artist, Kirk Huff kept adding arrows to his quiver in 2012. The St. Charles MMA product, who is ranked No. 1 on Spire's list as both a featherweight and lightweight, has gone 10-1 as an amateur along with being active locally in both boxing, Muay Thai, and jiu-jitsu events. He went 3-0 in MMA for the year.

In April, Huff garnered a first-round submission win over local stalwart Ronnie Harper. Two weeks later, he headlined a Fight Hard MMA show in Bloomington where he handed Demagio Smith his first loss. In October, Huff traveled to Bogota, Columbia to compete against and beat former Olympic wrestler Ceaser Merreno. Huff racked up more frequent flyer miles when he competed in Brazil as a member of Team USA in the Pan-American K-1 tournament, winning the silver medal.

Through all of this he has also juggled closing in on his degree at Lindenwood University, teaching jiu-jitsu at SCMMA, being an assistant wrestling coach at Parkway South and holding down a part-time job. Huff will make the jump to the pros in November when he faces Dave Callow at Rumble Time's February event.

It was a busy year for Huff, the 2012 Amateur of the Year, as he waxes about it and more, in his own words.

I know Ronnie Harper was like 14-pounds overweight when I fought him. I had to weigh-in with all of my clothes and shoes on just to let the fight happen. For awhile I didn't even know who I was fighting. It was him, then another guy, and then it was back to him. I was getting worried and Mike (Rogers) was saying, 'Don't worry. You're fighting somebody." I remember (Ronnie) came out and tried to spear me and I took his back and got the rear naked choke.

I fought that night and then I came into the gym do jiu-jitsu and Mike said I was going to be the main event (at Fight Hard). I went through several opponents for that. First it was Buddy McGinnis and then it was a few days later and it was Demagio Smith. I didn't know anything about him. A buddy I work with knew who he was and told me that he was a good striker and that was all I knew.

There were a lot more people (in Bloomington) than at South Broadway for sure. There were like 10-13,000 people. I remember going out and for some reason I was thinking that (Smith) was right handed and he was left handed. I was like 'Uh oh.' I started circling and circling and the crowd started booing. When a few hundred people boo it's way different than 10,000. So I thought I better do something.

That was the first time I ever went and signed a bunch of autographs for people. A hundred people asked for my autograph that night.

Bogota was awesome. I was cutting a lot of weight. That was the first time ever going down to '45. Flying down there and not eating on the plane the whole way sucked. The (South American) fighters came and picked us up and they were so nice. I still talk to them on Facebook all the time now. The people in Bogata were some of the nicest people I have ever come across.

For the fight, I wasn't nervous. There is no one there that knows you. I took him down. I knew if I got on top I was going to try and punch a hole in the guy. I threw like 70 punches from top.

MMA is relatively new down there and everyone was really excited to see it and see American fighters. We were the first group of American fighters to fight in Bogota or Columbia in general.

I'll never forget seeing Iguazu Falls and meeting all of the people in Brazil and Paraguay. People from the gym took us to all the places that the tour guides wouldn't. Just last night, some of the people I met down there messaged me on Facebook just to see what's up.

I still don't know (about going pro). You just hope for the best. It's just another step that is necessary to take in order to keep experiencing things and moving forward in the sport. I don't want to do this forever. I want to try it and give it a shot and if it doesn't work, it doesn't work.

I'm going to be the first guy who has pro boxing matches and pro Muay Thai and pro MMA. I want to do it all.

I plan on going to Thailand this summer and before I leave, I'm going to have a pro (Muay Thai) fight. I'm buying a one-way ticket and then I'm going to have to fight to earn my way back.

I've had 40 fights all together. (Josh) Sampo has done pro Muay Thai fights. (Matt) Ricehouse has expressed interest in doing pro Muay Thai but no one's done a pro boxing match. I've heard people are interested but there's no reason why I can't do those things.

I want to keep going. I want to see more places in the world. I think it would be neat just to spend a month, training three times a day, and not worrying about things at home.

Up the street from my house there was a boxing gym and my parents were always, 'no.' I always wanted to do it but I played hockey every single day. I'd brag about being in good shape from playing hockey and then one of my friends bet me that I couldn't make it through one day of wrestling practice. I took the bet and started wrestling.

I'm going to spend all day at a wrestling tournament then I'm going to work at a bar and then wake up and train and go back to a wrestling tournament. It's a lot of hours and there are a lot of nights of four hours of sleep. But my dad, he's worked every day of his life since he was 16. Everyone works hard toward something and this is what I chose.

I'm not doing anything different than what a lot of people have gone through. It's not like I'm going off to war. Sometimes you think this sucks and I'm tired but there's people out in the desert getting shot at. This is nothing. A lot of my friends from high school went over there. This is nothing compared to that or people who work pouring concrete all day. I roofed a little bit and that was terrible. It was worse than fighting, for sure.

My parents have pushed me to keep going with the education. In fighting, if some guy kicks me in my knee, I'm done. You are one punch away from being done, see ya, you're not doing this anymore. It's hard to balance both but an education is something you have forever. You can't place a value on having a degree.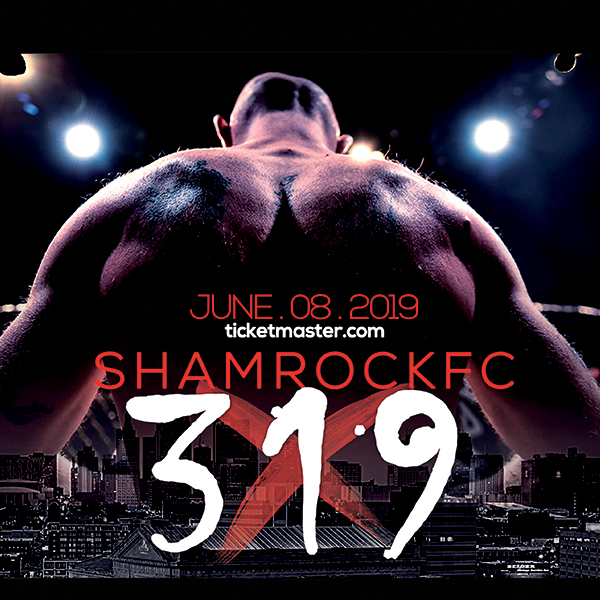 Nemesis Fighting Alliance
| Sat, August 17th
Casa Loma Ballroom, St. Louis, MO
KCFA
| Sat, August 24th
Independence Event Center, Independence, MO
Shamrock FC: 322
| Fri, September 6th
River City Casino, St. Louis, MO
Sub 5
| Sat, September 21st
TBA

Tweets about "KnuckleJunkies OR @knucklejunkies"