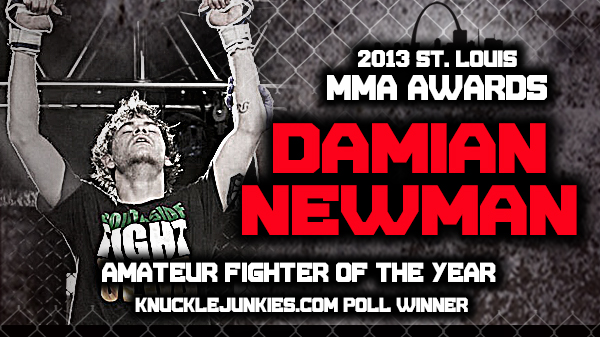 Amateur Fighter of the Year: Damian Newman
They say the cream rises to the top.

Throughout Damian Newman's career, the 23-year-old has slowly climbed the ladder to become one of the area's very best.

A stellar 2013 saw Newman post a 5-0 record while taking out some serious competition along the way.

It started with a bang against Andrew Berger at Shamrock FC. There weren't many outside of the Newman camp that thought he could keep up with the skilled Berger. But when the fight went to the ground not only did Newman hang he dominated much of the contest, surviving a nasty guillotine to go on to win a unanimous decision.

Newman's ground game would once again be tested in February when he took on AJ Siscoe from Gracie Humaita. After losing the first round, and (once again) nearly getting submitted, Newman picked up the pace and ran away with his second-straight unanimous decision.

Staying busy, March saw Newman return to Shamrock FC to take on Jake Trigleth. It was his shortest outing of the year, a KO just short of the first round bell that pushed the bantamweight's mark to 3-0 on the year.

July brought the much-talked about battle with Ira Lukowsky. Lukowsky, considered the top of the Bantamweight class by the Spire Sanctioning Alliance, pushed Newman to the brink only to get submitted in the third. It won our award for Amateur Fight of the Year, and you can read more about that here.

With the fall came what could potentially be the curtain call on Newman's amateur career. After competing almost entirely at bantamweight, he tested the waters at flyweight against a well-rounded Matt Murphy at October's Nemesis Fighting Alliance. His tried and true grappling gave him the edge again as Newman showed off his improving submission skills with a second round arm triangle victory.

After the closing of the SouthSide Fight Club at the early part of 2013, Newman made the switch to Fit or Fight MMA full time. He's now under the watchful eye of Steve Berger and his coaching staff and training with veteran pros like Dan O'Connor and Yohance Flager.

"The problem Damian always had," Berger said. "He would shift from gym to gym, and he would concentrate on one aspect here, one aspect there, and then try and put it together in a fight setting. Now we're training it all together, focusing on his weak points, trying to strengthen them, and I think it's working out well for him, and he's ready to take the jump to pro."

Newman currently ranks as the area's best amateur bantamweight and with no real challenges left in the division his coach believes it's time to turn pro.

"He's beat all the best amateurs in his division, and I think at that point when you've done that, there's no reason to stick around the amateurs." Berger said. "I think it's time to make the jump."

At 23-years-old, Newman is 14-2-1. He's enigmatic, cagey with a thirst to learn and desire for days.

"My dad used to always tell me, you can teach a guy anything but heart," Berger said. "That's the case with Damian. He's a 125-pound fighter, he has a 124-pound heart. Scrappy and tough as they come. He can go as far as he wants to go. He has the number one tool that you need, the heart."