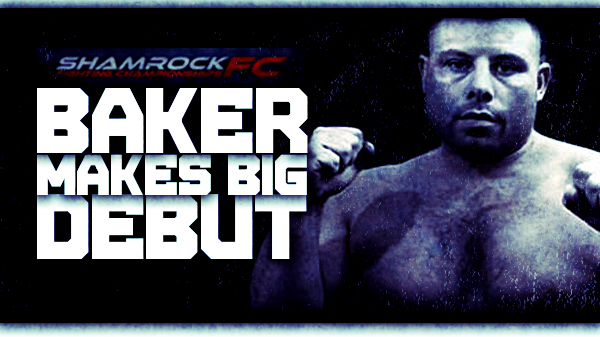 Baker Makes Big Debut
Come Saturday, Tom Baker will make his professional debut at Shamrock FC: Demolition against Marc Godeker at 205-pounds. Like most fighters that plunge into the professional world of MMA he's had an interesting road there.

At the age of 33 Baker has been wrestling for around 28 years and the love of the mats has not left him. Besides wrestling Baker has also played semi-pro football for the Broome County Jets. He is definitely no stranger to competition, in fact he craves it.

The hungry competitor from Owego, New York was introduced to MMA in 2006 when he was working as a bouncer and one of his fellow co-workers (a BJJ practitioner) claimed he could tap Baker out. The veteran grappler did not ignore the challenge and accepted. After being submitted multiple times by a series of arm bars and guillotines, Baker knew that MMA was the "next evolution" in competition.

He would go on to rack up an impressive record of 10-2 as an amateur fighter. After getting over and nursing an injury for the past year Baker decided to step up his level of competition once again and go pro.

On top of being a well-rounded athlete and amateur fighter, Baker has a career in real estate investment and claims that St. Louis is an incredible market not just for real estate but the fight game as well.

"I am excited to be making my debut in St. Louis because of the level of talent of MMA here," Baker said.

Baker feels that he belongs with that talent level.

With such talent in mixed martial arts Baker does not want to make a career out of fighting. Instead he is "not fighting for a paycheck" and will try to get his hobby to pay for itself. Even after his MMA run is over, Baker claims that he will still continue to practice martial arts and stay goal oriented.

At SFC: Demolition Baker knows that he faces a strong opponent in Godeker (2-1). He believes that his wrestling pedigree is better than his opponent's. Baker also realizes that the keys to victory are to remain free of Godeker's grip and to stay active and keep moving.

Staying active can be tough for a new professional when he goes from amateur three minute rounds to the five minute professional ones. However, Baker is being smart and he has stepped up his cardio training to prepare for the extra brutal two minutes.

So what drives Baker to step in the cage and fight if he does not care about a paycheck?

He wants to push himself, and feeds off the competition.

"Proving I don't have a breaking point, sort of a self-realization," Baker added.

This man fights to better himself not just physically, but mentally as well. He does not care about the money or the fame all he has is his love for MMA and the mindset to be the best that he can be.

Come Saturday when Baker steps into the cage, local MMA fans won't just see a fighter, but a true martial artist.