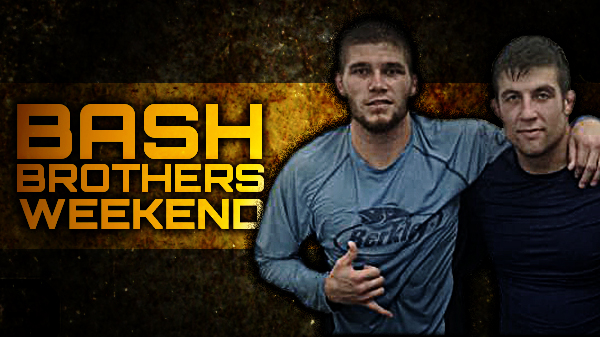 Bash Brothers Weekend
Andrew Sanchez and Jake Collier are the self-proclaimed "Bash Brothers" and who's gonna argue with them?

When you have a combined 13 professional victories (12 via finish) in the 185-pound division, you can call yourself pretty much anything you want.

The two tough and talented middleweights from rural towns outside St. Louis created an alliance of sorts over a year ago. They not only share the same manager but have found a commonality in the pursuit of success in this fickle line of business.

It was Sanchez who paved the way for Collier's one-and-done stint in the RFA. Collier was there in the corner for 'El Dirte's' win over Miles Marshall in Nebraska in March, 2014. The victory earned Sanchez a title shot against Kevin Casey that ended with Sanchez on the canvas and Casey in the UFC. With Sanchez on the shelf and the middleweight title vacant, Collier swooped in and won the belt in the fall of 2014 and what has become commonplace in the RFA, found himself in the UFC after winning RFA gold.

This weekend they both return to action

Sanchez is 5-2 and is up to the plate first, fighting on the main card Friday night live on AXS-TV for RFA 26. Sanchez will face Clinton Williams (5-1) and when he's done with that, he jumps on a plane and flies to New Orleans where Collier will be waiting. Collier (8-2) is the second fight on the UFC Fight Night order of events. He faces Ricardo Abreu shown only on Fight Pass.

They're both a little surly, each coming off a loss, and plenty ready for the tasks at hand.


'I fixed a few holes and I'm better than ever'

This is Sanchez's first fight since losing in dramatic fashion to Casey at RFA 15 in June, 2014 in Los Angeles. Sanchez got caught at the 2:30 mark of the first round. He returns to Denver for the second time (having defeated Todd Meredith there in 2013) and this is Sanchez's fourth fight for the RFA

"I had about eight guys back out for Denver," Sanchez said. "I don't know if it's an issue with me, or money or what. It gets frustrating."

Sanchez is still plenty confident. The four-time All-American wrestler, two-time national champ and Pan Am BJJ purple belt champ thinks Williams is speed bump on the way to another title shot.

"He hasn't fought anyone good," Sanchez said. "Once it hits the mat, it's over. He's in over his head."

Six months after the Casey loss, Sanchez exiled himself to Fairfield, New Jersey at a mostly-unknown gym but a buried treasure of training at K-Dojo.

K-Dojo is littered with Russian-born wrestlers, grapplers and fighters and Sanchez has landed a teaching gig while shacked up at a fighter house. Sanchez cut his teeth in the wrestling room and has always had a near impeccable wrestling base to his fight game. This recent Eastern-European-style exposure has added options on an already-crowed tool belt.

"They're very loose and not tense and explosive, like American wrestling," he said. "It's a unique style because they mesh their Sambo and Judo in with it."

Fairfield also puts him within easy reach of BJJ leglend Marcelo Garcia's school in Manhattan where Sanchez has earned the nickname, "Mr. Tree" because of the difficulty it is to sweep the McKendree College graduate.

"They jump on me. I end up going 40-straight minutes," Sanchez said. "When I first started going it was all about surviving but now I'm letting go, passing guards. I could have a career in jiu-jitsu, no doubt."

Like any fighter, Sanchez is ready to move past the Casey loss. He's lived. He's learned

"It made me think more defensive," Sanchez said. "I have a little fear know. My goal is not to get hit not just hit the guy. It's a different approach. I would be reckless. I fixed a few holes and I'm better than ever."

A victory on Saturday could ensure Sanchez another shot at the RFA belt.


'Keep punching them in the face and they're not world class anymore'

The UFC can be a terrifying place of employment.

Collier made his UFC debut in December under pretty much the worse conditions possible for an American when he took on Vitor Miranda in Brazil.

Collier was not only fighting on the rowdiest home turf in the sport (the crowd was chanting Vai morrer! Vai morrer! ..You're going to die!) but also dealing with less-than-ideal circumstances when trying to muster a peak performance.

"They didn't want you to eat any fruits and vegetables raw because they don't really clean their food that well and they didn't want you drinking their water," Collier said. "It was kind of a bad weight cut and it was 100-degrees in the arena when we fought. Like, legitimately 100 degrees. I didn't really have butterflies. I was confident I was going to win that fight."

Collier looked fine for the bulk of the first round before a head kick late sent him to the canvas and soon after the referee called a stop at the 4:59 mark, one second before the round would have ended.

"The referee should have let that fight go to the second round. We're professional fighters fighting at the highest level," Collier said. "Lyoto Machida kicked CB Dollaway (the main event that night) in the ribs and then punched him 30 times. I got kicked in the head and then the guy didn't even get a clean shot in on me. I didn't get to showcase what I can do. That's still bitter in my mouth. It still frustrates me to this day. That's why I'm happy I'm fighting another Brazilian."

Collier stepped in for an injured Daniel Sarafian on five weeks notice and faces an undefeated Abreu (5-0) who comes with a vaunted Brazilian Jiu-Jitsu game, winning many high level tournaments in his native Brazil.

Prior to the Miranda loss, Collier had won five straight coming in (including the RFA middleweight strap that Sanchez is after) and of the eight wins, seven by finish. The trip to the Big Easy will make that Nightmare Christmas in Brazil seem like a lifetime ago.

"(UFC matchmaker) Joe Silva and Brian Stann were telling me; you fought in the worse conditions possible," Collier said. "I never traveled out of the country before. My longest plane ride was to Minnesota. I never flown anywhere or really did much. But I'm a little bit used to it and I know a little bit more about how things go down. It should be a lot easier and a little more smoother sailing."

If there were no first-time jitters, Collier still wasn't himself. He felt he was too conservative against Miranda, something 'The Prototype' has never been accused off.

"I tried to be patient and worry about my gas tank and that's not me," Collier said. "I go hard the whole time. I don't care about the gas tank, realistically. I was trying to be smarter in there and reserve and I got caught with a head kick and that's not happening again."

Abreu has shown the ability to turn up the striking volume especially following one of his heavy right hands.

"He's going to be a strong, explosive guy," Collier said. "He's a jiu-jitsu guy who is going to try and take me down and if he doesn't we're going to put on a good show. We're going to stand and bang, that's my game plan."

Collier's counter to Abreu's slick submission skills is what he feels is a superior wrestling game and his striking.

"Keep punching them in the face and they're not world class anymore," Collier said. "I submitted a Gracie brown belt (Gabriel Checco) after I punched him in the face enough times. I'm nowhere near that guy's level in jiu-jitsu but if you beat them up enough you can submit them."

Granted you won't see "Ossss" coming across Collier's social media status any time soon, but he's far from a novice grappler.

"I'm not even a white belt," he said. "I've never had a gi on before but I know jiu-jitsu. My wrestling has come a long way. My wrestling now is better than it ever has been. I really feel like that plays a big part in my jiu-jitsu."

Collier, along with longtime coach and confidant Patrick Smith and a handful of training partners, is self-built. Forged at the Smith Pit, Smith's tiny gym tucked back on the windy roads of Cuba, MO.

"I'm not an athlete by no means. I've had to work for it," he said. "I used to weigh 270-pounds so I'm not a athlete but I've always been pretty strong and if I tell you I'm going to do something, chances are I'm going to do it."

There's still a good-sized chip on his shoulder from December. It eats at him that for many inside and outside of the UFC, their first eyeful, their first snapshot of Jake Collier was that night in Brazil.

"I just want to prove that I belong there, that I deserve to be there, that I didn't get some free ride," Collier said. "I worked my ass off and I got there for a reason. I'm not some one hit wonder."