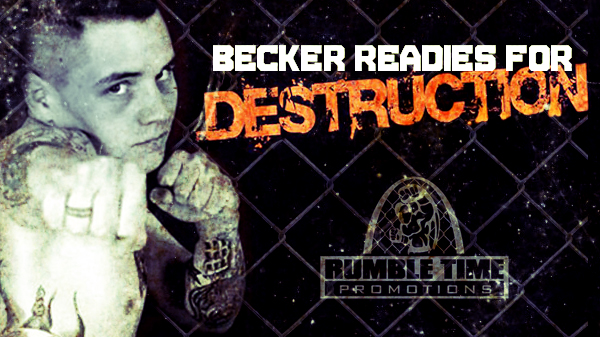 Becker Readies for Destruction
Gary Becker will be looking across the cage at a respected rival.

Becker faces Dan O'Connor in a flyweight main event at Rumble Time's Destruction held at the Ameristar Casino Friday night.

With a history that is more friend than foe, Becker and O'Connor will put all of that to the side in a matchup of two vaunted grapplers.

It's nearly impossible to play up the hate game or trash talk between Becker and O'Connor, which is refreshing.

When Becker steps under the hot lights at the Ameristar he will not be staring down an enemy but simply a fellow competitor.

In 2013, after suffering a loss in his pro debut from a series of brutal elbows, O'Connor, then Becker's teammate, was right there.

"Besides my wife, he was the most concerned," Becker said.

Becker (0-1) steps back into the cage looking for his first professional win after a long climb to the pro ranks.

He was introduced to the world of MMA at the age of 19 while working security at a bar. After multiple times of throwing out a man who claimed to be an MMA fighter, Becker believed he would do well in the cage and his amateur fight path began.

Armed with a high school wrestling background, Becker began training in Brazilian Jiu Jitsu and eventually became a top-notch grappler and also an experienced amateur fighter. He would go on to have over 30 amateur fights.

But a bump in the road nearly derailed any hopes of MMA aspirations.

At the age of 24 Becker was diagnosed with Juvenile Diabetes. His first question after the diagnosis was, "Am I going to be able to fight again?"

But Becker was able to put the mouthpiece back in and do what he loves.

"As long as you take care of yourself, and set small goals, you can achieve them," Becker said.

With no specific place to call home the now 27-year-old fighter is a nomad when it comes to training, not wanting to get mixed up in the gym rivalries of St. Louis. It's the love of training with new people and interacting with different martial artists that interests him.

Becker is still logging hours working security and likes to dabble in stand-up comedian on the side. However, the most important thing in Becker's life is his family. Married with three kids and a fourth one on the way, he fights to provide for his family and inspire his children.

"I want my son to think I am a hero," Becker said. "He thinks I'm an Avenger or something."

Becker and O'Connor have trained with each other in the past during Becker's brief stint at Berger's MMA.

Though there's mutual admiration, there is still a job to do and Becker thinks that his time is now.

"I see this being my year. Dan is an awesome guy, but I have to do me," Becker said. "I am not going to talk smack on one of the most real guys in the sport."

Becker is certain that O'Connor will try and pursue his grappling game. He's obviously aware of O'Connor's plans to take him down and is cautious of his head faints. But, Becker believers if anyone can figure out "Johnny Irish," in the cage it is him.

"Respect all the way, until someone feels disrespected, then it will be a slug fest," he added.