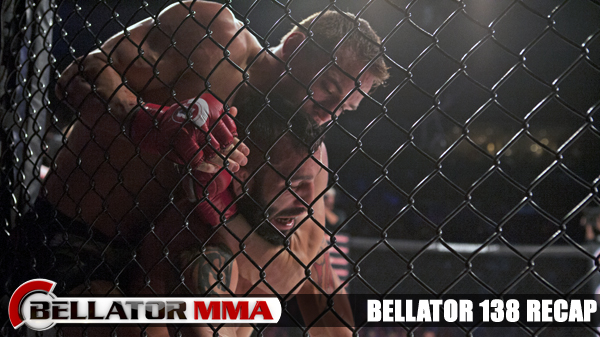 Bellator 138 - Recap
Big time mixed martial arts returned on Friday.

Scott Coker's revamped Bellator was in St. Louis all week and everything came to a head at the Scottrade Center Friday night.

While most of the national attention was for (and television sets turned to Spike TV to see) the main event of Ken Shamrock against Kimbo Slice, the hometown crew did the majority of the heavy lifting

Michael Chandler lit the house on fire to start the main card, Justin Lawrence showcased his ever-growing arsenal of skills, and Hugh Pulley and Eric Irvin likely punched their card for the 2015 Fight of the Year.

"We're definitely coming back by the end of the year," Coker said. "This is an amazing fight town and an amazing sports town. I had high expectations and the show delivered."

Chandler set the tone for the night as he led the card off in spectacular fashion against Derek Campos.

Chandler entered the night a loser of three straight and had been reminded of such time and time again leading up to the fight and he took two years worth of frustration out on the Texan.

Chandler, the High Ridge native and University of Missouri wrestling standout and grad, had the crowd on its feet (some screaming M-I-Z) and the energy elevated to start the televised main card.

Bellator's new lavish sound and massive video monitors took the fighters introductions to the next level. Chandler's intro had a sprawling St. Louis-based theme that heightened what was already going to be a dramatic moment, his first time fighting back in the region in X years.

"It was one of the top experiences of my life," Chandler said. "In the back I was covering up my ears so I would not soak up too much of the magnitude. Making the walk was awesome. I can't wait to see it on TV."

Chandler showcased quick hands, traded a right for a left early on. He clubbed Campos down with a heavy left and Chandler followed to the ground. Once on the floor, Chandler attempted a brief rear naked choke, transitioned to some ground and pound and before returning to the back and powering his way to victory via a rear naked choke
at 2:17 in the second.

"I want a dominating finish," Chandler said. "It's my job. It's my identity. I'm a guy who finishes fights."

Chandler improved to 13-3 while Campos dropped to 15-5.

"I put a lot of hardwork into rebuilding myself," Chandler said. "I had to make this sport easier than in the past. I wanted make it as easy as possible and be fast, sharp, and basic."

And when talk turned to Bellator returning to St. Louis, Chandler, the former Bellator lightweight champion, chimed.

"If (Bellator) has every intention on coming back ASAP, I wanna be on that card," he said.

Pacific native Justin Lawrence made his Bellator debut against journeyman Sean Wilson.

"I'm really happy to be back in my hometown and to be able to put on a good showcase of my skills in front of all my fans." Lawrence said. "It's been five years since I've been able to fight back home and give all my fans a good show. It was a privilege and an honor and I can't wait to do it again."

Lawrence was his usual self, quick and dazzling on his feet. Lawrence eventually clipped Wilson, sending him to the floor.

The pair had some nice exchanges before Lawrence landed a sharp kick to Wilson, who tried to duck but the kick landed flush. Lawrence took his back , worked a rear naked choke, sprinkled in some ground and pound and ended up with a TKO finish at 4:56 in Round 1.

"This was just like another day sparring in the gym." Lawrence said. "That's what My dad and all my coaches here always say and they remind me that it's like sparring in the gym. I'm a really tough fighter as long as I'm in shape, and my head is right. I felt like all of those attributes were together and I was able to come out here and do what I love to do and that's go out there and dominate."

The victory improved Lawrence to 8-2, and the "American Kid" made quite an impression on his new bosses at Bellator.

"This is a new promotion for me." Lawrence said. "I just want to get my feet wet, I'm feel like I'm pretty young. I definitely feel I can make some ripples in the 145 division here in Bellator. I feel I can be knocking on the door of a top contender in Bellator within the next year."

The most anticipated regional fight didn't fail to live up to the hype as Pulley and Irvin mixed and matched in a great see-saw affair.

"I'm always the underdog." Pulley said. "I've been the underdog since the beginning of my fight career. Every since I was an amateur I was always called the 'opponent'. People realized later on that I was the real deal. I just came out here to have fun tonight, and that's what I did and it was a good experience. Who better to have that experience with than Eric Irvin."

Pulley eliminated any doubt of big stage fears as he pushed forward from the drop, scored a nice judo trip late, and ended the round with some elbows.

"I think the judo played a big part." Pulley said. "People still don't know my judo that well. I've started opening up with the judo takedowns. I think my range made a difference as well. It was hard for him to get in on the hooks and stuff. It was hard for him to maintain his distance and rush in on me."

Irvin came back in the second, landing a takedown and holding Pulley down for the bulk of the round but Pulley did an excellent job of keeping the damage limited. Pulley's strength was evident as he got the fight back to the feet and eventually landed another trip.

Irvin was controlling the bulk of the third round and Pulley appeared to tire but was rejuvenated when he landed a kick to Irvin's body that sent the Destruction product to the canvas. Pulley did land some ground and pound, but was unable to finish Irvin off.

When the judges' scores came in it was Pulley, out of Modern Combat Systems, with a split decision win over Irvin. 29-28, 28-29, 30-27.

"It's taken me a while to clam down," Pulley said. "This is the most awesome feeling I've ever had. This is a really humbling experience."

There was an air of mystery behind Steve Mann, who was 10-1 entering his fight with Justin Guthrie, but had only fought locally once.

Mann landed a head kick early and after a brief choke attempt by Guthrie, Mann eventually made his way onto the back. Mann was able picking away with elbows and strikes and was content, camped out on the back. Mann tried an armbar late but slipped off in what was a dominating first five minutes.

Guthrie started to squirt blood early on in the second but the fight got to the floor and the Nebraska native cinched in a slick darce at 1:09 into the second round.

Garrett Gross has fought grapplers but none the likes of Chris Heatherly.

From the get-go, Heatherly was in for an early takedown and quickly got to the back. Heatherly eventually got the mount and continued to smother, looking for an arm triangle. Heatherly continued to press, looking for a submission as Gross squirted free toward the end of the round.

In the second round, Heatherly continued to control Gross and never let him breathe. The fight got stood up and Gross greeted him with leg kicks, punches and a kick to the midsection. Gross ended the round in Stumps half guard, landing elbows.

The third round featured more grinding by Heatherly, who was content to hang out in half guard, switch to side control and land knees. Heatherly walked away with a 29-28 unanimous decision. The victory improved Heatherly to 9-3.

Kyle Kurtz tried to bring the rangy Adam Cella to ground but the veteran from Finney's MMA displayed excellent takedown defense, pecked away won the first round. In the second round, a bloodied Cella made one small mistake and Kurtz capitalized on it to take home the win.

A sizeable underdog in the fight, Kurtz would need to dig himself out of a hole, even before the fight started.

"Before the fight I was stretching and I pulled my hamstring," Kurtz said. "It popped twice. It took me a couple minutes before I could even put any weight on it. I really wanted to stand and bang with Cella, but he ended up getting the takedowns on me, and there wasn't anything I could do about it. When he got me on the ground, I was trying to use my feet to post on his hips and open up my guard to work on different stuff. I felt like I was being more defense than offensive."

With the gameplan out the window, Kurtz had to move to plan b.

"The backup plan was to use my jiu-jitsu." Kurtz said. "I really wanted to show I had stand-up too, but I just couldn't get off like I wanted to."

Kurtz fought most of the round off his back with Cella trying to punch through his guard.

"He ended up coming down on my elbow when he was trying to throw an elbow," Kurtz said. "It was perfect timing, that bloodied his nose."

Cella, despite bleeding from a cut, landed heavy shots and was controlling the fight before it got to the ground. Cella was a little hesitant and Kurtz landed a textbook arm bar and got the tap.

After a mediocre amateur career, Kurtz improved to 4-0, with all four wins coming in 2015.

Dan O'Connor and Miles McDonald kickstarted the evening with one of the best strawweight bouts you will see.

McDonald and O'Connor went back and forth and O'Connor displayed some of the best striking of his career. The fight was razor-thin before a tired O'Connor's takedown attempt put him in poor position. McDonald saw the opportunity and finished the fight with a rear naked choke in the finals seconds of the third. McDonald showed plenty of resolve and strength (breaking O'Connor's nose in the second) in earning the big win.

Three fights went on after the main event.

Rashard Lovelace got the first round TKO over Matt Helm after a vicious leg kick sent Helm spinning to the ground. Lovelace out of Hahn's MMA charged in and punched out a TKO victory in his professional debut.

Enrique Watson tapped out Kane Royer with a rear naked choke. Royer seemed to wobble Watson a bit with a heavy punch. Sensing a quick finish, Royer charged in taking the fight to the ground, where Watson would eventually finish it just 41 seconds into the fight.

Garrett Mueller got the second round submission over AJ Siscoe via rear naked choke.