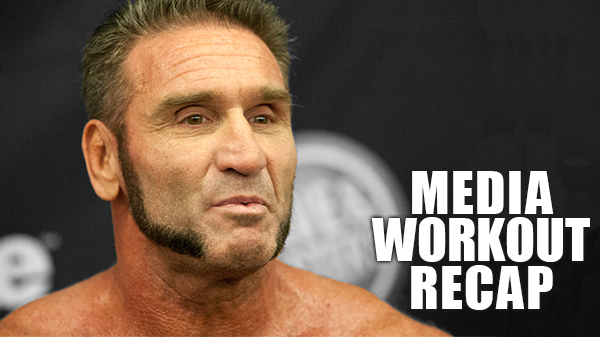 Bellator 138: Media Workout Recap
A ticked off Pitbull, a tardy Kimbo, and a passionate Ken Shamrock were all part of the Bellator:138 Unfinished Business open media workout Wednesday.

Media members from local television and national MMA sources like MMA Fighting and Sherdog gathered to watch several of Friday's main card fighters hit pads, do a little rolling and offer their time to answering questions.

Shamrock will meet Kimbo Slice in Friday's main event and he was the first on the scene. After a light roll, Shamrock hit pads held by trainer Manolo Hernandez.

Shamrock, 51, hasn't fought since 2010 loss in the King of the Cage promotion that put him at 2-7 since 2005. Slice and Shamrock were to face off in 2008 under the now-defunct EliteXC banner, but Shamrock was not cleared to fight on the day of the bout when he suffered a cut over his eye.

On Wednesday, the past was in the rear view mirror as the Godfather of MMA sets his sites on redemption.

"It's about me being me and me fighting the way I usually fight," Shamrock said. "Prior to the injuries I suffered I always came out from when the bell rang to the bell ended trying to finish fights. It's not about what he does, or a gameplan, or how crucial this minute is, it's about me and going out there fighting the way I know I can fight and the way I should have been fighting, and the way that I will fight."

The 41-year-old Slice, a 2003 YouTube star due to his filmed street fights in Florida who was also a member of The Ultimate Fighter Season 10, is 4-2 overall.

Heavyweight Bobby Lashley was scheduled to fight another behemoth in James Thompson but Thompson pulled out weeks ago due to injury. Dan Charles has stepped in on short notice.

Lashley wrestled at Missouri Valley College, where he was a three-time NAIA National Champion. After MVC, he worked in O'Fallon before jettisoning into fame as a WWE wrestler. Lashley began his MMA career in 2008 and he fought for Strikeforce, Shark Fights and others before signing with Bellator in 2014. Lashley has a 12-2 record.

"I used to live in O'Fallon and I was a (city) sports coordinator out there," Lashley said. "I lived in St. Charles for a little while also. This is my stomping grounds. I love being out here. I wrestled in college tournaments here, the St. Louis Open. I was like the only on-Division I wrestler to win that tournament and I have a lot of friends out here. It's fun to look out my window and see the Arch again.

Bellator featherweight champion Patricio "Pitbull" Freire came in full of piss and vinager.

Freire was adamant and vocal about how he felt shafted when it came to getting a promotional push for the event by Bellator. Freire (23-2) will face Danny Weichel (35-8) in the co-main event.

Slice closed out the event. Opting not to workout, Slice instead talked about the fight and most importantly, the first three-to-four minutes after its go-time.

"I feel that is when Ken is going to be at his best and that is the Ken that I want," Slice said. "I want to meet him head up in the center of the cage and we go from there. If I lose this fight, I want it to be against the best Ken Shamrock. After breakfast there's lunch. I know in the lunch period, the second quarter, he's going to be a little bit iffy and I can knock him out easy. But I want to knock him out for breakfast when he is at his best."

For more selected quotes from Shamrock, Lashley, and Slice read below.

Tomorrow is an action-filled day as weigh-ins will be at the Scottrade Center with doors open at 4 pm. The Bellator MMA Fan Fest is at the Maryland Heights Dave & Busters. Beginning at 7 PM Legendary MMA fighters Fedor Emelianenko, Royce Gracie, Tito Ortiz, along with Bellator MMA Light Heavyweight Champion Liam McGeary and legendary referee John McCarthy will be on site to sign autographs and take photos with fans.

On Friday, Bellator: Unfinished Business at the Scottrade Center beginning at 4 PM Emelianenko and Gracie will be signing autographs for ticketholders only outside the Scottrade Center Box Office.
5 PM - Doors open to the public at 5 PM, the first prelim bout streams live on spike.com at 5:45 and the first televised fight is live and free on Spike TV beginning at 8.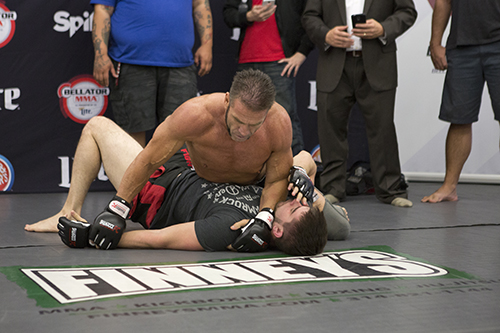 Selected Quotes:

Shamrock

"This training camp was a new experience for me. I've been away from this for six years. My last couple of fights I was like a drowned puppy dog. Going into these fights I sucked. I knew it. I tried to do my best and fight through. I didn't have an idea what I'm up against. My strength is, I'm mentally tough and that my will power is second to none and I'll fight through anything. The thing I didn't realize is what I'm up against. The more I tried to fight and the more I tried to get through it, the more my will power kept pushing me, the worse I was getting. I didn't know that. Now I am where I'm at."

"It's all coming together for me at 51. A lot people are counting me out, at least the odds makers are. The people who know me would bet their house on this fight."

"It's not about proving anything. It's about me being able to do what I thought I was capable of doing."

"I'm impressed where (Kimbo) is at. He's in a main event fight. I paid my dues. I fought the best guys in the world from Japan to Germany, to Russia, Brazil, everywhere you can think of I've fought the best guys and I won and he has not. He's in a main event fight and he's drawing, along with myself, a tremendous amount of coverage on this fight. So you wanna ask me what I think is impressive? I think it is very impressive for him to be where he's at."

"I've always said this and I'll continue to say this, I just don't see it. Maybe he'll show me something that night and make me respect him a little bit more. I don't know?"

Lashley

"My career has been crazy. From wrestling and doing everything else I've been doing. Coming to Bellator, I was saying, is this the right decision? Coming to Bellator is the right decision for me. I love Coker. This card, you wouldn't see it anywhere else where you get a mixture of high-profile people like the Kimbos and Shamrocks and then just incredible fighters like Pitbull and Chandler. You get the best of both worlds. Every Bellator card is going to have this. You don't have to be a hardcore MMA fan to watch it you can just be a fan of entertainment."

"What I would like to happen, I think I'm a heavy favorite if it goes down to the ground. I think I will be able to finish it quick. But I would like to mix it up a little on my feet and see what's up. Everybody who goes against me has a lot to gain and little to lose so he's going to go out there swinging for the fences and I'll swing with him and see what happens."

Slice

"I haven't thought about a title. Being senior fighters we're careful when we choose our opponents and that it's worth it … I feel a target on my back is still there."

"In the past we would do ground I just didn't have a love for the ground. I didn't care for the ground. I was like a bull with the horns just wanting to come in and gore my opponents. Over time and over the years I have found a comfort in the ground. I'm not saying I'm ground-savvy but I can defend some shit. I can stuff some takedowns. I can feel something coming. I can feel an ankle lock coming."

"You'll still see me coming in to knock him out. Don't get me wrong. For what it's worth, Ken is still a dangerous opponent. He's very skilled and I'm just expecting him to be Ken. I'm going to do what I came here to do and that's bang Ken Shamrock up, beat his ass and knock him the fuck out. I'm not here to shake his hand. I'm here to punish him."

"I don't like the stupid faces he makes. I don't like looking at him. I don't like the stupid shirts he wears. I just don't like Ken."

"This shit has been haunting me for years. What can he do know? Break his nose? Slip on a banana peel? I've been asked if I'm afraid of some things, I'm really not but I'm afraid of that. What the hell can he do this time?"