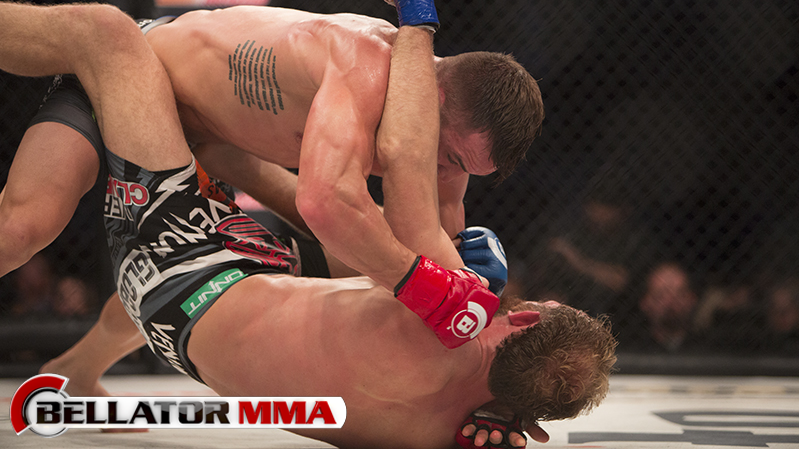 Bellator 145: Vengeance - Recap
Bellator returned to St. Louis for the second time in five months on Friday.

The night was topped with one of the best fights of the year in MMA with Daniel Straus taking the featherweight championship from Patricio "Pitbull" Freire via unanimous decision. Chicago native Will Brooks carefully held on to his lightweight title by staving off the sneaky leg attacks of Poland's Marcin Held.

But locally, it was all about Michael Chandler.

Chandler, a High Ridge native and Northwest grad, faced Dave Rickels for a second time and proved once again who the better lightweight is.

The former Bellator champion bloodied and battered Rickels after uncorking one of his trademark right hands and got the stop with two minutes left in the second round.

"I think I'm one of the better if not the best lightweight in the world," Chandler said. "I'm excited to get better. I'm ready to knock every one of these lightweights down to get back to the top."

After losing three straight fights (the only loses of his career), Chandler (14-3) has now won two-in-a-row, both coming in front of an enthused and supportive Scottrade Center crowd.

"Being the hometown guy is amazing," Chandler said. "The reception was awesome. I'm glad I got the win, got the finish, and lets keep the train rolling into 2016."

In the first round, Chandler got inside and worked the body with punches. Rickels eventually got on top for only a moment as Chandler reversed and started to land elbows. The fight got back to the feet with two minutes left in the round. Within a minute, after some exchanges, Chandler got the takedown and went for an arm triangle before the end of the round.

Chandler came out furious in the second as a leg kick wobbled Rickels. Chandler netted another takedown near the fence. Rickels worked a guillotine and got back to his feet and landed a solid left and right. Rickels landed a couple more before Chandler walloped with a right. Chandler went for a guillotine that didn't take so he went to pounding as the blood began to flow. Chandler went after a second choke but couldn't get the finish so he went back to butchering Rickels before Mike England stopped the fight.

Rickels lost for the first time since March 2014.

"(Rickels) has gotten a ton better over the years," Chandler said. "He took a lot of beatings in that round. I can't say enough about his heart."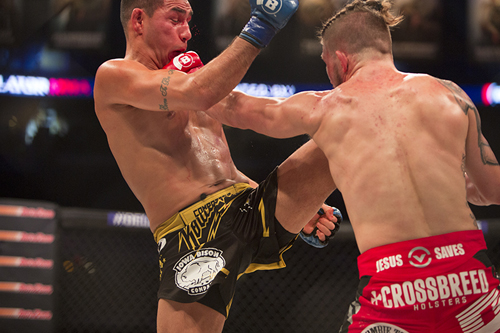 Justin Lawrence's four-fight win streak came to an end as Emmanuel Sanchez won via split decision (29-28, 28-29, 29-28) to lead off the main card and the SPIKE TV broadcast.

Lawrence put together a strong first five minutes, landing two kicks early in the round. Lawrence was also able to keep Sanchez, a Roufussport product, whiffing away with his punches. There was plenty of clinch work against the fence in the latter part of round one.

In the second and third rounds, Sanchez started opening up with kicks of his own. After a late-round stalemate, Sanchez landed a kick to Lawrence's chin that wobbled him but he held off the finish to make it into the third.

"In the first round I thought he was stronger and it was definitely his round," Sanchez said. "I knew I had to attack and go forward the whole time."

Adam Meredith was calm, cool, and collected in his Bellator debut. Facing Jordan Dowdy, Meredith went to work quickly, landing a sharp shot and pressing Dowdy against the fence.

While there, Meredith landed a handful of sharp knees, pulled off a nice trip, took Dowdy's back and got the rear naked choke at 1:54 in the first round.

"I feel like the key moment of the fight for me was the knees to the body I landed against the cage." Meredith said. "That really sucked the life out of him. That allowed me to get that body lock and take him down and finish from there."

Meredith improved to 5-1 and is considered by many the top unsigned welterweight in the area. Before and after the fight, Meredith showed no signs of nervousness.

"You always want to stay on edge, but no nerves. " Meredith said. "I felt like before. I stepped in there like this was my fight. I just wanted to be confident and stay tight on everything.

Kyle Kurtz found himself in a familiar position; in a Bellator fight and in a bad position. Steve Mann showcased his ground game early in their welterweight bout and was smothering Kurtz. But much like he did against Mann's teammate Adam Cella at the June Bellator, Kurtz turned the tables and earned a triangle submission win at 2:59 in the first round.

It was a victory that came at the end of a very long day for Kurtz, who has fought six times in 2015.

Kurtz, a welder by trade worked a full shift before making the 90 minute drive to St. Louis for his fight.

"I've been up since 6 o'clock." Kurtz said. "I worked straight through so I could take off a little early. Of course it makes me a little tighter but at the end of the day I gotta go out there and get that victory. It's hard labor, I'm not sitting around a desk or playing on the computer or something."

Kurtz looked at the bright side of a tough situation.

"My boss wouldn't let me off work. Said I didn't have any vacation." Kurtz said. "He said if I took off I could pretty much say good bye. I didn't want to lose my job. I have a family to support. I went to work, figured I'd tough it it out, then come in here and get the victory so I can get two pay checks."

Kurtz improved to 5-1 while Mann fell to 10-4.

Adam Cella and Jefferson City's Chel Erwin-Davis kicked off the night.

After two close rounds, Davis landed a heavy right to start the third that sent Cella to the floor. Davis swarmed and got the TKO win just 35 seconds into the round.

Davis improved 3-1 while Cella dropped to 6-5

Cella had a nice start. Late in the first round, he scored a takedown, took Davis' back and attempted a rear naked choke. In the second, Davis started working his kicks effectively. Davis ended up in side control and landed some heavy elbows. Cella eventually worked free, scored a takedown and ended up in side control. Davis pulled off a nice sweep and ended the round with some ground and pound.

Jeff Crotty had not fought since 2011 but he gave Garrett Gross plenty to handle in their 160-pound catchweight.

Both threw caution into the wind in the first round, landing shots that would drop most local fighters for good. Crotty, who was a 7-1 amateur, went to his wrestling base for his pro debut. Crotty had his best round in the second while Gross sealed the win with a convincing third, earning a 30-27 unanimous decision win. Gross improved to 7-4.

It was a bit of redemption for Kain Royer, who lost to Enrique Watson at Bellator 138 earlier this summer. Royer evened his record to 3-3 with a gutsy performance against Clay Mitchell after recovering from pneumonia just two weeks prior.

"It feels great. It was a tough fight," Royer said. "It was a fight against someone who I respected a lot. We came out here and had a lot of fun."

After a forcing a scramble on the ground, Royer latched onto the leg of Mitchell and would not leg go, transitioning from a toe hold into a kneebar to get the submission victory.

"Heel hooks, toe holds, knee bars," Royer said. "It's all something we practice a lot. I come from a sambo background before I even started jiu-jitsu. It's definitely something that I'm comfortable with."

Royer, who turned 35 in March, fights for the love of the sport and the opportunity to fight in the largest venue in the area.

"It's a lot of fun, I'm at the point of career where I'm an older guy, a coach." Royer said. "I got a lot of other things going. It's all for the fun for me now. I'm not trying to build my career and go onto something big. It's all for fun for me anyway and this is the most fun place to fight there is."

Fazio Mulabitinovic took Friday's fight with Scott Ettling on just two days notice. When Ettling got Mulabitinovic to the floor with a takedown, Mulabitinovic slyly worked a triangle before transitioning to an armbar and got the submission win at 1:52 in the first round. Mulabitinovic stands at 3-1 while Ettling is 2-1.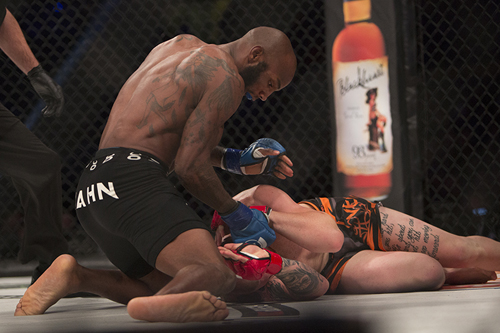 Rashard Lovelace was explosive once again.

Lovelace made his second straight Bellator appearance and made quick work of Brandon Lowe, earning a TKO first round victory in 2:07.

Photos courtesy of Jimmy Range Photography