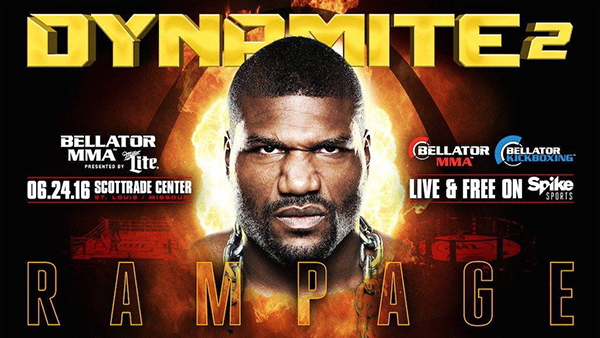 Bellator: Dynamite 2 - Prelims Announced
It was announced two weeks ago that Bellator MMA would make its third trip to the Gateway City on June 24th with its second incarnation of "Dynamite" an event featuring both MMA and kickboxing together with a cage and a ring side by side.

Announced in the main event is Quinton "Rampage" Jackson a veteran of Pride, UFC, and Bellator who will be making his return to Bellator after defeating Fabio Maldonado at UFC 186. Jackson has become a household name partly due to his take no prisoners approach to fighting and media, and his high-profile role as B.A Barracus in the A-Team movie. Jackson hails from nearby Memphis, TN and was in attendance for Bellator 145. Jackson will face Olympic Gold Medal-winning Judoka Sato Ishii, someone who is no stranger to the big fight having tangled with Fedor Emelianenko, Mirko Crocop, Pedro Rizzo, and many others during his stints with Inoki and K1 in Japan.

Speculation among local fight fans immediately began to grow on who would be on the preliminary card, which has traditionally consisted of all St. Louis-region fighters.

Announced earlier this morning via Bellator MMA press release Kevin Engel will face Chel Erwin-Davis in the prelim main event. Engel is fresh from a stunning KO over 2-time Bellator winner Kyle Kurtz back in March. Engel, a veteran of over 50 professional fights including kickboxing and boxing, will face Jeff City's Erwin-Davis, who made a splash at Bellator 145 submitting Engel's teammate and training partner Adam Cella.

Current Shamrock FC bantamweight champ Jordan Howard will make his Bellator debut facing Springfield, IL's Justin Robbins. Robbins, a professional boxer by trade, will try and derail an 8-fight win streak from Howard who trains out of Howard's ATA in Columbia, Mo.

Popular local fighter Chris "Stump" Heatherly will look to stop the hype train of Finney's MMA wonderkid Joaquin Buckley. Buckley has shown to have all the tools necessary to make a run at the big leagues and impressed many with his 5-0 start. Heatherly, a 2-time UFC vet, bounced back from a loss at UFC 180 in Mexico with a win over Garrett Gross at Bellator 138 last June.

Also on the card: Michelle Royer faces "The Red Dragon" Katy Collins. Local MMA pioneer Brad Jones faces Clay Mitchell. Wrestler Jason Christeson will welcome Jarrod Thomas to the pro ranks and popular heavyweight Lee Burns will face a yet to be named opponent.

Representing the kickboxing side of things, Elmir Kulosman takes on Darryl Cobb in what should be an intriguing clash of styles with Kulosman's traditional Muay Thai techniques whereas Cobb favors the Dutch style, with American Boxing. Both are descendants of the legendary local striking guru Ron Smith who fostered both Jermaine Andre (Cobb's coach and mentor) and Fuad Keranovic who brought up Kulosman.

Also kickboxing, Tara Walker and Mimi Kutzin will face off in an amateur women's bout.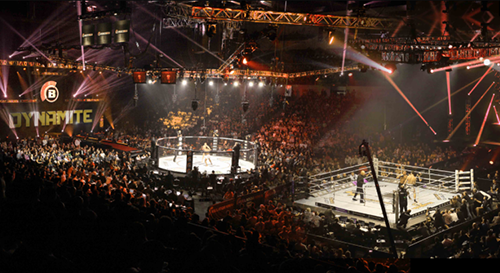 It's been rumored that a traditional professional boxing match will also be added in order to represent all three of the combat disciplines on one event, something that has never been done before.

Shamrock FC President Jesse Finney has been working closely with Bellator to bring the fight promotion to town for a third time and had this to say:

"We're going to be adding more fights," Finney said. "I want to hear from the fans what they want to see."

Who do you want to see added to the fight card? Let us hear your dream match-ups, we want to hear from you in the comments below.

Announced Prelims:
Kevin Engel (5-0) vs. Chel Erwin-Davis (3-1)
Jordan Howard (9-3) vs Justin Robbins (14-17-1)
Joaquin Buckley (5-0) vs Chris Heatherly (9-3-1)
Michelle Royer (1-0) vs Katy Collins (3-1)
Brad Jones (5-4) vs Clay Mitchell (1-2)
Jason Christeson (1-0) vs Jarrod Thomas (0-0)
Lee Burns (2-0) vs. TBA
Bellator Kickboxing :Elmir Kulosman (3-0) vs. Darryl Cobb (2-1)
Bellator Kickboxing : Tara Walker (4-3-1) vs. Mimi Kutzin (3-2)

Bellator MMA: Dynamite 2
Friday, June 24th
Scottrade Center, St. Louis, MO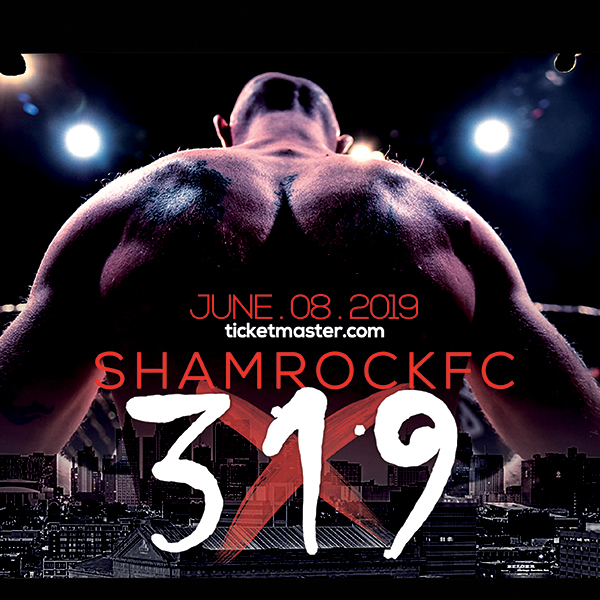 KCFA
| Sat, August 24th
Independence Event Center, Independence, MO
Shamrock FC: 322
| Fri, September 6th
River City Casino, St. Louis, MO
Sub 5
| Sat, September 21st
TBA
Nemesis Fighting Alliance
| Sat, October 5th
Casa Loma Ballroom, St. Louis, MO

Tweets about "KnuckleJunkies OR @knucklejunkies"