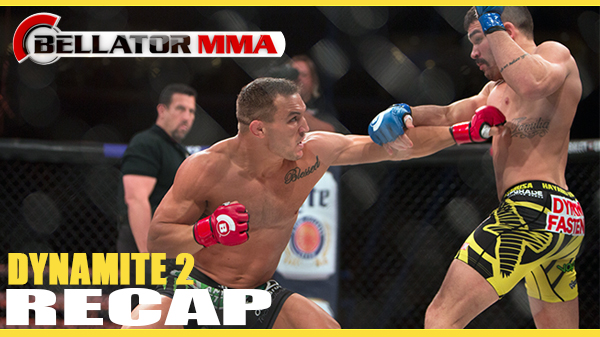 Bellator: Dynamite 2 - Recap
Michael Chandler regained his throne and locals aplenty impressed as Bellator 157: Dynamite 2 took over the Scottrade Center on Friday night.

Chandler, a native of High Ridge and a former University of Missouri wrestling standout, starched Patricky Freire with a thunderous right hand at the 2:14 mark of the first round.

"Tonight was the climax of everything," Chandler said. "Being able to hoist that belt for the St. Louis crowd was awesome. I have a ton of people who have supported me here since high school wrestling and then on to Mizzou. I have a great and amazing support system. It was great to get in and get out without getting hit. I've (gotten hit) too many times in my career."

Chandler, who now trains out of Boca Raton, earned his third consecutive win and 13th career finish.

"I have polished up every aspect of my game," Chandler said. "I can't wait to defend this thing. I'm getting better every single day. I want to be the best in the world. I would love to step in here and be (Benson Henderson's) Huckleberry. I do have some unfinished business with Josh Thomson, but those are both fights I want."

Chandler earned the belt that was vacated by Will Brooks, who left Bellator a couple of months ago after his contract expired and the promotion opted not to resign him.

"You never know how fights are going to go," Chandler said. "But you can't think of a better way for a fight to go than a first round knockout."

The consistent pressure of Ilima-Lei MacFarlane finally got to Rebecca Ruth.

In the first round, MacFarlane snagged an early takedown. Once back up, she pressed Ruth against cage before Ruth earned separation. MacFarlane went for another takedown attempt, Ruth stuffed and began to land multiple elbows that did the most damage of the round. Macfarlane would get another takedown and Ruth did a nice job of tying her up. MacFarlane worked a choke before Ruth squirted free. Ruth landed more elbows, likely earning her the round, as the fight stalemated against the cage.

In the second, Ruth came out more aggressive but MacFarlane was slick, making her way to the back and going for numerous rear naked chokes that Ruth fended off to the roar of the crowd. But MacFarlane was glued to her back and went for the choke again. Ruth made her way to her feet with MacFarlane clinged to her back. Again, she went back to the choke, this time getting it at the 3:00 mark.

"She was really tough," MacFarlane said. "I could feel her build off the energy in the crowd. I could hear her choking the entire time but I softened her up with punches and elbows and finally got to sink it in when she stood up, so props to her."

After losing at split decision at the November Bellator, Justin Lawrence got back on track with a second round finish of Isao Kobayashi.

In the second round, Lawrence, a Pacific native who know trains at Alliance in California, landed a deep and solid kick to the midsection. Lawrence's takedown defense was there all night and worked for him again in the second. Lawrence set up the end with a short left and a right that sent Kobayashi to the floor. Lawrence went in for the finish and got it to improve to 9-3.

"I knew early on I was landing that left hook," Lawrence said. "I think in the first 30 seconds (of the fight) I landed it and rocked him. So I knew I had to be patient and the opening would come and it came. I saw his neck snap and I followed him down to the ground. It was an awesome feeling."

Lawrence was the quicker fighter. After he tagged Kobayashi with early left he continuously fended off takedown attempts and landed a nice kick near the one minute mark.

"I wanted to establish dominance and control the center of the cage," Lawrence said. "I'm back at Alliance now. That's my home and I knew I was in great shape to put up a great pace. Once he felt the speed difference, as does everybody, they feel really uncomfortable. They can't catch me so I knew he would be diving for my ankles like everyone."

The win over a veteran like Kobayashi will hopefully get Lawrence back on track in the organization. Both Lawrence and Ruth began their careers at 21st Century MMA in Pacific, where Lawrence's dad serves as head coach. Ruth still trains at the gym.

"It's an awesome feeling," Lawrence said. "I remember when she walked into the gym the very first day. She has worked so hard. And you know what? She's only scratched the surface. She is so good. You got a lot of these girls who have never tasted that heat, man, and she's going to throw it. And she's nasty and she don't mind taking it and she'll dish it out. She's exciting to watch."

Chel Erwin-Davis earned another notch in his belt.

Facing Kevin Engel, Erwin-Davis came in with the perfect game plan for the storied St. Louis boxer.

In the second round, Erwin-Davis landed a head kick that sent Engel to the floor. Erwin-Davis swarmed and dropped punches. Engel did his best to control posture but Erwin-Davis calmly went to Engel's back and sank in a rear naked choke for the win.

"I thought I rocked him with the head kick," Erwin-Davis said. "When he went down, I smelled blood and tried to finish it. I saw that he recovered and I didn't want to blow my wad so I went into my jiu-jitsu mode. I wanted to keep the fight there where I knew that I would have a better chance."

In the first, Erwin-Davis was particularly effective landing leg kicks early and often. He was also getting off some nice punches of his own all the while slipping Engel's punches, landing knees in the clinch and connecting on a nice kick to the midsection.

"Going into the fight I knew the guy had really solid hands," Erwin-Davis said. "He's been knocking a lot of guys out and I wanted to stay away from his heavy hands with good angles, head movement and footwork. I knew my leg kicks would pay dividends in the end because he's a good boxer and puts a lot of weight on that front foot. I wanted to throw hard and heavy early."

Erwin-Davis splits up his training between Howard's ATA in Jefferson City and with Patrick Smith at the Smith Pit in Cuba, MO. The win improved him to 4-1. It was Engel's (5-1) first MMA loss of his career.

"I'm originally from upstate New York so when I came here I knew I had to make a name for myself," Erwin-Davis said. "I chose to fight Adam Cella (at Bellator 145) because he had a big name. I tried to put my name on the map and then they threw Engel at me, another good name, so I was on board to take this fight. I just want tough opponents. I'm about to turn 30 and I need to get my name in people's ears."

Joaquin Buckley earned the most important win of his young career in an emphatic matter. Buckley faced local stalwart Chris 'Stump' Heatherly and got the finish at 4:14 in the second round.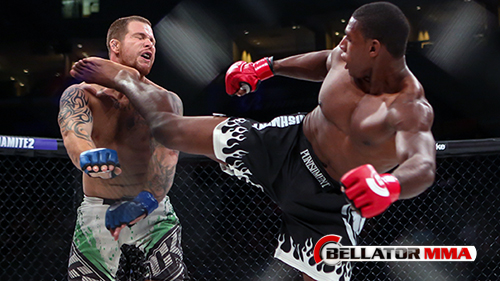 Photo courtesy of Mike Hume Photography

"I was well-rounded," Buckley said. "I got to beat him at his own game. I got to show off my striking ability as well and I was pretty strong in the clinch."

After a solid first round, Buckley pressed Heatherly against the fence, landing some nice knees and even connecting on a side kick to the chin. Buckley landed a sweet foot sweep and ended up on top of Heatherly. As Heatherly covered up, Buckley started putting on the heat. Heatherly managed to get the fight back on the feet where Buckley greeted him with a spinning kick and began to land a barrage of punches. Heatherly went in for a desperate single leg that didn't take and Buckley would soon go on to get the KO finish.

"He took a real good beating," Buckley said. "I landed a couple of clean shots that I thought he was just going to be out but he was still up. I got him up against the cage, hitting combos. I hit him with a knee that bounced his head up. I came back with a hook and when I hit that hook he just fell."

The 22-year-old Buckley improved to 6-0 with five KO finishes.

In the first round, Heatherly started off firing leg kicks. Buckley did some nice clinch work and late landed a solid left then a right that sent Heatherly to the floor. Heatherly did defend and recover nicely.

"When it went past the first, I knew the second was mine," Buckley said. " I saw him with his head down, breathing hard, just didn't want to come back for the (second) round and I knew it was over."

Matt Murphy opened a cut over the eye of Justin Robbins and the bout was stopped in the second round, giving the "KO Kid" the TKO win.

"I accepted the fight Tuesday, started cutting weight immediately as soon as I found out." Murphy said. "Unfortunately, I was a pound over. I cut as much as my body would let me and I came in here and got the job done."

Murphy fought Robbins in a ring. He competed earlier this year as part of Shamrock FC Xtreme Fight Night against Demetrius Wilson.

"The ring didn't effect me much as it did the first time I fought in the ring at XFN," Murphy said. "I got used to it, we adjusted for it, came out here and got it done. This is the honestly the biggest fight of my life. I couldn't be more blessed to be on a stage such as this. I can only thank Jesse Finney and Rob Donaker for the chance to come out here and showcase my talents."

Jordan Dowdy was given a tough task in facing Guilherme Vasconcelos and for the better part of the first round was getting the better part of the Brazilian.

Vasconcelos landed an early takedown but Dowdy worked an armbar and eventually landed two upkicks. Once back on the feet, Dowdy landed a nice right. Vasconcelos pressed the action against the cage. After some back and forth, Dowdy continued to fight well off his back but Vasconcelos eventually broke through and got the tap at 4:59 in the first round with rear naked choke.

In other action:
Steve Mann landed a huge knee against Mike Estus to get the the KO in just 35 seconds in the nights first fight.

Rashard Lovelace improved to 4-0 with a TKO of Garrett Mueller when Mueller couldn't answer the bell in the third due to a broken foot sustained early in the second. Mueller gave Lovelace, a crackerjack prospect with four straight finishes, his toughest test to date. It was the first time Lovelace has been out of the first round as a pro.

Brad Jones made quick work of Tyler Claussen with a head kick KO just 26 seconds into their bout.

On the kickboxing side of things, Tara Walker won a unanimous decision over Mimi Kutzin. Kutzin came out quick with a ton of pressure, but Walker was patient and relied on technique to claim the victory. Darryl Cobb defeated Elmir Kulosman with a second round finish after a nasty kick to the body sent Kulosman to the canvas and unable to answer the 10 count.

In the "dark prelims" that aired after the Bellator MMA and Kickboxing main cards, Katy Collins got a quick armbar finish over Michelle Royer. Collins swarmed Royer and never let up.

Byron Stevens finished Lee Burns in the second round in a battle of area heavyweights that would have made former St. Louis Blues Kelly Chase proud. Stevens connected early with a wild punch that had Burns in a bad way, but allowed him to recover sending the fight into the second round. In the second it was Burns who would look to end the fight, having a very badly winded Stevens in trouble against the cage. Stevens would recover and with both fighters sucking air, Stevens was able to put Burns down.

Dewayne Diggs was able to stop the takedown of Jason Christensen and eventually take the back where he would finish with a rear naked choke in the first round.

Ashley Cummins improved to 4-3 with a devastating submission of the year candidate of Nikki Smith. Cummins used an inverted darce grip with her knee on the carotid artery of Smith in a submission we're calling the "Smashley Head Smasher".