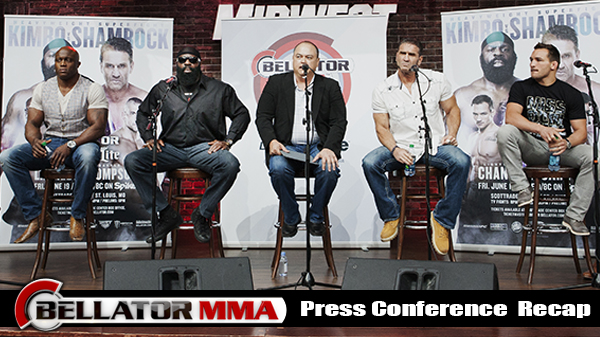 Bellator Press Conference Recap
Bellator and the stars of June's main card where in St. Louis Tuesday for a media conference and a live taping of a Bellator Countdown show to be aired on Spike TV.

Ken Shamrock and Kimbo Slice will meet in the main event of the June 19 show, titled "Unfinished Business" at the Scottrade Center.

Among those in attendance were Slice, Shamrock, former Mizzou and Northwest High wrestler and former Bellator lightweight champion Michael Chandler and Bobby Lashley, a former WWE champion who also wrestled locally at Missouri Valley. The athletes were joined by Bellator President Scott Coker, Shamrock Fighting Championships President Jesse Finney, and Scottrade Center VP of Sports & Entertainment Operations Alex Rodrigo

"It's pretty exciting to be apart of this," Rodrigo said. "This is an opportunity for us to shine the spotlight on St. Louis and its fans."

The original Shamrock-Slice fight was called off due to a controversial cut suffered by Shamrock less than 24 hours before the fight and Coker called the June main event one of the most anticipated fights in the history of the sport.

The 51-year-old-Shamrock, a UFC Hall of Famer, is making his return to competition after five years and has had a monk's focus on getting back into fighting shape.

"I've secluded myself," Shamrock said. "I go from the trailer to the gym. My whole life is about that."

His opponent, the 41-year-old Slice, came back to MMA after going 7-0 over the last five years as a boxer.

"He's made it clear he's coming to hurt me." Shamrock said. "When I hurt him, and you see how vicious I become, you know he would have done the same to me".

Bellator: Unfinished Business also features a Featherweight World Title fight between champion Patricio "Pitbull" (23-2) vs. Daniel Weichel (35-8).

The fifth and final fight of the main card was announced when Former Bellator MMA World Featherweight Champion Daniel Straus (23-6) begins his trek back to a world title when he meets undefeated promotional newcomer and former King of the Cage kingpin Henry Corrales (12-0)

Coker announced that the June 19th event would feature 14 professional fights which will be composed of a 9-fight undercard featuring representatives of most of the area's top gyms.

Other local standouts will be featured on the undercard, read more about who HERE.

"We found all of the stars that we can," Finney said. "The goal is to make it bigger and better than we did with Strikeforce."

The five-fight televised card airs live on Spike at 8 PM, with preliminary fights streaming on Spike.com at 6 PM local time.

As of now, here is the lineup:

Main Card
Heavyweight Main Event: Kimbo Slice (4-2) vs. Ken Shamrock (28-15-2)
Bellator Featherweight Title Fight: Champ Patricio Pitbull (23-2) vs. Daniel Weichel (35-8)
Bobby Lashley (12-2) vs. James Thompson (20-14)
Michael Chandler (12-3) vs. Derek Campos (15-4)
Daniel Straus (23-6) vs. Henry Corrales (12-0)

Preliminary Card
Justin Guthrie (17-8) vs. Steven Mann (10-1)
Miles McDonald (0-1) vs. Dan O'Connor (5-4)
Malcolm Smith (4-4) vs. Luke Nelson (2-1)
Kain Royer (1-1) vs. Enrique Watson (1-0)

Tickets for Unfinished Business, which start at just $30, are currently on sale at Ticketmaster.com.

Photo courtesy of Jimmy Range Photography.