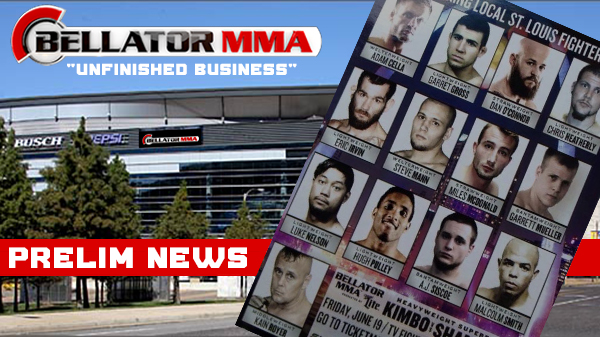 Bellator: Unfinished Business - Prelim News
Fans at Monday's St. Louis Cardinals' home opener at Busch Stadium got the first peak of what we've all been wondering about.

The Bellator and Shamrock FC ring girls were out in full force handing out cards (pictured) that showcased which local fighters will be apart of June's Bellator: Unfinished Business on June 19 at the Scott Trade Center.

The official match-ups will be announced in the coming weeks. For now, all we can do is play hypothetical matchmakers.

So without further ado, here is who will be representing St. Louis MMA when the eyes of the sport will on the Gateway City.

At the top of the order are two fighters with UFC experience in Chris "Stump" Heatherly and Adam Cella.

Heatherly (8-3-1) had two fights in the UFC and two fights in the RFA. This is expected to be his first fight at lightweight.

Cella (6-3) is coming off a unanimous decision loss in the World Series of Fighting to Danny Davis Jr and went 1-1 in 2014 including the St. Louis MMA "Fight of the Year" versus Lucas Gwaltney.

The hottest local fighter coming into the Bellator card is lightweight Eric Irvin (9-3). The 2014 St. Louis Regional Fighter of the Year has won four straight and six of his last seven.

Talented lightweight boxer Garrett Gross (6-3) has set up shop in Florida at American Top Team but still has plenty of roots in the region as he has fought in St. Louis in four of his pro bouts.

News broke early Monday of two undercard match-ups: welterweights Steve Mann vs Justin Guthrie and flyweights Dan O'Connor vs Miles McDonald have been made official.

A Shamrock FC staple, lightweight Malcolm Smith (4-4) is expected to be on the card along with one of the best athletes of the bunch, lightweight Hugh Pulley. Pulley from Modern Combat Systems started off his career 4-0 but has dropped two-straight.

Luke Nelson (2-1) is an exciting striker and rounding out the list is middleweight Kain Royer (1-1), and newbie bantamweights AJ Sisco and Garrett Mueller.

So there you have it. While some of our local favorites will get matched against out-of-town competition, the majority of these will get matched up against other.

Tell us what you think.

Tickets for the event can be purchased at Ticketmaster.com by clicking here.