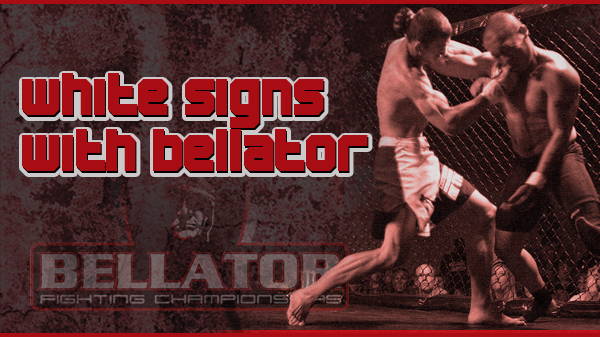 Bellator makes it right for White
Christmas came early for Alex White in the form of a three-fight contract with Bellator.

White, a 23-year-old featherweight from Ironton, MO, left a lasting impression on Bellator officials at a recent tryout in Florida, and is slated to make his organizational debut in early 2013, this according to Destruction MMA coach Joe Worden.

White (4-0) made his pro debut in April of this year and quickly ripped off four wins that included finishes of Javon Wright in August and Charon Spain in October.

White was in Florida to tryout for an upcoming Bellator reality show and was invited to join the cast. The only catch was he would have to fight at welterweight. Fighter and coach weren't comfortable with that weight, but Bellator said they wanted White anyway, and confirmed the contract just before Thanksgiving.

"When we told them how we felt about going up that much in weight, Alex thought his opportunity was going to walk away," Worden said. "But now he's pretty pumped."

White went through the standard tryout procedure while in Florida with two minutes of grappling, three minutes of mitt work, and an interview session. White was only one of a handful of fighters to earn a submission during his time on the mat.

"They liked his aggressiveness," Worden said. "As soon as they touched hands, he was ready to go."

Expect another busy year for White. Bellator has hinted that five more victories could help land him a spot in the 2013 featherweight tournament this fall.

After defeating Charon Spain in October, White is now ranked 251 in the world at 145.

White is a powerhouse for anyone in or around the 145-pound mark and it's as if he was born to do this. Though just three years into the sport, his fighting resume is nearly spotless. Along with a 16-0 amateur record, he's 11-1 in boxing and muay thai, and was just recently invited to Tiger Muay Thai in Phuket Thailand for 2013 scholarship program.

White's striking has earned him titles at the Ring Wars Winter Muay Thai National Championship in the advanced, open weight division. And after being at Destruction MMA for just six months, White won the Ringside World Championships and from there he entered the cage.