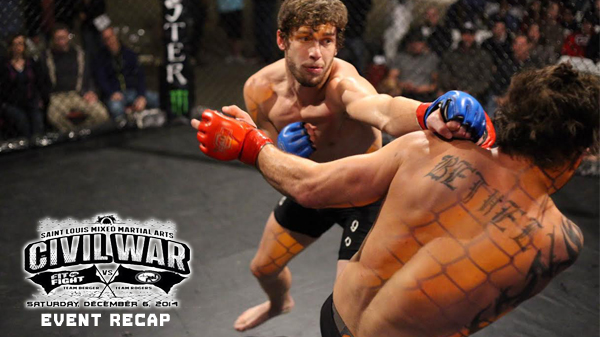 Berger vs SCMMA - Event Recap
On Saturday, the Koken Art Factory hosted an old fashioned team versus team turf war. While everything was friendly outside the cage, the action on the inside was anything but.

Dubbed "Civil War" by the promoters, the event featured amateur K1 and MMA from two of the area's top teams, Steve Berger's Fit or Fight MMA and Mike Rogers' St. Charles MMA. Even though the Rogers team took home the lion share of victories, both teams were well represented with young talent.

In the main event, Montuelle Prater out of Berger' affiliate Chokia MMA, rebounded from a loss to Travis Draper in August with a victory over Draper's teammate, Ben Huskic.

Prater respected the tricky ground game of the Bosnian-born Huskic and kept the fight standing and unloaded with hard punches.

A stiff cross from Prater put Huskic on wobbly legs, after that it was all academic as Prater sense the victory and ended the fight shortly before the end of the first round.

LC Hamid and Eric Newman went at it in a one-sided 130-pound K1 affair. From the first bell, Hamid was the aggressor mixing hard punches, kicks, and flying knees to the body, several of which found its mark which ultimately cost Newman his dinner between rounds.

In the second Hamid continued his dominance and dropped Newman with a punch that sent him to the canvas. After the match was allowed to continued, Newman absorbed a few more punches before referee Tim Francis stopped the fight.

After the match it was determined that there was a size mismatch in the gloves used between fighters with Hamid using a lighter glove than his opponent. Spire official Jayson Cooper ruled the bout a no contest.

The tall and lanky Nick Winchester battled the brawny Matt Bethel for three rounds before their back and forth clash was called to a halt.

Winchester survived the ground and pound of Bethel for what must have felt like an eternity in the first round. The second round was more competitive with Winchester getting time in the dominant position.

With the fight seemingly tied on the judges card, Winchester kicked the fight into another gear showing incredible wrestling defense. Bethel could not ground Winchester, emptying the last remaining bit of his cardio. With renewed confidence Winchester began picking a part a winded Bethel, landing a good combination that seemed to stun Bethel. Winded and staggered, Bethel stayed on his feet until one last punch sent him to the deck, forcing referee Francis to stop the fight.

Ben Roy and Ryan Stocks battled to a draw in the night's third and final exhibition grappling match.

Josh Murillo TKO'd Ryan Meynell late in the second in a back and forth lightweight MMA bout.

Dakota Bush and Antwan President exchanged punches in a K1 bout until President suffered a knee injury forcing a no contest.

Adam Meredith one-up'd Jesse Gerringer in an exhibition grappling match, when Meredith scored an anaconda choke about halfway through the round, the only submission of the match. In the nights only other submission grappling match, Kirk Huff defeated Steve Dietrich with an armbar that forced Dietrich to call of the match with an injured elbow.

Ben McCabe submitted Craig Dalton 20 seconds into the first via rear naked choke.

In the night's only female action, Kelly Dangelo dominated out-of-towner Aimee Masters finishing with a TKO in the second. Dangelo methodically stalked Masters, backing her up with punches, before taking her down and pounding her out from the mount.

Mike Graham's hand sped was too much for Jason Newman, and Graham won a unanimous decision in a K1 match. Lucas Clay scored a first round TKO of Brett Snow to kick off the evening's festivities.

Photo courtesy of Sara Levin Photography.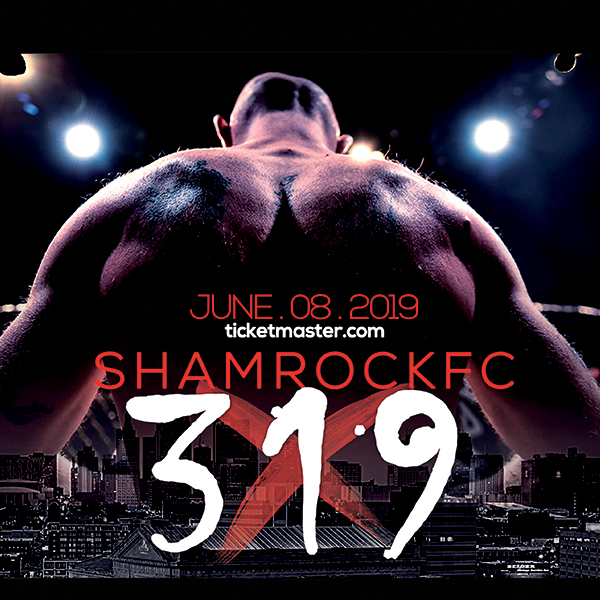 Nemesis Fighting Alliance
| Sat, August 17th
Casa Loma Ballroom, St. Louis, MO
KCFA
| Sat, August 24th
Independence Event Center, Independence, MO
Shamrock FC: 322
| Fri, September 6th
River City Casino, St. Louis, MO
Sub 5
| Sat, September 21st
TBA

Tweets about "KnuckleJunkies OR @knucklejunkies"