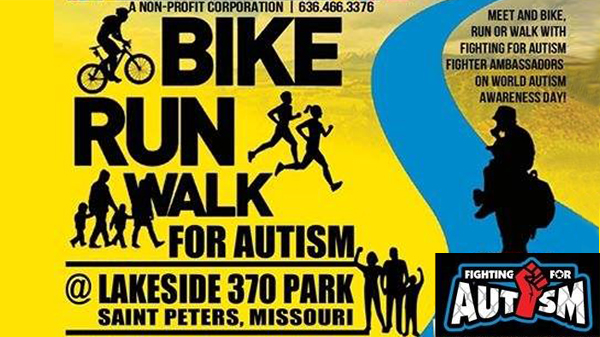 Bike, Run, Walk for Autism
It has been on the to-do list for some time. This weekend it will come to fruition.

Fighting for Autism will host its first Bike, Run, Walk for Autism on Saturday, which is World Autism Awareness Day.

The event gets underway at 9 AM with a soft start at 10 AM and will be held at Lakeside 370 Park in St. Peters.

"We have gotten a lot of requests to do one of these," Fighting for Autism's Brian Higginbotham said. "With World Autism Day being April 2, it seemed like a fitting day and we found an awesome venue for it."

The new, scenic park is easily accessible, located at the Cave Springs/Truman Blvd exit off of Highway 370 in St. Peters.

There is a $25 pre-Registration and it includes event t-shirt. Refreshments will be provided. There will be a slew of sponsor's booths to peruse and a variety of raffles available.

Participants will have a choice between walking, running, or biking either 5k or 10k on a paved route. Local boxer, Robbie "Pea Shooter" Cannon, will be offering a 10K challenge for those who have competitive juices. Cannon will run at 9am and participants can try and beat his posted time.

Along with several Fighting for Autism fight ambassadors at the event, some River City Raiders will be in attendance. Many of the fight ambassadors, like Bellator fan favorite Dave Rickles, have offered up autographed memorabilia to be raffled off."

"Things are shaping up," Higginbotham said. "The weather is looking good. There will be a number of booths, so come out for a good time."

Funds from the event will go towards the Cameras in the Classroom initiative and for expansion of the organization's Kickboxing Therapy program.

Fighting for Autism is an Autism awareness and advocacy charitable organization, who's mission is to improve the quality of life for children and families living with Autism around the world.

Fighting for Autism is headquartered in Sydney, Australia and also has sites in both London, UK and St. Louis.

For more information, call Higginbotham at 636-466-3376 or visit fightingforautism.eventbrite.com.