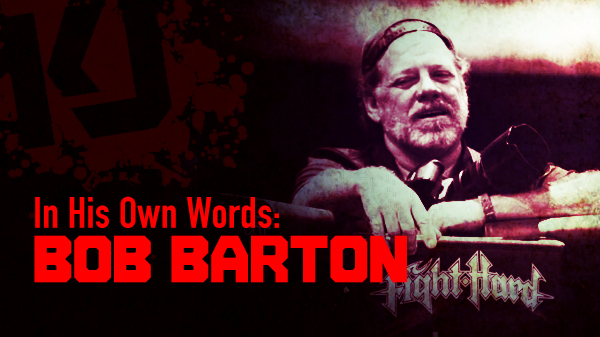 Bob Barton, In His Own Words
Bob Barton.

With his Santa Clause smile and rascally glint, the 57-year-old has been a fixture in the St. Louis fight game for nearly two decades.

Armed with his trusty camera and ball cap paired with his itís-all-good attitude, Barton has captured nearly every fighter worth his or her salt who has trudged through the ranks of the St. Louis region.

Though he didnít have the best scholastic start, Barton would eventually earn a college degree and devote 30-plus years working for St. Louis county on many major construction jobs throughout the 314.

But what he is most known for is capturing that moment; when a jab pops or a body shot crumples.

Barton is rounding third and heading home towards the end of his career as a combat sports photographer. He and his beloved wife Kit have many miles of road ahead of them and the continually growing amount of shows in the area are taking a toll.

So before he hangs the camera bag up for good and all weíre left with are photos of his sandaled feet near his latest picturesque adventure, hereís Bob Barton; in his own words.


I lived my whole life in Florissant until I was 34, 35 before moving to St. Charles. I grew up right across from where Mattinglyís is on Lindbergh. My mom was a stay at home mom and my dad was a small businessman and I have one older brother, older by two years.

Third grade was the best three years of my life. I was supposed to graduate high school in Ď75 but I got out about a year-and-a-half early and it wasnít described as good behavior.

I listened to a lot of music and went to a lot of parties and saw quite a bit of the country. I went on a few walkabouts. The first one was when I was 17 and ended up going from Montana to sleeping in the alleys in Berkeley, down to Tijuana and back. My late teens and early 20s were pretty interesting.

We camped at all of the national parks. We stayed in a hotel in Reno and Malibu and that was it. We slept wherever. It was all about having fun, meeting people and seeing the country.

I got my first camera when I was 13. There were streaks on and off where I didnít take pictures for few years. But Iíve been taking pictures pretty steady the last 20 years. A lot of pictures. I wish I would have taken more when I was younger because I have a lot of good concert pictures but I saw a lot of really good bands that I wished I had my camera with me.

When digital started breaking it just became so much easier. The equipment was more expensive but gosh, you save so much money on film and developing. Say if Iím shooting a fight, some MMA, and they stand and bang, I might take 30 pictures in one round. If you did that with film, youíre blowing a roll a round. You just canít do that anymore. I shot Chuck Norrisí World Combat League and I shot 1,800 pictures that night.

My first fight? I donít remember what it was. It would have had a been boxing. A friend of mine, Sid Taylor, who I worked with, he was a Missouri middleweight champion. Whenever he fought a bunch of the county boys would get together and go drink beer and watch Butch beat the hell out of people. Iím sure it was one of those shows.

A friend of mine started writing a sports page for a paper in St. Charles and asked me if I wanted to start taking pictures. The timing was really perfect. My son had been away to college for a year and my daughter was just leaving for college. We were getting to shoot some really cool events. They boxed right here in St. Charles and from then on it was over. I wanted to shoot all of the shows. Thatís when it really took off. From there I did some work for the Post-Dispatch and shot a lot of boxing for the American. I think thereís probably 15-20 publications that Iíve been published in.

When I first saw MMA I thought, these guys are nuts. Seriously. Iím a boxing guy. I used to listen to boxing on the radio in the basement with my dad. Then all of the sudden the tough-guy thing came around and I was like, holy cow. Then MMA. And to tell you the truth, I didnít know what to think of it. Iím still more of a boxing fan by far than MMA but I think the best thing about MMA, and me shooting MMA, was that I got to meet some really good people and some really good fighters, promoters, and trainers.

I like it more now than I did when I started because I know so many of the fighters and I know so many good people and I have seen the hard work that these guys do training. They put their all into it and you have to respect that.

I was telling Jesse Finney, when I started I didnít know the difference between the corner bar and an armbar but I knew what a jab was and I knew what a left hook was but when it would get down on the ground I would have no idea what they were doing.

The hardest thing for me shooting these things is seeing my friends lose. That really bothers me. Especially if they get beat up pretty bad.

The craziest thing I saw was Adrien Broner, a boxer, was going to fight Eloy Perez for a world title. It was a Golden Boy show. At the press conference, it was at the city hall downtown, Broner was mouthing off and being a jerk and reached out and grabbed Eloy Perez by the neck when they were facing off and was choking him. Oscar de le Hoya, heís standing behind them, heís diving in trying to separate them. I got a picture, and itís a really cool picture, to see de le Hoya diving in between these two guys.

At weigh-ins, I donít talk to guys too much, especially before because they ainít in a good mood. There isnít a one of them who are in a good mood because theyíre thirsty and hungry and I pretty much stay away from them.

My hippy friends? I couldnít drag them to the fights if the Rolling Stones were playing. If I mention that Iím shooting some fights, they look at me like, the fuck happened to you? They just donít understand.

Fighting is not for everybody but neither is ballet.

There are photographers out there now who will put a photo out on social media or a website of some local guy who just got the shit knocked out of him. Heís laying face down on the canvas. You donít do that. You donít do that to local guys that you know. That is a big pet peeve of mine.

I did three shows at the Playboy Mansion and it was just a wonderful time. The ring girls were just incredible; Ms. January, Ms. February, and Ms. March. I mean, what can you say? A lot of people are talking and not paying much attention to the fights, it was kind of a seen and be-seen deal. I was just excited to be next to Freddie Roach and listening to him coach his fighters. Cool stuff.

Stay out of everybody's business.

If Iím around a promoter and if theyíre talking to somebody else or I walk up to them and theyíre talking to somebody else and theyíre talking some kind of business or something, I just turn around and walk away. For one thing, I donít care about that shit. Another, itís none of my damn business.

People will talk to me about Promoter A, saying what an asshole they are or whatever. Then other people talk to me about Promoter B and tell me what an asshole they are. Then they talk about Promoter C, or D or E and what an asshole they are. Iíll listen to it for a little bit and then Iíll tell them, hey thatís a friend of mine letís talk about something else. And nine times out of 10 the person will change the subject but some of them just keep on going.

I said earlier that Iíve met a lot of nice people, but thereís some snakes out there.

I think it might be that way in other cities; promoters competing against each other but I think people (here) make more of it than what it really is. All these guys know each other. They may not be on the best terms but they know each other and they all know the business. So, I donít think itís as big a deal as a lot of people think it is. These guys are all doing their thing and theyíre all doing OK.

I donít have a date but itís going to be sooner than later. I sure have put off a lot of travelling because I had to shoot and I just donít want to do that anymore.

Iíve done this for a long time. When Kitty retires Iím probably going to pretty much stop. I wonít stop taking pictures; landscapes and wildlife's, but Iím going to eventually quit shooting these.

Thirty-one years. Sheís a great chick. She donít come to fights. Very few fight people know her. Very few. The last time she went the fights she was pregnant with our son and he turns 30 next month.

Iím still going to do some boxing because thatís what I love.