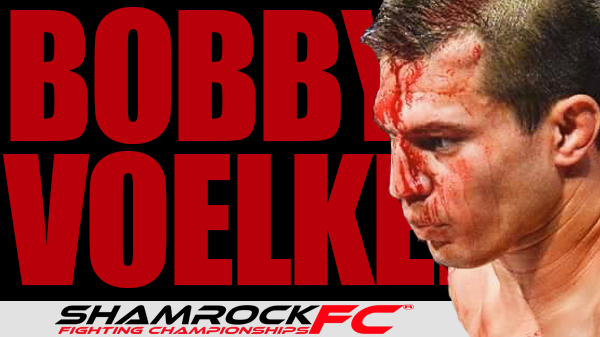 Bobby Voelker Q&A
You can't think of Kansas City and MMA without Bobby Voelker coming to mind.

Voelker has been a mainstay for 13 years in the MMA game, putting on memorable fights in the UFC, Strikeforce and many more organizations.

On Satuday, Voelker (26-12) will face Mike Estus in the main event of Shamrock Fighting Championships: Clash at the Ameristar Casino in Kansas City. Estus is 7-2 with all seven win coming by submission. The 2-time Bellator veteran is the owner of Estus Mixed Martial Arts in Iowa and the majority of his fights were part of the stalwart Iowa Challenge promotion in the northern part of the state.

Knuckle Junkies caught up with Voelker for a revealing interview where he talks in-depth about his career, Estus and his favorite fights.

KJ: What keeps your going? Why do you keep taking fights?

BV: The passion and the love of the sport is what I have. It's like the air that I breathe. It's something I need and it's therapy too. I feel great doing it, I love it. I don't mind getting hit in the head too many times, I prefer hitting them in the head, but I feel great doing it and it's a great way to stay in shape.

KJ: What's a typical day like for you?

BV: Typical day. I get up, train early around 6:30am or 7 for an hour, hour and half. Go to work, sometimes on lunch break I'll go and train again. Work all day and then in the evening come back and do another good hour and a half, two hour training in.

As a veteran of almost 40 professional fights, how has camped change for you now?

BV: Most of the camps are pretty much the same. We fine tune a few things here and there for a few opponents, but it's pretty much me getting in there and doing what I want to do and making sure I do it great so I can come out with that victory.

KJ: What's it mean to you to fight in Kansas City?

BV: I love it man, it's where I've grown up. It's where my fans are. It's where everyone I love are, my friends, family, and my fans. They're always here cheering me on and they've always got my back.

KJ: What have you done specifically to prepare for Mike Estus?

BV: We threw in a few new things to better my footwork, better my punching power, and work on my takedown defense, and my takedowns. Just fine tuning, nothing specific for him. He's a tough Iowa guy. He's going to come out there tough and want to take my head off. Probably will throw some good overhands, some right kicks, will want to go for takedowns here and there. I'm ready for it all. He's a little shorter than I am, I think he's like 5-foot-9 so I expect him to be stocky and bulky and strong.

KJ: He has seven wins by submission. What are you looking to do?

BV: Same as always: knock out. I always want the knockout, it makes me feel better about myself. If he gives me a submission I'll take that too. We've been working on my submission defense and offense. I'm ready to go. I could fight him now. Well, I have a little bit of weight to lose, but other than that we could go right now. I am so amped and pumped for this.

KJ: Where does this fight take you next?

BV: When I left the UFC they said go home and get four wins and maybe we'll take you back. The goal is not necessarily the UFC, but whatever is the best fit for me whether it's the UFC or Bellator. After this one I'd like to go and get another win after the first of the year . Get another good, quick win. Fight another tough opponent and just take him out. Show myself that I'm ready for that top level again and get in with those big boys again.

KJ: Mentally, how are you prepared for this fight?

BV: Right now, I'm Superman. I'm unstoppable. Everything's gone great in camp. You always have little injuries here and there, but nothing I can't get through. I feel great and I can't wait to put on a great show on Saturday night.

KJ: You work a full time job. What's it like preparing for these fights?

BV: It's tough. It's stressful, but you do what you love. How bad do you want it? You put all that stress and all that junk off to the side and you what you want to do. You just got to make things happen. If it's not hard to do it's not worth it.

I work construction. I've worked construction for 16 years. I just finished Paramedic school in May. After this job I plan on getting a job there as well. My co-workers always come to the fight and they're always picking on me because they know I'm a nice guy and won't beat them up. They love picking on me and giving me a hard time and I take it well so it's good.

KJ: With your Paramedic training, do you look at fighting as first-hand knowledge of where injuries come from?

BV: I figure I can knock these guys out and then bring them back. I can do both roles here.

KJ: What three fights from your career would you put in the "Bobby Voelker Time Capsule"?

BV: Back when I was an amateur. I fought a guy named Zach Lenon. It was my fifth or sixth amateur fight and boy, it just really tested my heart. He was a tough guy, came in and broke my nose with the first punch of the fight. Blood all over the place, typical of one of my fights, of course. I ended up knocking him out in the third round, but we came out there gave it our all, and really put ourselves out there big time. That was the first one.

The third fight in my trilogy with Roger Bowling. We fought tough two other fights, this was the third one. I caught him with a knee in the second round that kind of stumbled him and then I jumped on him and finished him off. That was when I was with Strikeforce a few years back. That was Strikeforce's very first trilogy. Also, probably my first one with the UFC. The Patrick Cote fight. I lost a decision that I felt I won. Doesn't matter because I lost the decision. I went out there and performed great and beat the crap out of him. It was a great fight.

KJ: Three of your last four fights in the UFC were really close. Do you dwell on those fights at all?

BV: I don't forget about them, but I do look past them. It's something that happened and I can't change it now, but I look back to see what I can do different for my upcoming fights to better myself. That's always something I try to do. Whether it's a win or a defeat, I try and better myself for future fights and future opponents. Some of the fights were real close there but it goes the way it goes. It just wasn't my time, my moment, but I will be back there for more.

KJ: How would you approach a fight with Robbie Lawler differently if you had the chance today?

BV: I would definitely have loved a full camp rather than a two week camp. His opponent got injured, I believe it was Tarrec Saffedine. They went to four or five other fighters and they wouldn't fight him. They came to me and I said, 'Well, I have a fight in two months for you guys.' They said 'don't worry about that one, we'll take care of that. Will you fight Robbie Lawler?' So I said 'Lets do it!' They asked if I could lose the weight in two weeks, and I said 'We're going to find out.' I lost about thirty pounds in two weeks. I felt great for the fight. Robbie performed great. But I would have loved to have had full camp for that guy.

Voelker photo courtesy of Jerry Chavez Photography.