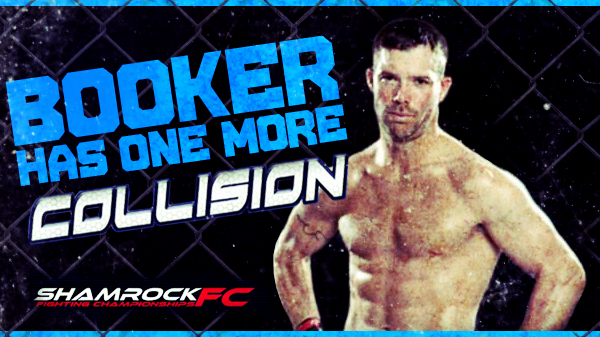 Booker has One More Collision
At Saturday's SFC: Collision a MMA veteran will step into the cage for the last time in his career.

That man is Booker DeRousse.

This retirement fight features the "Country Boy" DeRousse against a hard-hitting Jordan Mitchell and it should be one of the most exciting events of the night.

This is likely the first retirement fight in Shamrock FC history and DeRousse is proud to be a part of it.

"Absolutely," DeRousse said. "I contacted Rob (Donaker) and said that I wanted one more fight. It's more for myself. I want to get that last fight before I hang up my gloves. I appreciate everyone's support over the years. I've had a good fan base throughout my career. It is time to call it quits."

DeRousse is known more for his thrill of the fight and farm boy strength than being a precision martial artist.

"I agree," DeRousse said. "As far as skill goes I'm not the best striker or kickboxer but I will stand and bang with anyone."

After fighting in well-known organizations such as Strikeforce, DeRousse has decided to step away from the cage at 33-years-old and 10 professional bouts. Why now?

"I travel a lot," DeRousse said. "I travel all over the Midwest for my career as a union carpenter, so my home has been a little camper. My wife and I just recently bought a farm in Tennessee. It's time to focus on other things."

Even though this will be the Ste. Genevieve native's last fight it has been a while since DeRousse was in action. It was in April of 2012 that DeRousse pulled off his latest victory via armbar against Dan McGlasson. So is there concern about ring rust?

"No," DeRousse stated. "I've been grappling out in Kansas City and I feel better now more than I ever have. I'm fresh, focused, and ready to have fun. There's no pressure win or lose."

Mitchell, a 23-year-old with a 3-3 record, is coming off of a TKO victory in May. He will meet DeRousse in a catchweight fight of 215-pounds.

"Mitchell has knockout power," DeRousse said. "I just have to make sure I don't get caught. If I take the fight to the ground there is no doubt in my mind I will be victorious."

With DeRousse being 10 years the elder of Mitchell it ushers in an old lion versus young lion matchup. DeRousse is prepared for this, however he has no worry.

"I don't see that he brings anything new," DeRousse joked. "I just have to watch his hands. I've never been knocked out and it's not going to start Saturday."

For tickets go to https://www.cagetix.com/shamrockfc. See you there.