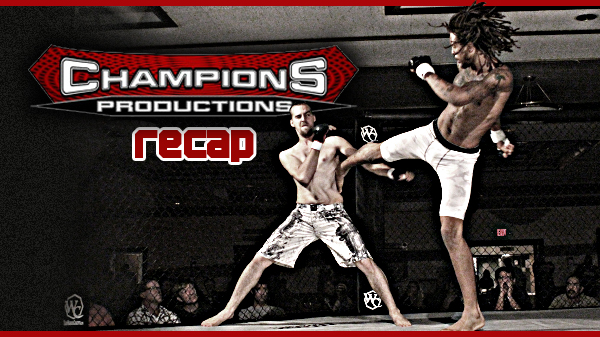 Brawl in the Ballroom 9.21 Recap
While not a clinic on precision technique and crisp, detailed game-planning, Friday's Champions Productions Brawl in the Ballroom at Fischer's Ballroom in Belleville, IL  made up for it with a leave-it-all-out-there spirit.

In the night's main event, Ken Porter needed just a few seconds to dispose of challenger Kelly Cowger to win via guillotine. The two had a nice trade to start the fight but once Porter got Cowger in the clinch, the end was near. Porter quickly transitioned to a standing guillotine and Cowger tapped 21 seconds into the fight and Porter earned a Champions Productions belt.

"I have been working on my stand-up and was hoping to show some of it but he bum-rushed me," Porter said. "I hit him with a few, quick uppercuts in the clinch. It all just came pretty naturally to me."

Porter, a flyweight, is a veteran of 20-plus amateur fights and said afterward that this would be his last amateur fight if he is able to find a pro fight locally.

Scott Futrell had 10-pounds and a few inches of reach on Chandler Reed and used every pound and every inch to his advantage in winning in the first round. Futrell, a middleweight, let his hands fly and connected with a furious combination and landed a solid head kick. Though Reed didn't go down, the fight was called at the 2:10 mark in the first.

Manuel Bijaro gave up nine-pounds to Anthony Livingston (176-pounds) and it showed as Livingston got the mount early in the first round and rained down punches to win by a convincing TKO.

Andrew Decker earned Submission of the Night honors with his victory over Nick Moore. Moore's superior wrestling may have had him ahead on the judge's scorecards after the first two rounds but Decker didn't let it go to them as he slapped on a triangle midway through the third round and held it long enough to get the tap.

Tracey Garland showcased some hyper-violent ground and pound, earning a first-round TKO over Josh Johnson.

Cody Collins won in the first round via ground and pound over Richard McLean.

In the night's only K-1 contest, after a wild, no-holds barred exchanged, Robert Boyd won with a first-round knockout of Lucas Arthur.

Kevin Surratt looked impressive in his win over Fred Freeman. While Freeman dictated the action in the first round, Surratt came out on a mission in the second, drilling Freeman with some accurate shots before a savage submission victory at the 34-second mark in the second round.

Nick Porter landed some big shots in the second round to lead to his submission victory over Corey Lepper.

Sheldon Smith was both brash and skilled in winning a unanimous decision over Kendrick Latchman.

Jim Vogt stayed calm in the eye of the hurricane as he survived Tyler Kennedy's aggressive start. Vogt settled in and eventually won by rear naked choke after Kennedy gave up his back.

Kristoff Thomas got the night started by winning a decision over Joseph Roye.