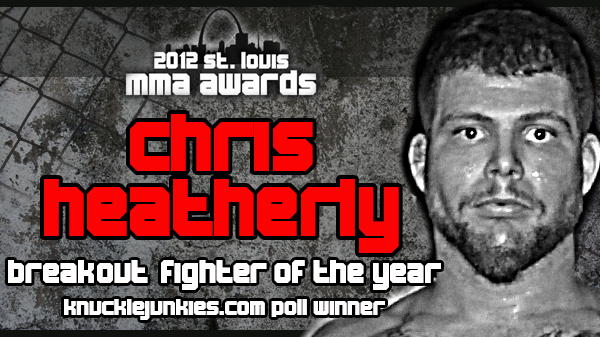 Breakout Fighter of the Year: Chris Heatherly
Personable and powerful, charismatic and capable, Chris 'Stump' Heatherly made waves from the get-go in 2012. It should come as no surprise that the popular fighter out of Berger's MMA and SouthSide Fight Club would garner a boatload of votes and win Breakout Fighter of the Year.

Heatherly started the year off as an amateur and landed a dramatic head-kick KO to Kain Royer in January. After a rare loss as an ammy, he turned pro in May of 2012, and he hasn't slowed down since.

Along the way, Heatherly added finishes of Corey Barreiro and David Colter for a total of 51 seconds of cage time in his first two professional bouts. In August, he won a decision over journeyman Sean Huffman, but the big notch in his belt came in November when he choked out local veteran Sal Woods in a matter of seconds.

A powerful striker with a seasoned ground game, here is Heatherly, in his own words:

The Royer fight was a big hyped-up fight. We sold the Stratosphere out. Basically had the place packed and the walls were jumping. I landed a huge head kick knock out. That was the highlight of my amateur career and so far the sweetest knockout I've ever had.

We had a little grudge going on with Tony (Souders). He now trains with us at Berger's. I was like, 'There's no way that guy is that bad to the bone.' So I decided I'd fight him. I weighed in with all of my clothes and made 205. I got my licks in in the first round. I came out and got caught in a guillotine in the second round and the hype was true. The guy's tough. I never hit anybody like that and he kept rolling. We now joke about it all the time. He's a tough training partner and just a country-bred hillbilly. He's a good dude.

For the first two pro fights, even though they were a short amount of time, people think I'm crazy but I' ve literally watched both fights over 100 times to just pick out little stuff that I was doing wrong.

Yeah, Sean Huffman is on the downside of his career but he's got over 40 pro fights. He's fought and beat big name guys. It's the truth, he's a journeyman. If you can't finish that guy, you're in for a long haul. For me, it was a good test. I know I didn't make a lot of people happy. My hype kind of died down a little. It was the first time I went three, five-minute rounds and I was tired. I pushed through and dominated the whole fight. No, it wasn't a Stump-spectacular finish but I got the win and got an opportunity to critique myself. It was the first time I was able to watch a full 15 minutes of fighting.

For the Sal Woods fight I know I had a lot people thinking that it was a bad matchup for me. He is a tough guy. But I knew I could win that fight wherever it went. I knew Sal was not going to want to stand up with me. I have devastating power in my legs and my hands aren't bad for a wrestler. We thought that he would come out and get in the clinch, and I'm tough in the clinch. It's hard for guys to pick stuff out of your fights when they only go a short amount of time, which was great because no one's seen everything I've got. When Sal came out and initiated the clinch, I knew I was going to be able to land whatever I wanted or from the takedown.

We learned that my athleticism is not going to take me where I want to go. Just because I'm a good athlete and I'm a grinder doesn't mean that I'm going to be able to get in the cage and beat people up. I have to train. Steve (Berger) opened my eyes to the situation. He said he had all the talent in the world, made it to the UFC, had his cup of coffee and went home. When he told me that, it was like a smack in the face. This was coming from a guy who lived it and basically I'm following his footsteps and now he's putting me in the right direction in that I have to train and my cardio has to be on point. The worse thing is to be in a fight and tired.

I miss fighting every week. When I was an amateur you could call me on Thursday, you could call me on the day of the fight and I'm like, absolutely. There were a few times when I fought three weeks in a row just to go out and get the experience.

I've stepped up the competition every fight but now it feels like I'm sitting around with my finger in my mouth waiting for a fight. I'm not asking for $10,000 to fight but let's compensate your tough guys like they deserve to be compensated. It makes it frustrating when they offer you a junky purse to come in and fight a guy you know they're paying more than you who is from another state.

I have on tape my first-ever amateur loss (to Colby Tierney). I had no idea how to standup or anything. I was just a good wrestler who knew how to take guys down and finish the fight. I got in a scrap with him and it went three rounds, split decision. I look back at that tape and it's almost like how a professional fighter see's a bar fight. From then to know with the great training partners I have and coaching with Steve Berger and Marc Botindari, it's night and day.

I hear a lot of guys complaining that they don't have time to train. To me, I just put a grin on my face and walk away. I work a full time job over at Brinks Incorporated, I run a lawn care business full time, I'm a full-time dad now and I'm training. From four in the morning until nine at night, I'm busy.

Being a dad is a great experience but it's definitely new to me. It's not near as bad as I thought but it's new with the staying up all night and I have to give a huge shout out to my fiancée Jodi. Without her, I'd be lost and probably have no hair.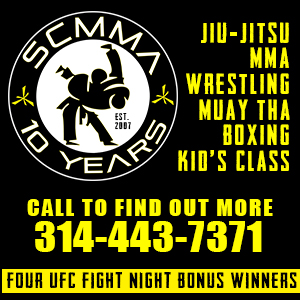 Nemesis Fighting Alliance
| Sat, August 17th
Casa Loma Ballroom, St. Louis, MO
KCFA
| Sat, August 24th
Independence Event Center, Independence, MO
Shamrock FC: 322
| Fri, September 6th
River City Casino, St. Louis, MO
Sub 5
| Sat, September 21st
TBA

Tweets about "KnuckleJunkies OR @knucklejunkies"