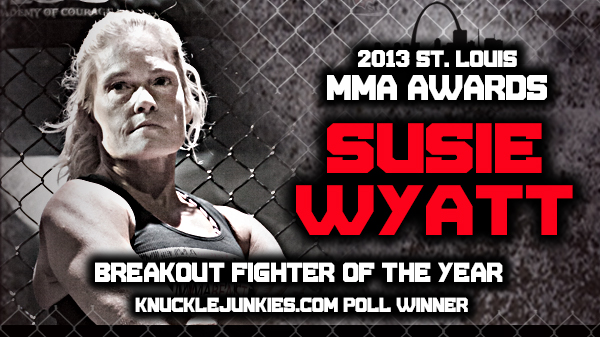 Breakout Fighter of the Year: Susie Wyatt
By
Debo
| Knuckle Junkies
There is no question the St Louis area had a banner year locally, regionally and nationally as area competitors were showcased on all levels of competition in 2013.

In what proved to be another tight race in the 2013 St Louis MMA Awards, Susie Mama Beast Wyatt of Finneys MMA came out on top as the Breakout Fighter of the Year

The 48-year-old fighting grandmother and Brazilian Jiu-Jitsu blue belt put together a headline-worthy year both in and out of the cage.

Wyatt posted a 2-2 record during the year but dont let that fool you considering that she was took on the toughest in her division. She nailed two first-round wins via arm bar, first against Melissa Shepard at Shamrock FC last January and then Liz Turpin in July at Fight Hard MMA. Wyatts two losses were nothing to be ashamed of by any means, dropping two hard-fought three round decisions. The first to top-ranked Brittany Dugas at the River City Casino in June and the second against a much heavier opponent in Alex Strobbe (who was a late replacement) on the Shamrock FC card at River City Casino in early December.

But inside the competitive arena is just the tip of the iceburg for Mama Beast.

Obviously an impressive aspect of her game is she is sometimes twice the age of her opponents and has just three years of MMA experience while posting a career 6-3 record.

But it is also Wyatts work and passion outside the cage that has led to a strong following and fan base. She received a tremendous amount of exposure during the year including local television interviews with News Channel 5 Sports Director Rene Knott who was in attendance for her July victory on the Fight Hard MMA card. She followed that up with another interview with the popular Tim Ezell from Fox 2 News and the Post-Dispatch/STLToday.com picked up her story.

In order to be a great champion you need to give back and support the sport and the MMA community. Those are certainly strengths that should not be overlooked and Wyatt has taken it upon herself to be a positive image for the burgeoning sport. Without question she has the strongest youth following in the St Louis area. She also started the Strong Youth MMAtters which is a program she has developed with the Valley Park School District to provide under privileged youth access to the benefits of mixed martial arts training and discipline.

It was a really exciting year for me and I think MMA fans both local and regionally got to know Susie Wyatt a little bit, Wyatt said. I think that helped the local MMA community start to take me seriously and I took on tough competition.

Its tough to question her grappling prowess. She proved that by winning gold in gi division and the silver in the no-gi division at the 2013 St Louis NAGA Tournament. Then continuing her winning ways, Wyatt won the gold medal in the no- gi division at the Missouri State Tournament for the third consecutive year.

But now, developing a good overall fight game is the priority.

I want to be able to use more of my overall game in 2014 and I have gotten more comfortable using all my skills, Wyatt said.

A tireless goal setter, Wyatt plans to push the bar in 2014. She wants to continue to work with her kids program. She also made the decision to compete at strawweight (115) in order to get to the next level and reach her goals that include the possibility of turning professional and exploring potential strawweight opportunities.

The Mama Beast momentum train will continue in 2014 as she wants to fight two to three times before turning 49 in June. To do so, the longtime fitness instructor and enthusiast, will keep with her intense and varied training schedule.

Wyatt wanted to tip her cap and acknowledge her coaches; Jesse Finney, Ezra Lenon, George Stanich, Jeremy Johnson, Kris Craig and Andrew Berger.

They provide the support that allows me to pursue something I love, Wyatt said.