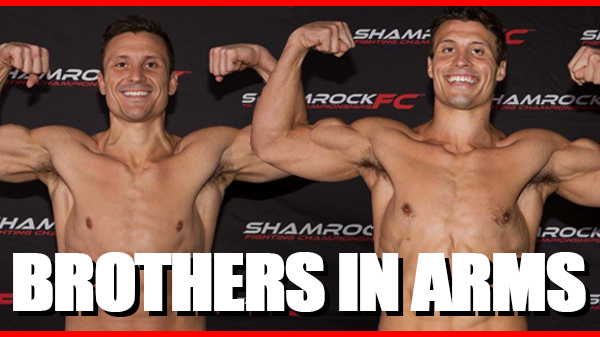 Brothers in Arms
You name the endeavor, and the Scott brothers will be your huckleberry.

Derik and Shaun Scott have made a name for themselves, both locally and nationally, for taking on physical challenges of all types: gymnastics, a plethora of sports, and mixed martial arts among the many.

Earlier this year, Derik Scott garnered the support of a national television audience when he became a finalist on Dwayne "The Rock" Johnson's "Titan Games" on the NBC Network. In a matter of weeks, Shaun Scott will step in front of the TV cameras when he becomes a contestant on "American Ninja Warrior."

"Put us on a stage, and we'll perform," Shaun Scott said. "It's our Dharma."

On Friday night, at the River City Casino and streamed live on FloCombat, the Scott Brothers will be on the main card of SFC: 318.

At middleweight, Shaun Scott (2-2) will face Derek Holly (3-2), whose won two straight. It will be Scott's first fight since January 2018. In that time since, Scott, the jam-band loving free spirit, joined the corporate world, zooming his way up the ladder from entry-level sales to running a team of salespeople for Abstract Marketing. It's almost as if he went from Woodstock to the "Boiler Room."

"I used to walk around barefoot all of the time and now I have a big boy job," the 30-year-old Scott said. "I wear a shirt and a tie and work at a desk, but I do longboard into work every day."

Scott will be on "American Ninja Warrior," a show both his brothers Derik and Zeke have tried to get on in the past, on May 22-23. He plans on prepping for the show immediately following his contest with Holly.

"After the fight, I will do a 10-day fast while training for the show," he said.

In Holly, Scott will have a wrestle-heavy opponent who has won his last two fights by decision.

"He has a college wrestling background and says that he cannot be denied a takedown," Scott said. "I'm fine with going into deep waters and being comfortable in uncomfortable situations. Being able to fight on the same card as Derik is an opportunity that I am grateful for. I get to follow Derik, so if he wins I get to be the cherry on top. If he loses, it will be added fire inside me."

The Scott's affable personality has allowed them to circumvent the petty waters that are St. Louis MMA and train at multiple gyms and get multiple looks and instruction.

"I jump around," Shaun Scott said. "Whether it's doing boxing with Mark (McLean) at The Danger Room or training with Bryan Guidry (North Broadway Jiu-Jitsu) or at Vaghi Headquarters, I see St. Louis as a conglomerate of individuals and I want the best for everybody."

As one of the smaller competitors on the "The Titan Games," Derik Scott gained a fan base and a nickname, "the Giant Killer." Having moved to California, Scott has picked up where he left off in St. Louis, where he practiced law and was also a personal trainer. So with his feet firmly entrenched in the California scene, why in the world would he return to St. Louis to get locked inside a cage to get into a fist-fight with a highly-trained opponent?

"In some way, it's the same question I was asked when I first went from just training for fun and exercise to actually fighting as an amateur, why?" Scott said. "I have always attached myself to being a scholar warrior. I believe you should push yourself academically and intellectually the same as pushing yourself physically. The martial arts lifestyle and the pursuit of academics is a part of who I am."

Scott (1-0) will face Antonio Atkins (0-1) on Friday at lightweight.

"I try to focus on my thing," Scott said. "I have watched some of his fights. He lost his pro debut to Evan Elder. I have trained with Evan so there's a familiarity with how Evan fought him."

This week marks the first time back in St. Louis for Scott since "The Titan Games" aired and he plans on staying at least a week after SFC 318.

"It has been amazing the support I have gotten," Scott said. "I have had a lot of come do this, come do that. There are a lot of opportunities here and in L.A., and I'm trying to do a little bit of everything."

Prior to and after "The Titan Games," Scott continued to train in mixed martial arts.

"MMA training keeps me as well-rounded athletically as possible," he said.

Scott found a home in California at Dynamix MMA under Rickson Gracie black belt Henry Akins and UFC vets Antoni Hardonk, and Vladimir Matyushenko. It was the thrill of the challenge, something that he has done since he and his brothers could walk, that led him back to the Gateway City.

"Ever since we were little, if we didn't have an organized competition, we'd make one up, even if it was just watching movies," Derik Scott said. "Competition is part and parcel of who we are."

For a look at the full fight card and check out our preview, and stay tuned for a full recap on Saturday of Friday's event.