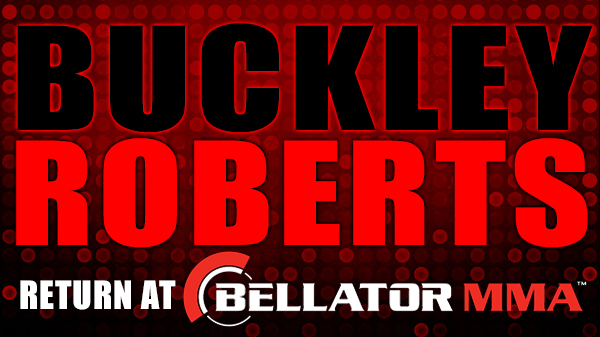 Buckley, Roberts Return at Bellator 175
They say it's adversity that defines who you really are.

It's not about when you lose, but how you come back from that loss, and rise even higher.

For St. Louisans Jake Roberts and Joaquin Buckley, this is their comeback. Both fighters, once undefeated, will have to circle the wagons after suffering their first career loss. Both 1-1 for the promotion, both get a Bellator re-do this Friday in Chicago.

For Roberts, his return will be on the televised main card live on SpikeTV against San Diego's Steve Kozola. a two-time Bellator vet with a perfect 7-0 record, with not a single fight having gone to a decision.

Return of the Nightmare

Having fought the majority of his bouts here in St. Louis, the "North County Nightmare" Jake Roberts is a favorite among local fight fans. He became the marquee fighter for Rumble Time Promotions and a favorite of its promoter, the late Steve Smith, notching his first five wins as a pro under Smith's direction.

It was in the summer of 2015 after a fight with Tyrone Paige, Roberts felt he needed a change. That's when he picked up shop and moved to Phoenix, Arizona to join forces with coach John Crouch at the world famous MMA Lab.

"The winters are beautiful, summers are pretty rough," Roberts said. "My A/C only wants to work in the winter. During the summer I pretty much just sweat my balls off everywhere I go."

Roberts had fourteen straight wins going back to his days as an amateur, before suffering a November 2016 loss to Carrington Banks.

"I was just a little too nervous going into that last fight," Roberts said. "If there was anyone I was afraid of fighting it was a patient wrestler. I didn't wrestle growing up and I sort of put it on a pedestal. I was more worried about what he was going to do instead of worrying what I was going to do. I wasn't relaxed at all."

The fight with Banks followed closely on the hills of a career defining moment for Roberts, a high-profile fight on the same card of his teammate at the MMA Lab, Benson Henderson. Henderson, the former UFC lightweight champ, headlined the event in Anaheim, California against Patrick Freire at Bellator 160.

"My first fight in Bellator, I was on the same card as Benson," Roberts said. "I won in the first round with a TKO, I thought I had made it. I thought all my dreams had come true, this is all I wanted with my whole life. This last one I just wasn't as motivated. I felt like I reached a point where I wanted to be, and then they offered another fight two months later. I just didn't take it as serious."

As his confidence soared, his motivation seemed to go the opposite direction.

"This sport is hard, man," Roberts said. "You dream about something all your life and when you reach that goal, what do you do after that goal. I should have taken a couple months off and reload my motivation. My motivation was just gone. I didn't really want to be there, it sucks for me to say that because I love what I do. I was just on such a high I rode it too long."

A natural lightweight, Roberts ballooned up to 197 pounds celebrating his victory. That's when the phone rang, with another opportunity to compete alongside Henderson. This time at Bellator 165 in San Jose, a tent pole event with Michael Chandlers' lightweight title on the line.

With only four weeks out from the fight with Banks, it was time to get back to work.

"I spent the entire camp, instead of training just trying to get my weight down," Robert said. "I was killing myself the whole camp trying to get my weight back down. I wasn't wrestling, and then when I was training I was dead. I was there every morning doing cardio, running, lifting. When I got to the fight I just didn't feel myself. "

Despite an 'L' on his record, a tough lesson was learned.

"It just really stuck out to me that I didn't leave it all out there," Roberts said. "I went in there on cruise control. I felt like I can't do that anymore. I have to get my technique up, my cardio is fine. It just sucked, it sucked real bad."

Since the loss to Banks, a renewed "Nightmare" has emerged. Roberts has thrown himself headfirst into training, working on improving all aspects of his skill set.

"I took a couple weeks to rethink everything," Roberts said. "This is what I love to do. I don't want a boss, I don't want a regular job, I want to be great at this. I've spent the past few months living in the gym. I've been working on my wrestling, working on my jiu-jitsu. I felt like I had kinda gotten away from that a little bit. Striking is cool, but basic striking is what wins fights."

No longer undefeated, the pressure that comes with success seems to have lessened.

"After the fight, I felt like a lot of pressure was off my shoulders," Roberts said. "Everyone was like 'you're undefeated,' So what. Who cares. "

The Buck is back

Coaches will say you learn more from a loss than you do from a win. Such is the case for "The Young Buck" Joaquin Buckley.

Buckley received a huge opportunity in only his second fight with Bellator, a chance to fight on one of their handful of international dates. Travel and expenses paid, he would face the undefeated Jackie Gosh in Tel Aviv, Israel at Bellator 164.

Never having tasted defeated, Buckley went into the fight with Gosh radiating confidence, but he ended up coming up short in the end.

"From that fight I learned a lot about respect," Buckley said. "I went into that fight so confident, kinda cocky. I was going over there to prove something. When I went over there fight to fight Jackie Gosh, I wasn't thinking about him I was thinking about my next opponent. That fight showed me a lot about respect and to go after every fighter like he's a champion."

A half a world away, Buckley would suffer his first loss since putting on the MMA gloves. It was a hard pill to swallow, but something that helped rekindle his fire and zero in his focus.

"As soon as I got back home I went straight to the gym," Buckley said. "I haven't stopped training since. When I got this call, about four weeks in advance, everybody was like that's kind of short notice, but I told people I was already ready from the very beginning. Been training like I had a fight coming up anyway. Training my butt off every single day"

With the fight with Gosh in the rear-view, Buckley turns his attention to Justin Patterson and their scheduled date this Friday in Chicago.

"Fighting in Chicago is dope," Buckley said. "I don't have to fly 6,000 miles and try to prepare, hydrate and stuff like that. To have a fight that is pretty much just a neighborhood away from us is good."

Patterson (9-2) has won two straight and is almost a mirror image of Buckley. Big, athletic, and fighting from the southpaw.

"He's a stand-up fighter with a good left hand. He's a southpaw just like me," Buckley said. "It's going to be fun just working off my counters and pressuring him into the cage. Really putting a beating on him. I'm prepared for a war, but I'm ready to deliver a knockout. Going to try and put him on World Star."

Buckley who will be just 23 in April is just starting to hit his stride. With Finney's MMA coach Luigi Fioravanti taking the lead with his training, the sky is the limit.

"Man, Luigi is a 9-time UFC vet, he's traveled the world, he's gone over to M1 to fight for them," Buckley said. "To have him in my corner, to be showing me, and teaching me different stuff on a daily basis, it's great. Shout out to Luigi."

This past June Buckley defeated Chris "Stump" Heatherly at Bellator: Dynmaite 2 here in St. Louis. A high-profile match-up one against a former UFC-vet, and sort of a gatekeeper for pros looking to make it to the next level.

"I proved to myself how good I was in the Heatherly fight," Buckley said. "When the pressure was put on me when he took the fight to the ground, I showed people that I'm a mixed fighter. My wrestling is just as dominant as my stand-up. So I think I proved to people just how good I am in that fight."

Mutual Respect

At one point in 2014, it seemed like Buckley and Roberts were on a collision course. The area's top undefeated fighters, from rival gyms. Promoters salivated over the prospect of pairing these two together.

Once fierce rivals, the feud between Buckley and Roberts is a now thing of the past. The two will be cheering each other on as they find themselves on the same card, just down the road in Chicago.

"I've talked to Joaquin a few times, we've squashed everything." Roberts "We're both from the same area, and I'm like 'Hey man I hope you do good'."

Roberts feels he and Buckley are two of the best-kept secrets on the verge of breaking out.

"Buckley and I some of the best talent in St. Louis," Robert said. "There's a lot of good people who have come out of St. Louis, and still some left like Luis Pena, that guy's a stud. You know, Buckley is a tough dude. When you're fighting these local guys, they're all great in just one area, but these guys outside of that you don't know how hard they hit, how hard they train, and if you get too excited you can get caught, and that's what happened to Buckley. He'll be back."

You have to go back to December of 2013, when these two shared the same fight card. Now pros, there is quite a bit more on the line this time around.

"It's cool to see Roberts on the card," Buckley said. "Respect to him. He's doing his thing, and I'm doing my thing. At the time when we were amateurs, we were both welterweights and that's the only reason I wanted to fight him because I was one of the best and he was one of the best in the area and we were both undefeated at the time. Now I'm just showing love to him, and supporting him for what he's doing, he's doing the same thing back to me. I'm just really excited to go out and put on a great show."